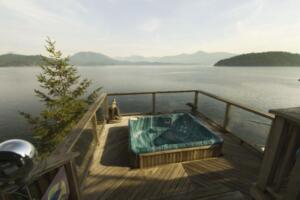 So you want a hot tub? Hot tubs are a great accessory to a backyard, especially at the lake, and can be beneficial in relieving stress and staying warm during the cold season.
They are, however, a high maintenance purchase. Before jumping in, take a look at these items to consider.
Budget
One of the biggest downsides to a hot tub is the cost. If money is no object, or you feel you're getting a great deal on a hot tub for your home, that's great.
However, the cost of the hot tub is not the only cost you need to be aware of.
There is the installation cost, which can reach a couple of hundred dollars depending on the company, the cost of the chemicals to maintain the hot tub, and of course the water and energy costs it takes to keep a hot tub running.
You may also need to purchase the pump that aids in both water power and heating separately from the tub model you pick out. Do your homework, and make sure the costs are feasible.
Amenities
Do you have a large group of friends that will be joining you in your new hot tub? Do you have back pains or need hydrotherapy (massage jets)? Do you want built in speakers, or a tri-fold cover?
What about interior and exterior lighting, ladders to get in and out of your hot tub, a cooler, a foot massager? Yes, these are all very real options when you a buy a top-of-the-line tub. Pick which amenities are most important to you, and be prepared to dish out cash accordingly.
Location, Location, Location
Before you buy an extra large hot tub with a tanning deck and attached umbrella, make sure you have the room in your backyard. Ensure that you can fit a tub and the installers' equipment through any side gates or through a garage. Also, before installing the tub, you may want to lay a concrete foundation down to ensure the tub is level and will not be exposed to too many elements.
If you plant your hot tub on the ground, you will have to worry about the cold earth affecting the heating elements, degrading the base of the tub, or making it so your hot tub is full on one end and empty on the other. Consider above-ground or below-ground options, based on your backyard and location.
Smart Tub
If you can, select a newer model hot tub with an energy efficient pump. While this may only be a requirement for the hardcore eco-friendly family, it is really just smart money.
You may pay a little more up front to get a pump that requires only a little energy to effectively heat a large tub, and will monitor the water usage so you don't have a heart attack when you get the water and power bill each month.
More effective models also help you get a larger tub with fewer upkeep costs.
Renting
Do you rent or plan to rent out your lake home when you are not using it? A hot tub can can be a big draw for those looking to vacation at the lake, especially during the cooler months when renters are harder to come by.
While this may help you attract renters, make sure that your home, including the hot tub, is covered by insurance. A hot tub is a big ticket item that can be very expensive to fix in the off chance you get some rowdy renters.
In the end, the hot tub you pick will hopefully last you years to come. Don't forget to maintain the chemical balance in the hot tub, but most importantly enjoy the serene lake views as you relax in your new favorite place on your property!