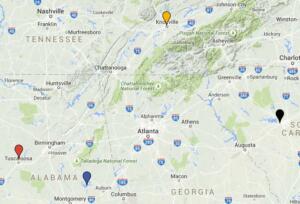 With less than one week 'til the kickoff of college football, it's time to take a look at two common passions in the South: SEC football and lake life.
With regional temperatures generally staying warm well into the fall, and many lakes in close proximity to college campuses, it makes for a natural fit!
Whether you are having family and friends over to party and tailgate at the lake home, or attending the game and returning to the lake home as your out-of-town getaway, the lake will definitely enhance your experience.
Located only 20 minutes from Bryant-Denny Stadium and Alabama's campus, this reservoir features 177 miles of shoreline and serves as the main water supply for the cities of Tuscaloosa and Northport.
Its close proximity to these cities and clear waters also make it a popular spot for recreational activities such as swimming, boating and fishing.
Nick Saban, coach of the Alabama football team even has a house on Lake Tuscaloosa. He is known invite his players out to occasionally enjoy the use of his boat and jet skis!
Jordan-Hare Stadium and the Auburn campus is conveniently located less than 1 hour away from gorgeous Lake Martin, which boasts more than 700 miles of shoreline.
In addition to pristine waters and luxurious houses, the lake boasts natural attractions like Chimney Rock, as well as numerous local restaurants.
Search the web for Lake Martin rentals, and you will find no shortage of properties promoting "Auburn Football weekends on the Lake" and "Auburn Football Weekends."
University of South Carolina – Lake Murray
USC, located in Columbia, SC, is minutes away from the fishing and recreational hotspot that is Lake Murray.
The lake, which has more than 500 miles of shoreline, can reach depths of up to 200 feet.
One draw for Lake Murray is the consistency of its water levels, fluctuating only 4 feet between the summer and winter seasons.
Another perk of lake is the convenience to Columbia, which is the home of the Riverbanks Zoo, Broadway shows, concerts, and of course, the USC Gamecocks and Williams-Brice Stadium!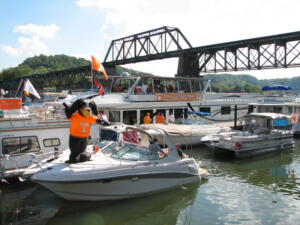 University of Tennessee – Tennessee River/Fort Loudoun Lake 
UT's Neyland Stadium is located 30 minutes from Fort Loudoun Lake and sits directly on the shores of the Tennessee River.
With almost 400 miles of shoreline, there is a lake property to match anyone's needs, and if there is not, you can even look for a houseboat to live directly on the water!
UT fans take tailgating  to a whole new level, so much so that it has spawned its own title, known as "sailgating."
That's right, a group of super fans and boating enthusiasts, known as the Vol Navy, arrive by boat and tie up outside of Neyland Stadium to celebrate with traditional tailgating activities on their boats and on the three-mile riverwalk.
The bottom line is, no matter where you go in the SEC footprint, you're bound to be near a beautiful body of water.
While most people think of a lake home as a great spring and summer getaway, it can also function as a one-of-a-kind tailgating experience on the weekends during the fall and winter months!