A good real estate agent can help you to secure a property faster and at a more reasonable price, so it is always worth hiring one when you are considering purchasing a new home.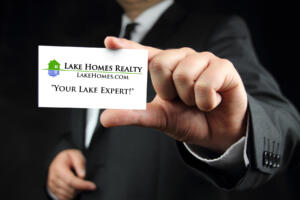 They offer a level of expertise in the market that you simply won't have and can help in a variety of ways. In addition to this, lake real estate often comes with many complications not seen when dealing with normal residential properties.
Furthermore, a good real estate agent will be able to provide solid advice relating to the property. This includes the general history of the home and if there are any issues that need to be resolved should you choose to make the purchase, specifically in regards to lending standards and short sales.
A good real estate agent will be able to advice you on the actual value of the property in comparison to the asking price and will let you know when it is a wise move to negotiate or when you have found yourself a good deal.
To facilitate this they will often bring in other professionals to carry out home inspections to determine if there is anything wrong with the property that hasn't already come up. Should you still be interested upon seeing the findings, any issues discovered can then be used as leverage once it comes time to negotiate the price.
Speaking about buying a house, that in itself is often a minefield of paperwork, legal documentation and additional complications. It's a hazardous place to wonder into on your own, which is why it is a much better idea to bring a real estate agent along for the journey. Their expertise will ensure that you get all of the right paperwork completed on time and have it ready to go without any hitches.
When it comes time to close on the deal and make the purchase most people will aim to get things completed in short order so having somebody to guide you through the processes involved can be a lifesaver.
And these are just the reasons you need to hire a real estate agent for a normal transaction! When it comes to making a purchase of lakefront real estate their are other hidden dangers that can include water levels and water views that fluctuate during different seasons, leased lots that can't be purchased outright, watercraft regulation, and shoreline management rules.
A true lake expert will know all the nuances of the lake and will help you navigate your transaction, keeping you informed, some times on things you didn't even know you had to worry about!
It is perhaps unwise to try to complete every stage of a house purchase on your own. Even if you feel like you have things well in hand it is always worth at least consulting with an expert before moving forward.