The truth is blackouts can happen at any time—storms over the past two years have been hammering the homes of many people across the country.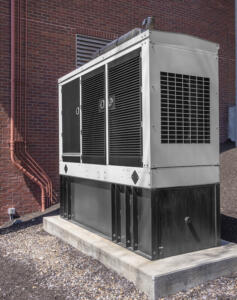 Last fall hurricanes were so bad that people were without electricity for over fifteen-days. That's quite a long time to not have any heat or light. And when you're without electricity doing your normal activities of daily living can be a lot harder.
It's important to have some type of back up plan when it comes to electricity. Especially, if you own a lake home, which can often times be rather isolated or hard to reach.What would you do if you were spending time at the lake house and then lost electricity?
Owning a backup generator can keep your house functioning safely, keep your perishables edible, and even keep the fun going at the lake in case of a natural disaster or random blackout.
How does a backup generator work?
What happens when a storm knocks out your electricity? There are some important facts to know about generators and how they work in terms of transferring its power to a home's electrical panel.
Many generators will detect when there is an outage and will automatically turn on, restoring power in a matter of moments.
There are many different types of generators, but one of the easiest types to operate works by using the natural gas that is run to your home. If your home does not have natural gas there are other options available, including ones that run off of propane and others that operate off of gasoline.
Uses
A backup generator is particularly useful in the case of winter emergencies, such as in an ice or snow storm when the power may be off for days and a time and temperatures are at or below freezing.
While it may be more of a luxury, they are also convenient for those summer storms that sweep through and leave the power out for an hour or two, ensuring that no part of your vacation is spent in the dark.
It's always better to be prepared for a natural disaster. And a backup generator can help keep any home functioning when there are no sources of electricity. While never a necessity, owning a backup generator can at times be a life-saver, or in the very least a very welcomed convenience!