Now that summer is in full swing at the lake, the bins at the grocery stores and farmers' markets are swelling with fresh produce that's ripe for the picking. So, what to do with all that succulent goodness? Enjoy it while you can—and get grilling. For meal inspiration, we've put together a colorful cornucopia of fruits and vegetables you can easily throw on the grill to savor as side dishes or enjoy all on their own.
Magnificent Medley
When you're firing up the grill for fish, chicken, or steak, don't forget to toss on some fresh veggies. Grilling these beauties with a little bit of olive oil and a sprinkling of salt and ground black pepper will bring out a tender, roasted sweetness like no other while adding a delicious smoky char that's irresistible. Grilling coaxes out the natural sugars in vegetables to create a caramelizing effect that is both savory and sweet. Check out this super-simple recipe for a colorful mix that includes portobello mushrooms, eggplant, zucchini, yellow squash, onions, asparagus, and red bell pepper. For a tangy twist, add tomatoes to this eye-catching dish.
Succulent Sweetcorn
Perhaps the most iconic of all summer vegetables, sweetcorn tastes even more delectable when grilled. It's the perfect complement to almost any barbecue fare, and you can spice it up with anything you like. Put the corn directly on the grill grate for an exceptional smoky char, or wrap it in aluminum foil to seal in all that buttery flavor even better. This creative take on a classic features freshly grated Parmesan cheese, garlic, fresh basil, and red pepper flakes. Enjoy!
Marinated Mushrooms
Mushrooms take on an amazing smoky flavor when they're grilled. Skewer them up with lots of seasoning, and you have a fantastic appetizer for your next get-together at the lake. This tempting dish is marinated with balsamic vinegar, soy sauce, chopped garlic cloves, fresh chopped thyme, salt, and pepper. You'll get a savory char with only 2-3 minutes per side. Visit Closet Cooking for this quick and easy recipe.
Savory Sweet Potatoes
Why reserve sweet potatoes just for holidays? These yummy orange jewels are delicious when grilled—and with minimal effort on your part. For a flavorful side dish that pairs well with grilled chicken, pork chops, or any style of barbecue, simply slice potatoes into half-inch rounds, toss with olive oil and preferred seasonings, and grill to perfection on both sides. There's no need to peel them if you like the taste and texture of the skins. This recipe incorporates pepper, garlic, and smoked paprika for a bold burst of summer flavor.
Color Combo
Bring an unexpected punch of color—and flavor—to a tried-and-true summer fav. Here, ribbons of vibrant red grilled bell pepper take asparagus stalks to the next level. Mouthwatering good and visually appetizing, this power combo bring summer style and flavor to any meal. Top with chopped chives for an unbeatable garden-fresh finish. Visit Food Network for the recipe.
Peaches & Cream
As kids, we all remember peaches and ice cream on a hot July day. There's nothing quite like that sweet and cool combination that's oh-so reminiscent of summer. So, here's an elegant take on that old favorite, which promises to be just as delicious. Grilled peaches? Yes, please. The heat from your grill can enhance and elevate peaches to a crave-worthy dessert—sweet and juicy. This unique recipe calls for a topping of sour cream sweetened with brown sugar but definitely go for the ice cream if you're a purist. You can also bring plums or nectarines to the party—and the grill—for an extra-juicy burst of summer flavor.
Pineapple Perfection
For a light summer dessert with a tropical vibe, try grilled pineapple brushed with brown sugar, butter, and cinnamon. Fresh pineapple is preferred for grilling, but you can use canned pineapple as an easy substitute. This recipe works as a tasty side for teriyaki chicken and pork dishes and also makes a luscious dessert topped with ice cream, caramel sauce, or honey. For a splash of summer color, add raspberries and fresh mint sprigs. You can even use any leftovers to create a Hawaiian-style pizza. Visit Dinner at the Zoo for grilling tips and instructions.
Watermelon Magic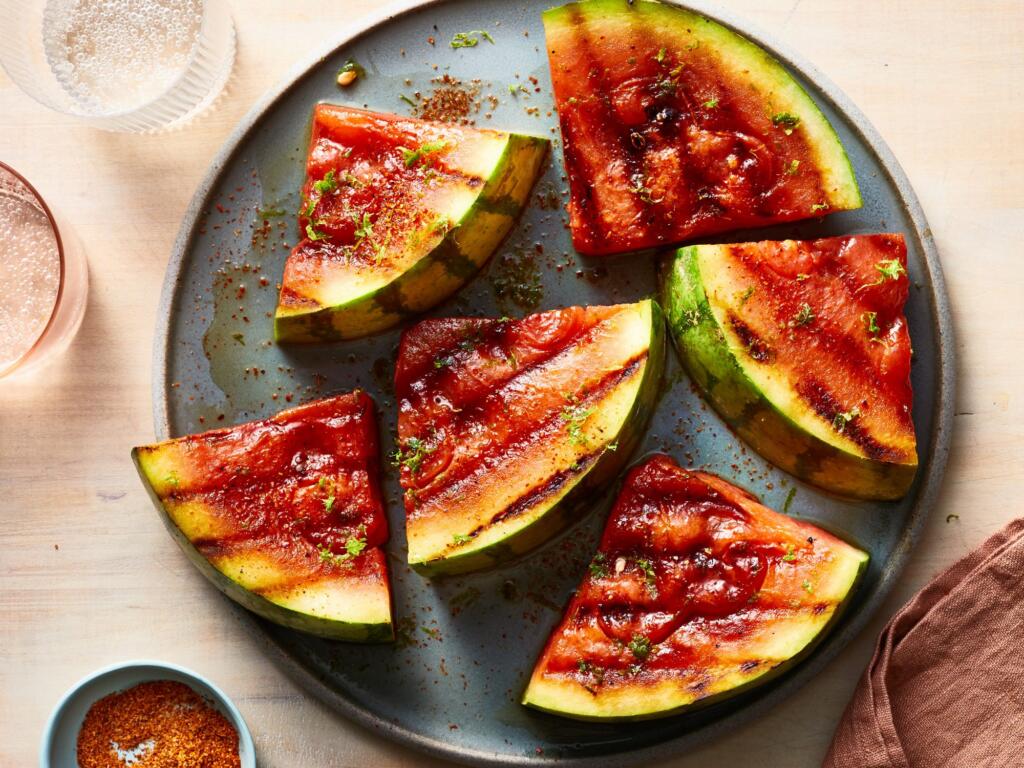 It might seem counter-intuitive, but yes—you can absolutely grill watermelon! A complete 180 from the crisp, chilled slices we typically enjoy on the fourth of July, grilled watermelon takes on a subtle smoky flavor as well as a texture change. Sprinkling both sides with a sugar and salt mixture ensures a good char. This rendition is topped with lime zest and Tajin or chili powder for a spicy kick.  
For more grilling ideas and helpful tips, visit Whole Foods Market. Here's to a delicious summer at the lake!