Lake toys have advanced in leaps and bounds since the good old days when we were growing up. That's just as true on the lake as everywhere else!
Here's a look at some cool new lake toys to keep an eye out for in 2017. Some are made for kids, but most are a blast for all ages on the lake!
The TowBoggan
The TowBoggan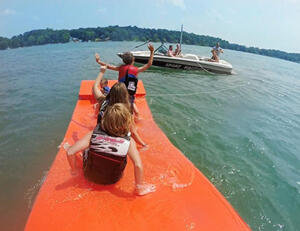 is just like the floating water mats you see so many people lounging on in recent years, with one exception.
It's designed to hook up to your boat for an exhilarating trip around the lake!
The TowBoggan is reinforced at one end, and equipped with attachment points for a tow line. So grab a seat and hang on tight for a trip around the lake!
Large enough for six people, the TowBoggan works just as well at zero miles an hour, and makes an excellent lounge area on the water.
 The Sea Window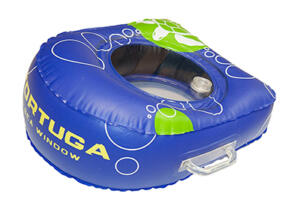 Give small children, or kids of any age, an easy look under the water's surface with The Sea Window!
The Sea Window Snorkeling Window is an inflatable portable viewing window, with double-layered panes to give a sharp, magnified view underwater.
You can use this lake toy while swimming, wading, or just standing in the shallows.
Seaview Snorkel Mask
For those looking for a more immersive experience with their lake toys, try the Seaview 180-degree Snorkel Mask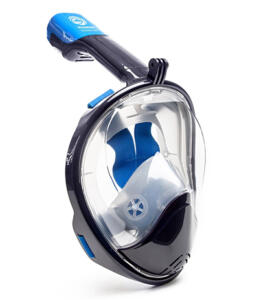 by WildHorn Outfitters.
This modern take on a snorkel gives you a better view, while also keeping water out of your mouth.
The comfortable full face mask gives you a 180-degree view of your surroundings, with an anti-fog design that keeps it from clouding up.
The mount at the top of the mask is specially designed for attaching a waterproof GoPro camera, as well, to document your excursion under the waves!
JetPack America Jet Pack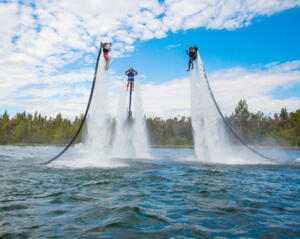 These high-end toys have come in vogue in recent years, with lake visitors across the country jetting across the water like superheroes.
Each jetpack is connected to a small, powerful pump at lake level that sucks water through a tube up to a pack on the wearer's back (or under their feet).
It is then shot back down in a powerful stream, propelling them up and forward!
Users can safely steer, hover, dive and jet underwater as they please.
Just be careful of any underwater hazards!
Kits start at $3,500, so there is a chance it's out of your price range. Good news, though! You can book jetpack "flights" at many lakes around the country. Look online to see if there is a location on your lake!
Sportstuff Cabana Islander
If a leisurely afternoon at the lake is more your speed, take a look at the Sportstuff Cabana Islander.
This canopied inflatable island has all the comforts you could ask for: an entry ramp, inflatable cooler, detachable nylon top and seating for up to six.
The Cabana Islander is constructed of sturdy K80 PVC, so it won't tear on lake bottoms.
At the end of the day, it deflates for storage into a single, easy to carry tote bag.
WaterSkipper Hydrofoil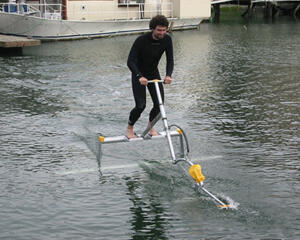 Want a cool new lake toy?
How about a way to get a good workout there, or get from one end to the other without any fuel, noise, or other hassles?
Take a look at the WaterSkipper Hydrofoil.
Step aboard, grab the handlebars, and gently hop up and down to make the hydrofoil carry you across the water at speeds up to 17 miles per hour. Models start at $500.
Race your friends, ride the waves or just hand it off to the kids to wear them out before dinner.
Floating Bean Bag Toss Game
Floating Bean Bag Toss Game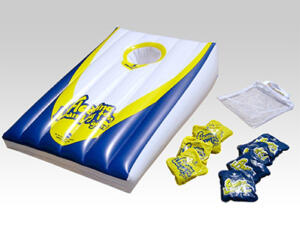 Depending on where you're from, you may call this either a bean bag toss or a cornhole game.
Either way, you'll have loads of fun with this buoyant take on a classic pasttime!
The inflatable target is a snap to blow up, and the "bean bags" float, too.
This way you'll never lose them in the water, no matter how badly you miss.
Channel Water Spraying Helicopter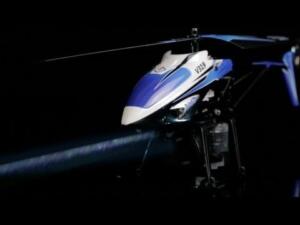 Need a little range to get back at someone for that Super Soaker attack?
Call in some air support with this remote-controlled, water spraying helicopter.
It has a water fuselage connected to a remote-controlled water gun, and works just like any other remote controlled helicopter.
The built-in gyroscope gives it excellent aiming stability while your friends run for cover. Welcome to the next generation of lake toys.
Gigantic Inflatable Rubber Ducky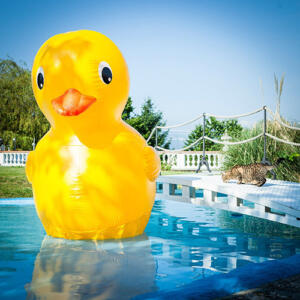 Simple. Classic. The life of the party.
And absolutely gigantic.
At more than six feet tall, the Gigantic Inflatable Rubber Ducky by BigMouth, Inc. is a larger-than-life reimagining of Ernie's old friend.
You'll certainly stand out whenever this big fellow is standing guard!