It's Independence Day — the quintessential summer holiday to spend at the lake! Between boat rides in the sun, watching fireworks, and grilling in the backyard, there's so much to love about this day. One of the most fun ways to celebrate the 4th of July is making themed summer treats. Last year, we served up several cocktail recipes with a unique revolutionary flare. This year, we're whipping up some festive desserts. Check out these delicious recipes that will have your guests coming back for seconds!
Red White and Blue Poke Cake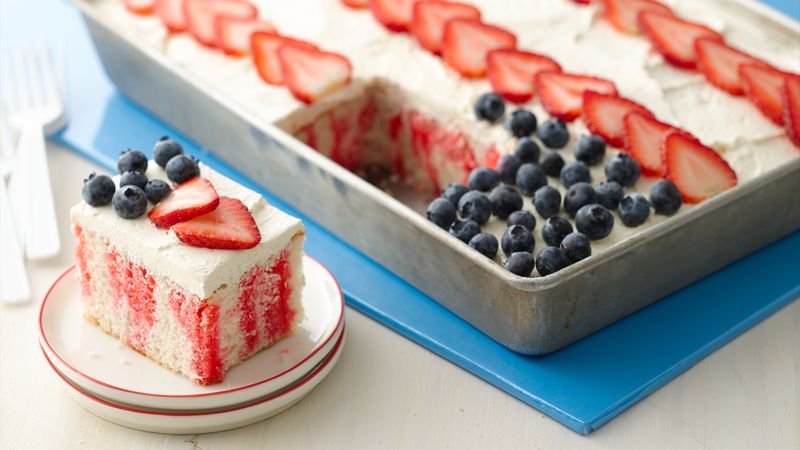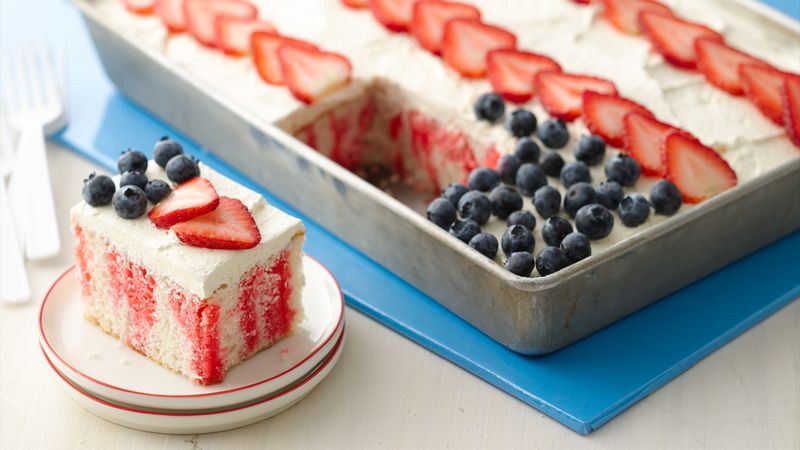 It's America's birthday — so what kind of dessert is more appropriate than a cake? As its name suggests, a poke cake involves poking holes into a baked cake. From there, you fill it with a liquid-like pureed fruit, chocolate cream, or pudding. The result is more flavorful and moist than your average cake. The filling is red gelatin for this recipe, allowing the festive colors to seep into the entire cake. Check out this easy recipe from Betty Crocker.
Ingredients:
1 box of white cake mix (calls for water, vegetable oil, and eggs)

1 box (3 oz) strawberry-flavored Jell-O

1 cup of boiling water

½ cup of cold water

1 box of white chocolate-flavored Jell-O instant pudding

½ cup cold milk

1 container (8 oz) Cool Whip frozen whipped topping

1 cup sliced fresh strawberries

½ cup fresh blueberries
Directions: Heat the oven to 350 degrees and bake the cake. Cool for 20 minutes, then poke holes almost to the bottom of the cake, spacing the holes out by ½ an inch. Stir gelatin and boiling water in a bowl, stir in cold water and pour the mixture on the cake. Refrigerate for 3 hours. Then, beat the pudding mix and milk and use as a whipped topping. Add strawberries and blueberries in a flag shape on top.
Star-Spangled Red, White, and Blue Slab Pie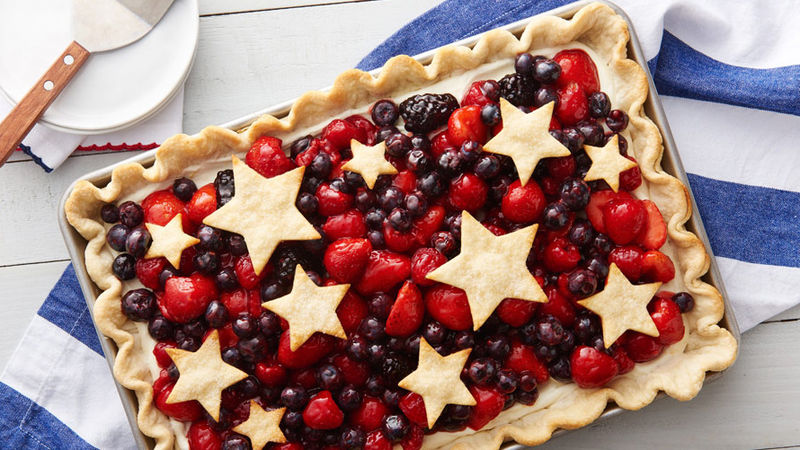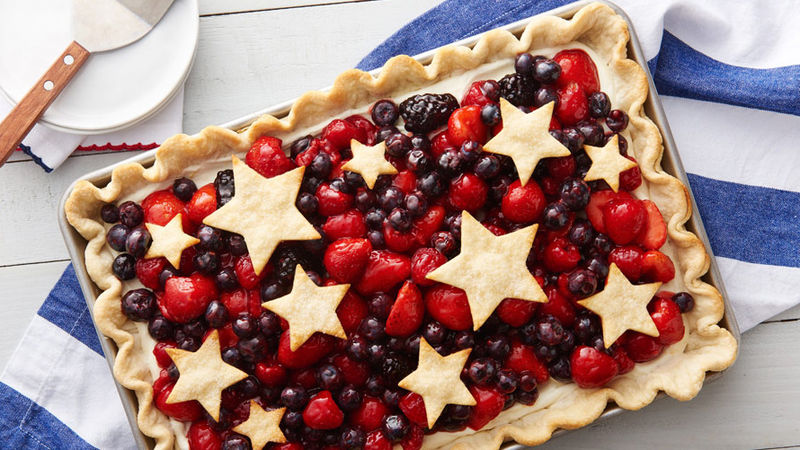 No baked dessert says "All American" quite like a pie. From Pillsbury, this 4th of July dessert is easy to make, refreshing, and delicious. The assortment of fruit flavors boasts patriotic colors in celebration of this holiday, and the lemon flavor adds the perfect amount of citrus. Take a look at the full recipe from Pillsbury.
Ingredients:
3 crusts from 2 boxes of refrigerated Pillsbury pie crusts (2 count) softened as directed on box

¼ cup of sugar

2 packages (8 oz each) of cream cheese, softened

2 containers (6 oz each) of Yoplait original lemon burst yogurt

Juice and grated peel of 1 lemon (3 tablespoons juice and 1 teaspoon peel)

6 cups assorted berries (sliced strawberries, blueberries, raspberries, and blackberries)

1 cup strawberry glaze (from 13.5 oz container)
Directions: Place pie crust into an oven preheated to 450 degrees. Bake for 10 to 12 minutes and allow to cool for 30 minutes. In the meantime, take out another pie crust from the pouch, cut stars using cookie cutters, and bake for 5-7 mins. In a medium bowl, beat the remaining ingredients (besides berries) with a mixer and spread into the crust-lined pan. Refrigerate for 30 minutes. Finally, mix and glaze the berries in a bowl and spoon over the top of the pie.
American Flag Rice Krispie Treats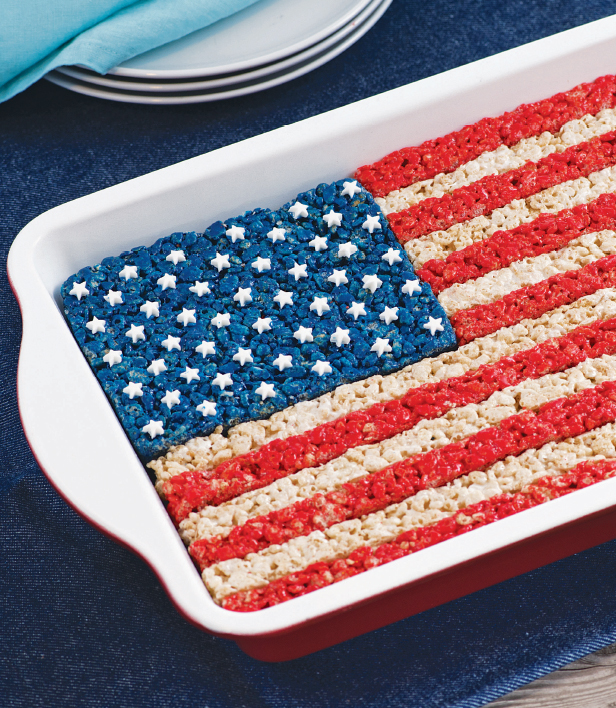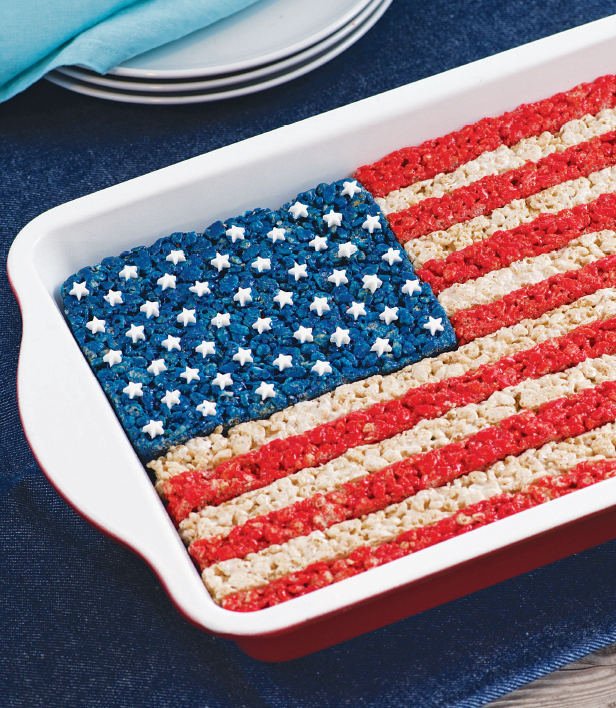 The only thing better than a classic Rice Krispies treat is one in the shape of the American flag. This simple recipe is fun for both kids and adults alike. With easy ingredients and just a hint of food coloring, you'll have the perfect summer treat to share with your family and friends.
Ingredients:
1 stick of butter

2 bags of marshmallows (10 oz. bags)

10 cups of Rice Krispies cereal

Food coloring

White star sprinkles
Directions: In a large bowl, melt butter and marshmallows. Then separate the mixture into 3 bowls, with one disproportionately smaller (for the blue part of the flag). Then, color the mixture with red, white, and blue food coloring. From there, pour in the Rice Krispies and mix, then place into 9×13 pans, then let chill for a few hours. Swap the Rice Krispies between pans so that the stripes and stars are arranged in the shape of a flag. Enjoy!
Loaded Red, White, and Blue Cookie Bars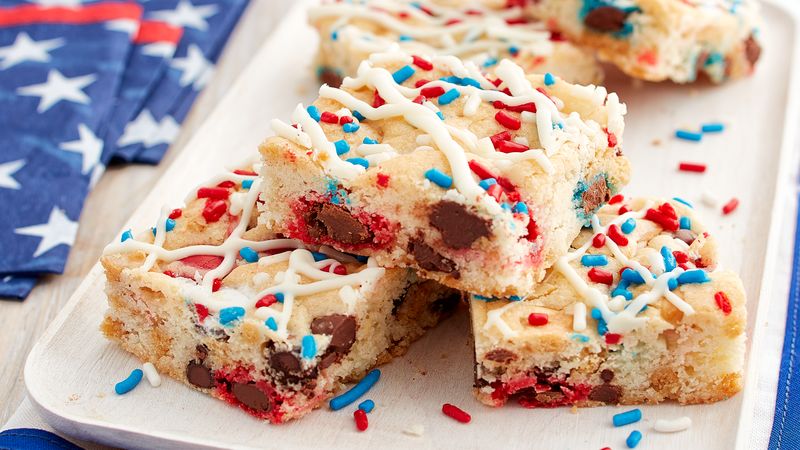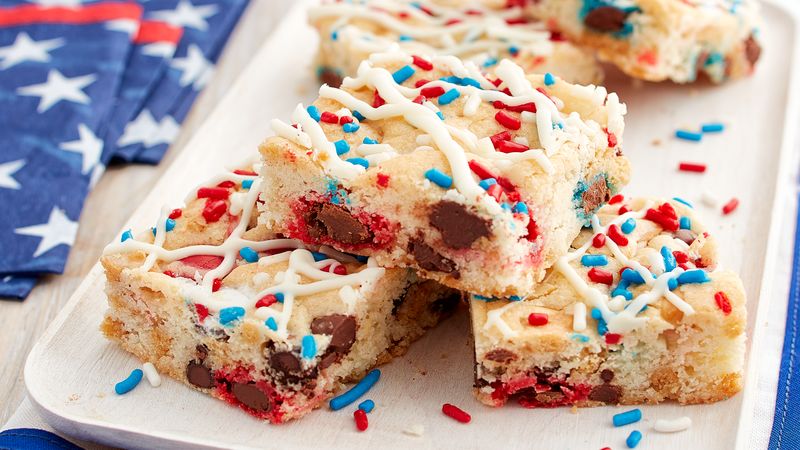 If you're looking for a treat that's easy to bring on board a boat, try baking red, white, and blue cookie bars. These 4th of July desserts are best enjoyed alongside some vanilla ice cream to cool you down after a long day out in the sun. One of the best parts about these bars is that they're packed with sweet flavors. Oreos, M&M's, chocolate chips, and sprinkles add delicious variety to these pastries. 
Ingredients: 
1 roll of refrigerated sugar cookies

3 oz cream cheese, softened

2 tablespoons all-purpose flour 

8 Golden Oreo sandwich cookies, coarsely crushed (1 cup) 

½ cup red, white, and blue M&M's candy-coated milk chocolate candies 

½ cup semisweet chocolate chips 

¼ cup coarsely chopped cocktail peanuts 

2 tablespoons red, white, and blue candy sprinkles

 ¼ cup white vanilla baking chips
Directions: Break cookie dough into chunks, add cream cheese and flour, and stir. Then, stir in crushed cookies, candies, chocolate chips, and peanuts. Coat a 9×13-inch pan with baking spray, and spread mixture in bottom of pan. Sprinkle candy sprinkles on top. After baking at 350 degrees for about 30 minutes, allow to cool for 30 minutes. While cooling, microwave the vanilla baking chips until they're smooth. Then, use a Ziplock bag to ooze the icing over the top of the cookies.
From our lake home to yours, happy 4th of July! We hope you enjoy these tasty treats.