Spring is a time to renew, refresh and revive your lake home. Give your front door a face lift with these fresh and fun ideas!
Pick a Color, Any Color
A fresh coat of paint can do wonders for any space, but instead of just touching up the scuffs on your front door, consider painting it an entirely new color.
Lake homes often serve as summer homes, so why not add bright pop of color to your vacation spot?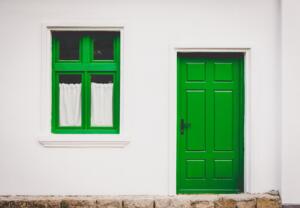 Popular lake-themed colors include vibrant blues and bright greens, which are reminiscent of the lakescape. Many homeowners also opt for a sunny yellow color to greet guests as they arrive for a day on the water.
These colors are not only aesthetically pleasing, they can influence how your guests feel.
According to a previous LakeHomes.com article, yellow promotes feelings of joy, happiness and positive energy. Similarly, green can also energize a room, as well as promote feelings of togetherness when used in communal spaces.
Blue is a calming color, which promotes relaxation and serenity.
Primary lake home residents can also benefit from a freshly painted front door, but might consider choosing a more season-neutral color such as red or muted earth tones.
Complete your front porch re-fresh by tying in your new front door color with accents such as a patterned porch swing cushion or door mat that features it.
Add Texture and Depth
For a front door that truly makes a statement, try adding stripes or a chevron pattern to the mix.
For beach homes and other waterfront retreats, try painting alternating color and white stripes running vertically up and down your door. Or add a single, thick "Charlie Brown" chevron strip to near the bottom of it.
If your door is paneled or has a glass window, consider framing each section with an accent color different from the main one. This will add dimension to the otherwise flat surface.
Painting the frame around the door a different color than the door itself will also helped to add depth to your doorstep.
After the paint has dried, accessorize the space with a new knocker or door handle.
Finish it all off by adding raised metal, or vinyl applique address numbers or a greeting message like "hello" or "welcome."
A Door for all Seasons
Of course, painting isn't for everyone. For homeowners who choose to leave their front doors their original color, adding a seasonal wreath can help make their homes look more festive and inviting.
Though some can be pretty extravagant, making a Spring wreath doesn't have to be a difficult undertaking.
For your base, start with a basic grapevine wreath. These wreaths are the ones that look like wooden vines all entangled in a circle and can be found at Walmart and your local craft stores.
Next, select a handful of large-bloom flowers and a few accent stems to intertwine with the vines. These items will often be found near where you got your base.
Trim the flower stems down to about five inches and insert them into various spaces on the base. Secure each flower by looping its stem through the open space a few times.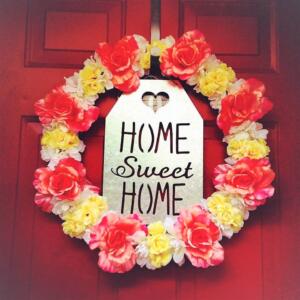 Repeat this action with the accent stems, and within minutes you have the perfect accessory for your front door!
Another simple wreath only takes hot glue, a wreath base, and a few flower buds.
Near the grapevine wreaths at your local craft store you can find wooden wreath bases, which feature pre-cut holes into which flowers can be inserted.
To complete this type of wreath, remove your flowers from their stems and hot glue them to the base, and that's it!
Add something a little extra by hanging a greeting sign in the middle of the completed piece.