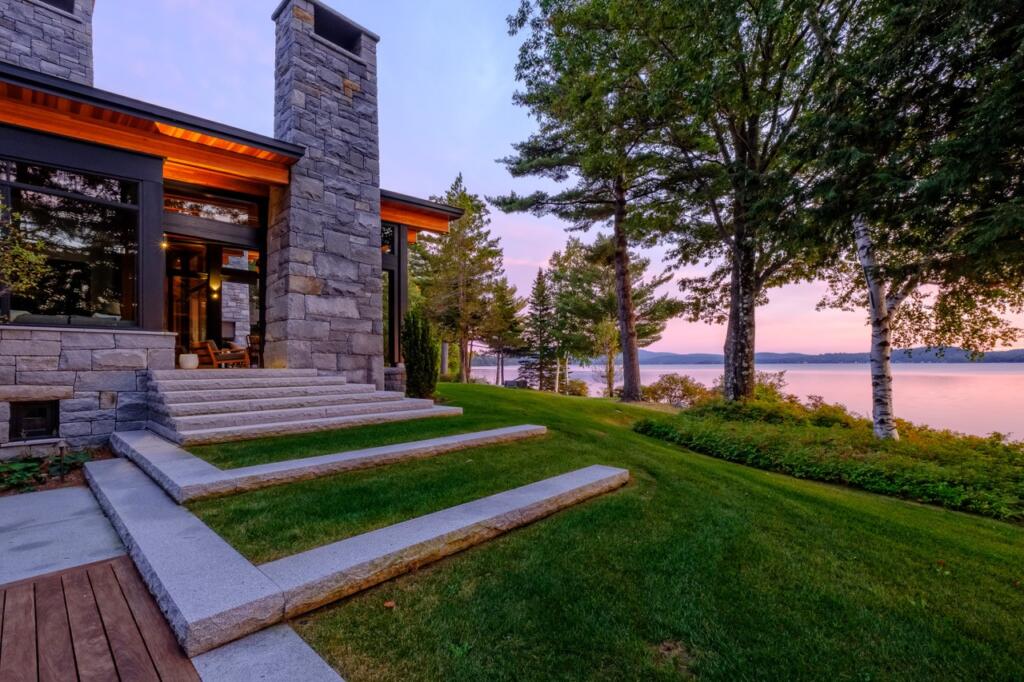 In a previous post for Lake Homes Realty, we presented some inspiring hardscaping ideas for your lakeside landscape. For part two of our feature, we're going to focus on softscapes—the living, growing components of your lake property. Think of these as the soft horticultural elements of your landscape, like trees, shrubs, flowers, grass, and ground covers. To get some expert advice on how to plant in a lake environment, we spoke with Larry Bates, a landscape architect for Russell Lands and a 30-year resident of Alabama's Lake Martin area, to get his top tips.
Balance, Unity, & Simplicity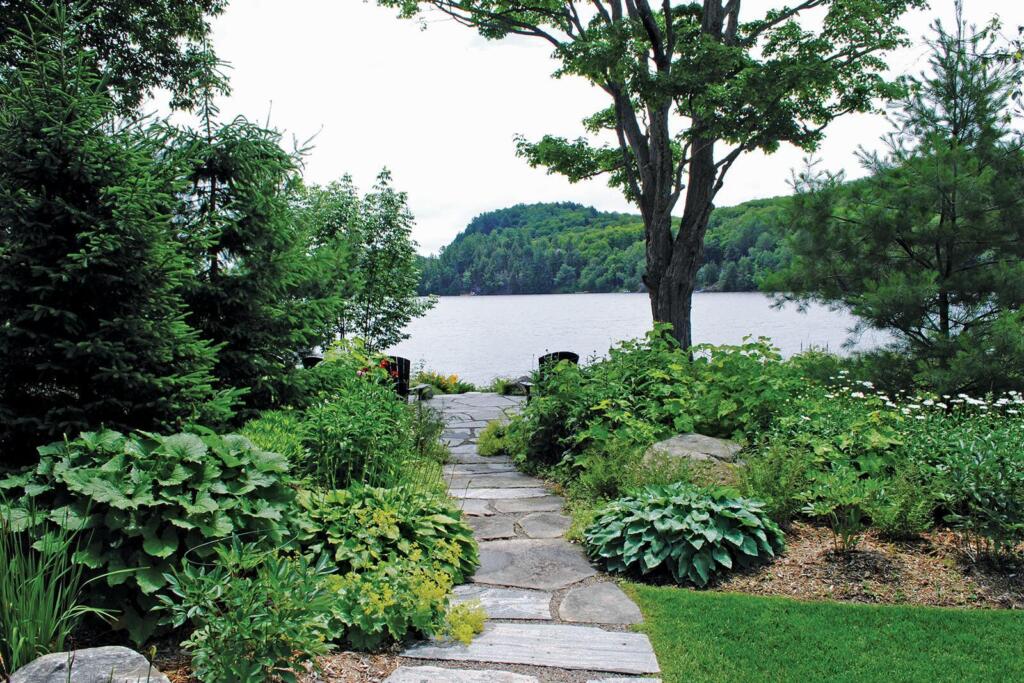 Before you select plant materials for your lakeside landscape, you first want to consider what will blend harmoniously with the natural surroundings and facilitate the enjoyment of your property. "By virtue of having a lake property, your home is situated within a natural environment," says Bates. "The plantings should always blend with that environment and enhance the presentation of the house." 
Bates also suggests keeping in mind that a lake home doesn't really have a backyard because it typically faces the water, and people will view it from the water. "This is not a backyard, so don't treat it like a backyard," he explains. "You essentially have two faces to deal with that are equally important, so you have to invest in both sides—the entrance from the driveway and the lakefront," he adds.
By applying a few basic principles of landscape design—balance, unity, simplicity—you can create a softscape design that complements the natural scenery, any hardscaping elements such as patios, fire pits, and stone pathways, and your desired level of maintenance. 
"If you're a part-time resident, this isn't the place for a time-consuming rose or vegetable garden," says Bates. "Always consider the maintenance of your property and whether or not a yard service is an option when you're away. Plan how you're going to take care of your landscape—mowing, irrigation, soil care, weeding—and think through how you're going to get it done.
Grass & Ground Covers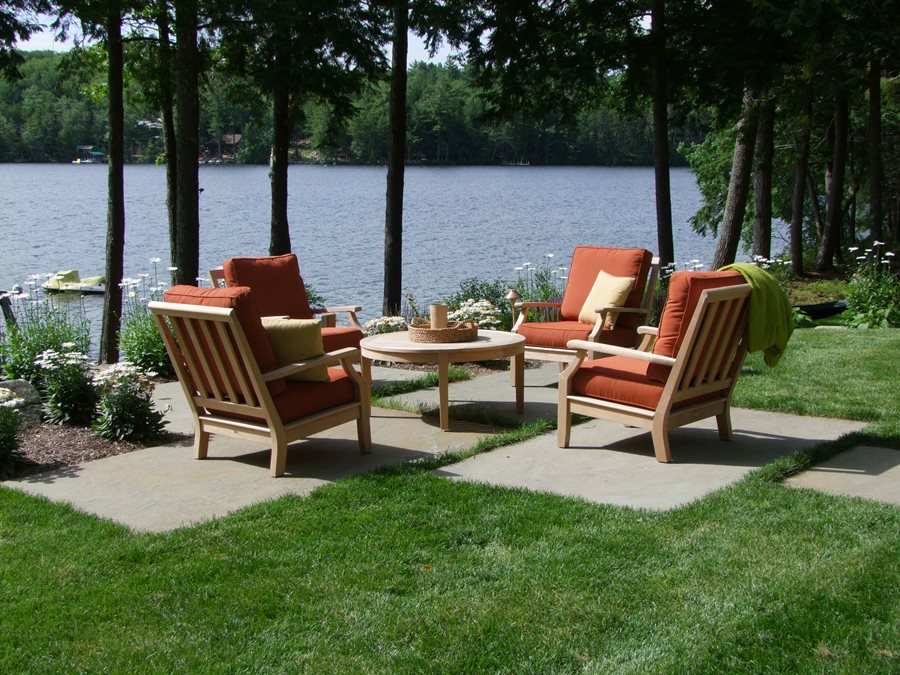 Incorporating grass and other soft ground covers into your lake landscape brings textural balance to hardscaping elements and creates softness underfoot. "A lot of Lake Martin landscapes have grass lawns," says Bates, "but keep in mind you don't have to grass your entire property. It's often more visually appealing when the edges of your property segway back into the natural environment with organic mulches and other natural materials," he notes.
Bates recommends drought-tolerant lawn grasses such as Bermuda, Centipede, St. Augustine, and the ever-popular emerald-green Zoysia for warmer lake climates. "I like to use Zoysia whenever possible because it's a very dense and durable grass that can withstand the heat," he says. "In cooler climates, fescue or bluegrass lawns thrive well."
If you're looking for a grass alternative, soft ground covers such as sweet woodruff, autumn fern, creeping thyme, and creeping phlox can spread quickly and create a plush, textured landscape look. Ground covers typically require less maintenance, and some are ideal for sloped areas where mowing can be difficult. Use them to cover shady and high-traffic areas where turf grasses won't grow or perform well. Some ground covers even work to choke out weeds. Always consult with a landscape professional when selecting the best choices for your climate.
Trees, Flowers, & Plants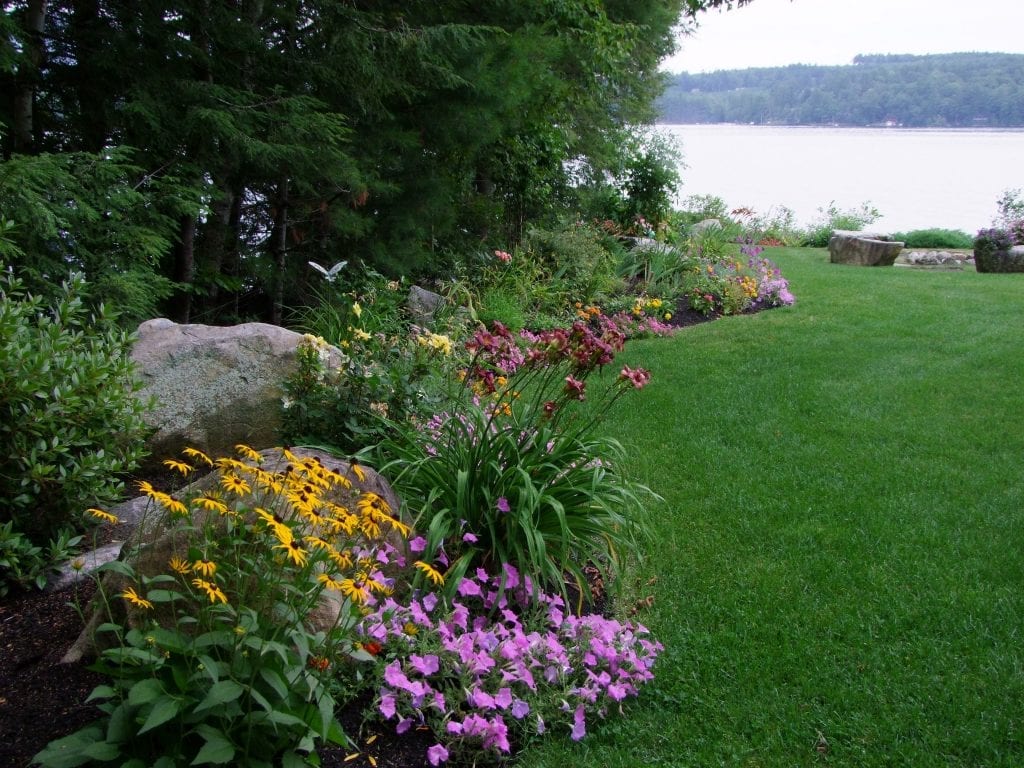 When planning your lake landscape design, keep in mind that you want to achieve an ideal balance of softscapes and hardscapes for the best visual appeal. Plants and trees come in an endless array of sizes, shapes, colors, and textures, so you'll want to make sure your selections complement each other as well as the surrounding environment. Tall trees and shrubs create vertical interest to draw the eye upwards, and lush plants and flowers display their beauty more at ground level. Container gardens placed around the perimeter of a deck or patio can also soften the rough edges of these hardscapes.
"When selecting plants, a big concern on lake properties is wildlife," says Bates. "On Lake Martin, deer and beaver are public enemy number one," he laughs. "You need to consider these things when deciding on plant materials and mitigate the damage. If they're feeding on your plants, they're not so charming anymore," he adds.
Bates has had success with a lovely blooming shrub called sweetspire and most anything in the viburnum family for this southern lake region, including evergreen, sweet, and snowball viburnum. "Deer really don't care for them like they do hydrangeas," he notes.
Bates suggests native oaks, tulip poplars, and black gum trees for tree options that blend with the surrounding scenery, all of which tend to thrive with little trouble. Heartier evergreen trees like hemlock, fir, and spruce can tolerate colder climates and bring a magnificent forest feel to your lake landscape.
Go With the Flow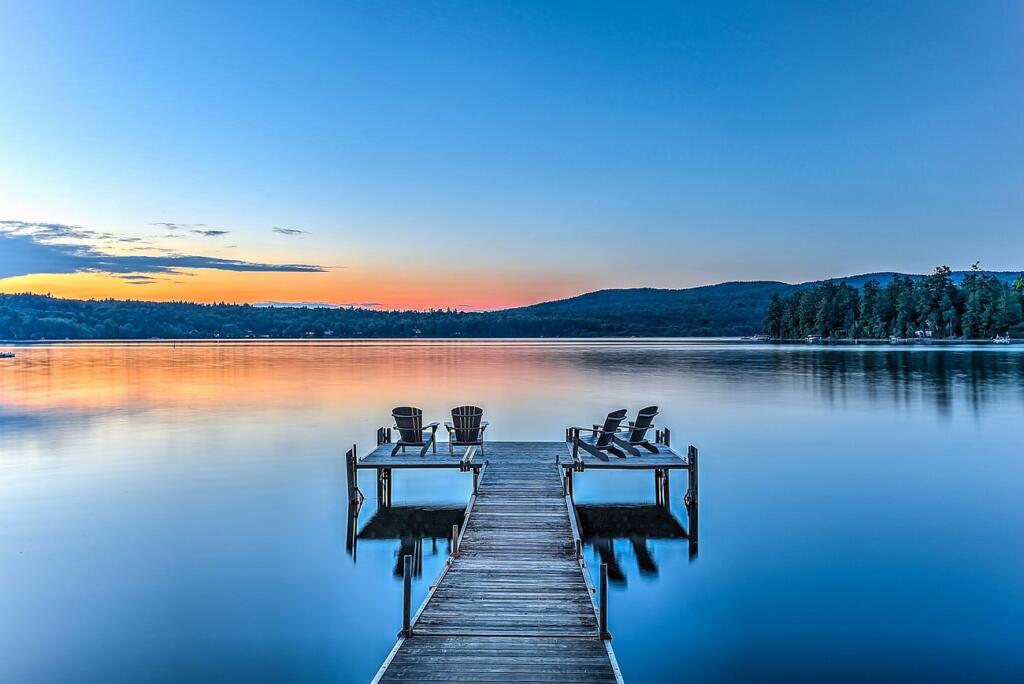 As lake lovers, we strive to preserve nature's profound beauty by honoring the natural environment encompassing our homes. This is a good guideline to live and plant by as we face the challenges of impending global climate change.
"Lake environments tend to be forested environments," says Bates, "so it's desirable to create a landscape that blends and relates to it. And because forests are nature's filter in keeping the lake clean, it's a real incentive to have landscapes that transition gracefully into any undisturbed natural eco-systems."
Bates also points out that a lot of wooded areas are thick with pine trees. The pine needles and natural ground floor filter the drainage, stop erosion, and keep sediment out of the lake—ensuring the water that flows to the lake is high-quality water, clean, and pure looking.
"If you have evasive vegetation like kudzu, you most certainly have to deal with that, but keeping the forest healthy doesn't require much help from us," he sums.
For more inspiring softscaping ideas, check out Pinterest. Happy landscaping this summer—we would love to hear about your planting adventures at the lake.