American homes are getting smarter at a rate that was hard to imagin only a few years ago. According to one Nielson study, nearly a quarter of the United States population today owns at least one smart device.
So, while consumers are arming their homes with the latest in smart security systems, smart thermostats and even smart appliances like refrigerators, lake homeowners can now add similar technology to their boats and docks, too.
Dock IQ
Designed with asset protection and personal safety in mind, Dock IQ is a remote management and monitoring system for your dock.
Changing water levels can wreak havoc on these structures, often resulting in costly damages. Dock IQ helps provide dock owners peace of mind by tracking lake levels and alerting them via the system's mobile dashboard when levels get too deep or too shallow for the structure's stability.
The system, which runs on its own private wireless service, also features a high-resolution camera, a motion security sensor, geo-fencing technology and a dock GPS locator sensor.
If there is  movement outside the geo-fenced perimeter, or should an unwelcome guest trip the motion sensor, DockIQ immediately sounds an alarm.
The system automatically activates exterior lighting and its camera begins rapidly capturing images of the area. Dock owner's instantly receive these images through their IQ dashboard so they can alert the police and their neighbors.
Shock IQ, DockIQ's companion system, offers a more aggressive response  its Shock IQ detection sensor, dock frame and in-water electric current sensors.
If electricity is detected in the water surrounding the dock, Shock IQ automatically trips the structure's power breaker.
Using it's 10-hour battery back up, ShockIQ then sounds an alarm and notifies the dock owners and neighbors of the threat through the IQ mobile app.
Dock IQ also offers bonus features like boat and jet ski tracking devices and solar power capability that can also be added to the DockIQ system.
For more information on this must-have lake technology, please visit www.dockiq.com, or click here to watch the company's informational video.
ProNav Angler and Motion
Kiss manual boat control goodbye with ProNav Angler, ProNav Marine's GPS autopilot system.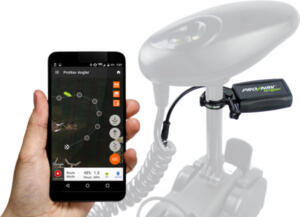 Connected though Bluetooth, ProNav Angler allows you to pre-set trolling routes, lock in your headings and anchor at your favorite fishing hole, all from the convenience of your phone or tablet.
The company also offers point-and-go navigation and hand-held automatic positioning devices, which connect and run through the ProNav Angler app.
The company's ProNav Motion devices, PointDrive and PointJog, are controlled using a small device similar to a video game controller.
The PointDrive device allows anglers to essentially steer their boats' trolling motors by simply toggling in the direction they want to go.
Using PointJog, boaters can point their devices at a specific area of the water, and the ProNav system will reposition their bow-mounted trolling motors to take them there.
Other benefits of this smart boat technology include speed control and the ability to mark and store favorite locations.
ProNav Angler and Motion can even be used while phones are in airplane mode or without cell coverage.
Learn more of ProNav's innovative navigation systems by checking out their website here.
The lake life is all about relaxation, leisure and enjoyment. So — start living smarter, not harder, with these lake-focused smart technologies.