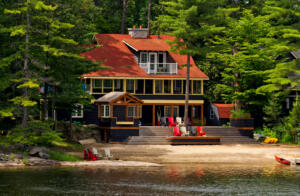 You know that great curb appeal your house had when you first bought it? Is it looking a little haggard?
Maybe the paint is fading, or peeling. The gutters are bulging from dead leaves or this winter's monsoon.
Maybe the porch has settled, and is drifting away from your house.
There are lots of things that can happen to a house that make it look, well, not so great. Here are a few quick tips to get your house back into curbside appeal mode.
Under Pressure
Power wash your house.
Rent a power washer, buy one, beg a friend or relative. Whatever you have to do, power wash the exterior panels, siding, or bricks and windows all the way around your house.
This removes the stuck on grime, and also gets rid of leaves, webs, and general yuckiness that tends to stick around.
Power washing is really quick fix to make your house sparkle on the outside.
Paint the House Red
Well, maybe not red unless you're really going for a bold statement.
But if you notice your paint is peeling or fading, invest in a paint sprayer, or hire a professional.
Do touch-ups throughout the year, or just plan on one huge project in the summer when it's nicest.
A fresh coat of paint has the power to make a house look brand-spankin'-new.
Get Your Head Out of the Gutter
Clean your gutters, people!
Stuffed gutters can cause structural damage, leaks and costly repairs if your gutters get so heavy they fall off. It happens.
Instead of letting it get to this point, clean your gutters out especially during spring and fall when all the new or dead leaves are falling from the trees.
If notice a bird's nest or other blockage, get up there and clean it out. If you are not able to, hire someone that is.
Trim The Bushes
Landscaping is a great visual addition to a spruced up home exterior.
If you already have landscaping, maintain it. Trim the bushes, trees, or hedges and keep the flower beds weeded and grass mowed.
It's amazing how much nicer a house looks when it's got a well-kept yard.
If you have dirt instead of grass, think about investing in sod, grass seed, or having a landscaper do it all for you.
Clean Up
Don't be that neighbor; get your car off the lawn, your trash bags off the porch, and your kids toys off the sidewalk.
Tidy up after you have a party on the lawn, and don't let junk accumulate on your property.
It sounds simple, but so many people underestimate how much nicer their house looks from the outside when people aren't greeted by a lot of junk at the curb.
Don't Forget Your "Shore Appeal"
The term "curb appeal" refers to how your house looks from the street, or curb.
With a lake home many times the "front" of the house may be oriented towards the lake.
If this is the case make sure you make the appropriate side of the house your priority. Also, include your dock into the equation.
Make sure that any year-round furniture is secured, there is no clutter such as life vests or fishing supplies, and that your boat is secured and orderly.
Hopefully after reading these tips, you're motivated to get out there and clean!
Do the easiest steps first, and build up to the big projects, like repainting or landscaping. Then, you can enjoy the view every time you pull into your garage or driveway.