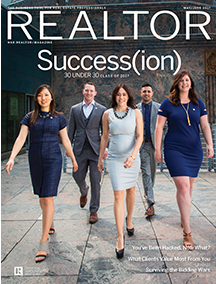 Doris Phillips, Chief Operating Officer of Lake Homes Realty, was featured in the May/June 2017 edition of Realtor® Magazine.
The feature article, entitled "On Golden Ponds," is the latest installment in a periodic series of featuring the nation's most successful and innovative real estate brokers.
The article highlights Doris' growth in real estate through the years.  This includes a number of years in title insurance and real estate closings. In 2004, Doris founded her own title insurance agency, RealSource.
There is also an inside look at the unique history of Lake Homes Realty and LakeHomes.com, including how the business was designed using a new brokerage business model.
Featuring licensed agents in multiple states, Lake Homes Realty provides robust agent and client support using a high-tech support center.
Instead of the overhead of multiple brick-and-mortar offices, Lake Homes Realty instead invests more heavily in better marketing for its clients and agents across the country.
In addition to COO, Doris is also National Director of Brokerage Operations. She manages all aspects of the company's brokerage operations, including licensing, contracts, and commissions.
"I'm honored that Realtor Magazine wanted to share our story," says Doris. "We work hard to be very meaningful to our agents, buyers, and sellers. And we strive to think beyond 'how its always been done" to find more and more ways to serve."
Realtor Magazine has a print distribution to over 1 million readers nationwide as well as an active online presence.
Click here to read the full article online at RealtorMag.com or visit http://realtormag.realtor.org/for-brokers/standouts/article/2017/05/golden-ponds