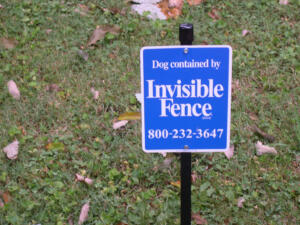 Installing an invisible fence for your dog at your lake home is important.
It would be quite the shame if your loving, family pet ran away because you didn't have a fence installed.
An even though most dogs are good swimmers, it will also give you peace of mind that Fido won't take a plunge without your supervision!
In addition to these benefits, invisible fences are really easy to install.
All you have to do is line up the receivers with the area of the lake house where you don't want your pet wandering, and it will emit a harmless shock to the dog's collar.
Invisible Fences and How They Work
Installing an invisible fence has never been easier with electronic fences. And electronic pet containment is a dog-training system that uses a small charge to keep your dog in the yard.It uses a transmitter plug, the plug then emits a signal that travels along underground wires. And a hidden boundary is established between the dog and the fence.
Depending on the brand, the dog may receive a warning sound on the collar when the dog wanders near the boundary.
If the dog doesn't listen, the collar will respond with a minor shock.
The shock is completely harmless but just uncomfortable enough to make your pet learn the new customized invisible boundaries—and then your dog can remain safe within your property.
An invisible fence is your answer to keeping your dog safe while at the lake home.
Why an Invisible Fence at Your Lake Home is Important
Having an invisible fence at your lake home is important because you don't want your dog wandering off, especially, in terrain is potentially unsafe. And an invisible fence will teach your pet, exactly where it's safe to wander.
The invisible fence installation will help keep your dog in the yard, giving you the confidence of knowing you can leave your pup out to play—without the worry of him disappearing.
What a great technique for teaching your dog the boundaries at your lake home?
How Invisible Fences Help Keep Out Intruders
Invisible fences come with signs that you can hang on a wooden pole, letting passersby know that there is an invisible fence.
This can keep intruders out because they will assume that you have a dog, and the dog will be loose around the your lake home if they attempt to break in.
An invisible fence is a great way to keep intruders out of your lake home, not because of the fence itself, but because your dog is free to roam around the home and protect it.
In Summary
If you have an invisible fence then you can be confident in knowing that your dog will never disappear, will be safe from the lake, and can even help defend your home from intruders if trained properly!