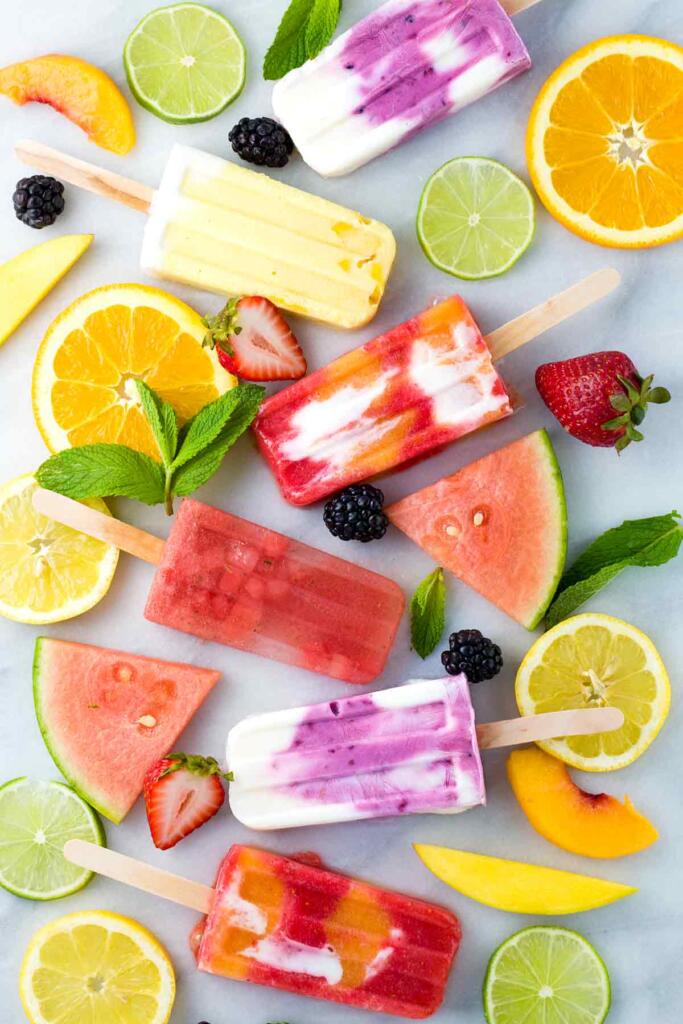 During the summer at the lake, there's nothing like a frozen treat to cool you down. Specifically, popsicles are always a crowd-pleaser. Enjoyed by kids and adults alike, these single-serving handheld desserts are the perfect cure for any overheated person with a sweet tooth. While store bought popsicles like Flavor Ice and Bomb Pops are always a classic, using popsicle recipes to make your own homemade treats is even more fun. Check out these DIY recipes for summer 2021!
Raspberry Popsicles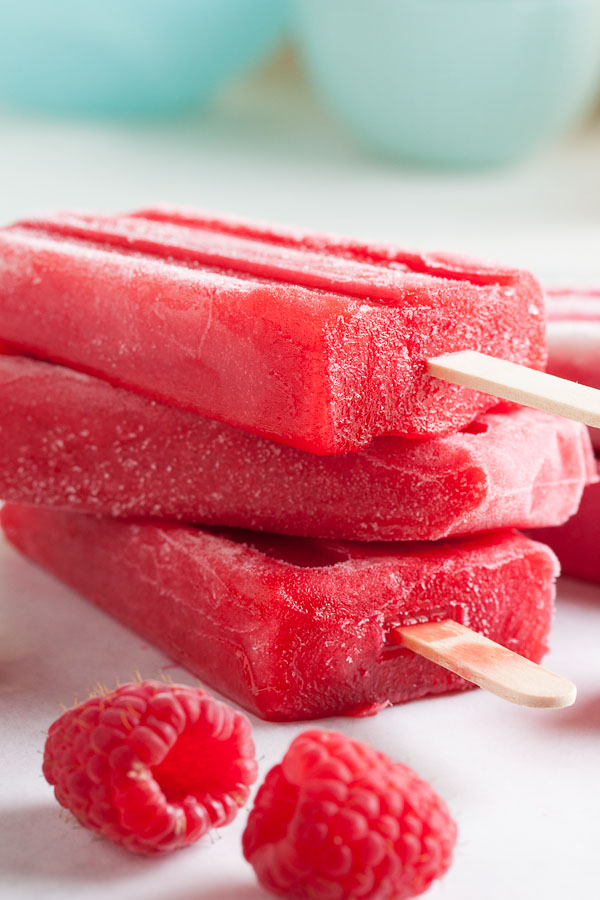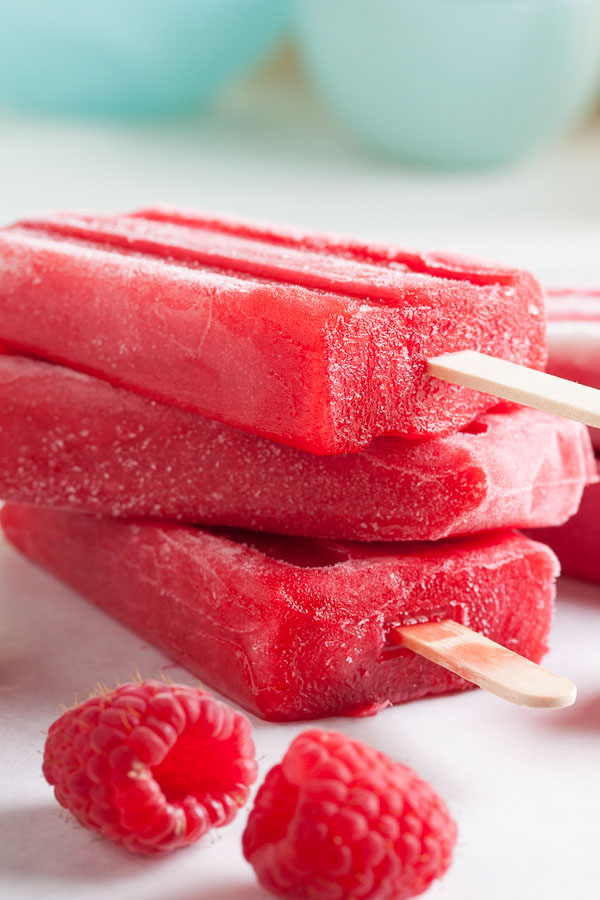 Let's start out with the simplest recipe. These raspberry popsicles use only two ingredients to get the job done. Icy, fruity, and delicious, the simplicity of these treats is guaranteed to make this dessert a household staple in your lake home.
Ingredients:
1 cup of raspberry juice

½ cup of raspberries
Directions: In a blender, blend these two ingredients together until the mixture is smooth. Then, pour into the molds and freeze overnight.
Fruit and Yogurt Swirl Pops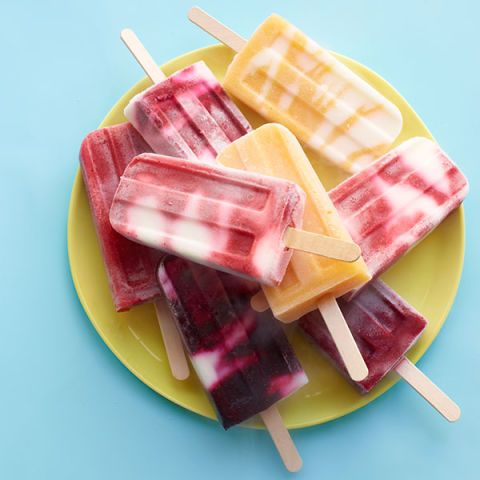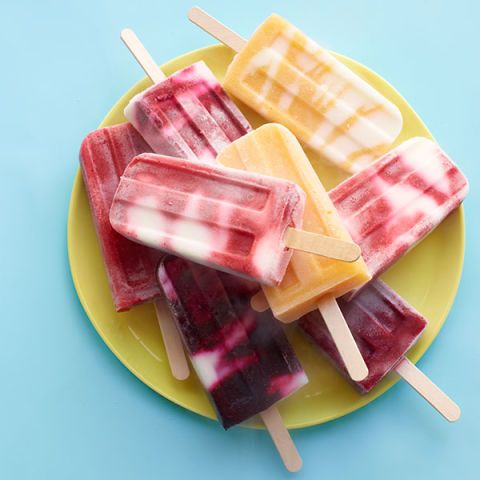 If you're looking to stay on the healthier side, these fruit and yogurt swirl pops are perfect. They're quick, easy to make, and use the same ingredients as you would use in a typical breakfast of yogurt and fruit. More creamy than icy, these swirl pops are are filling — but in a way that's more refreshing than hearty.
Ingredients:
1 pound of frozen or fresh fruit

2 tablespoons of granulated sugar (if you're using fresh fruit)

2 cups of vanilla yogurt

Ice pop molds

Ice pop sticks
Instructions: Puree the fruit and sugar using a food processor until it's smooth. Pour it into a resealable bag or squeeze bottle. Spoon the yogurt in and squeeze the yogurt and puree mixture into the molds, creating swirls. Insert ice pop sticks and freeze overnight.
Strawberry, Basil, and Honey Paletas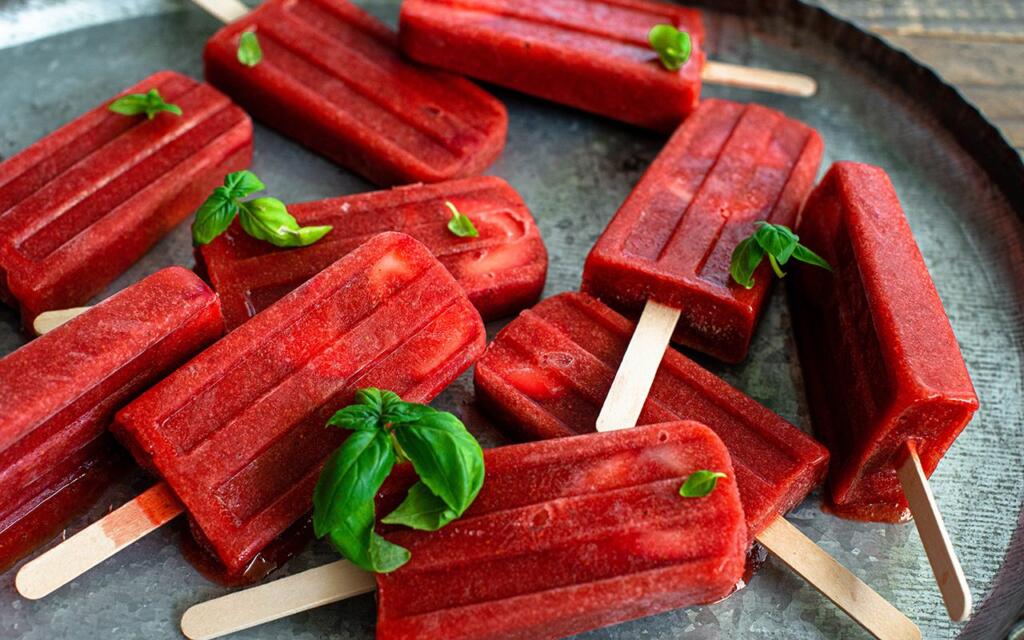 In Mexico, ice cream shops are called paleterias and the frozen treats inside are known as paletas. Similar to a popsicle, Mexican paletas are made from natural fruits such as strawberries and mangoes. Although you can make milk-based paletas, this recipe is on the fruitier side. The additional ingredient of fresh basil makes a fun twist on this classic dessert.
Ingredients:
2 pounds of strawberries

⅔ cup of fresh basil

1 tablespoon of lime juice

½ cup of raw honey or sweetener

Ice pop molds or paper cups

Popsicle sticks

Blender
Instructions: chop all strawberries, removing the green stems. Set aside six strawberries. Place the chopped strawberries, basil, and lime juice into a blender and blend until smooth. Add the sweetener to the mix and blend again. Finally, put the remaining strawberry slices into the mold and add the fruit mixture. Cover mold, insert sticks, and chill overnight.
Rainbow Popsicles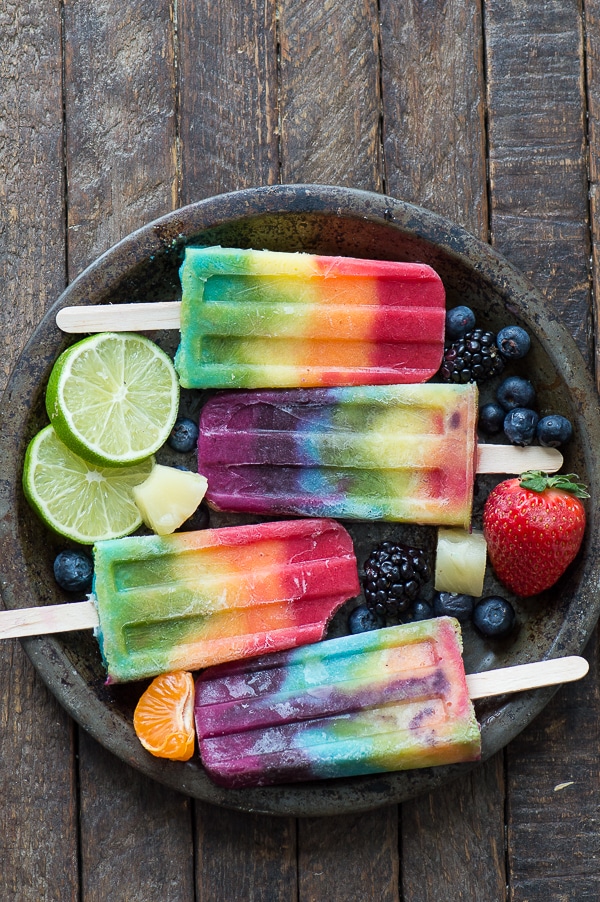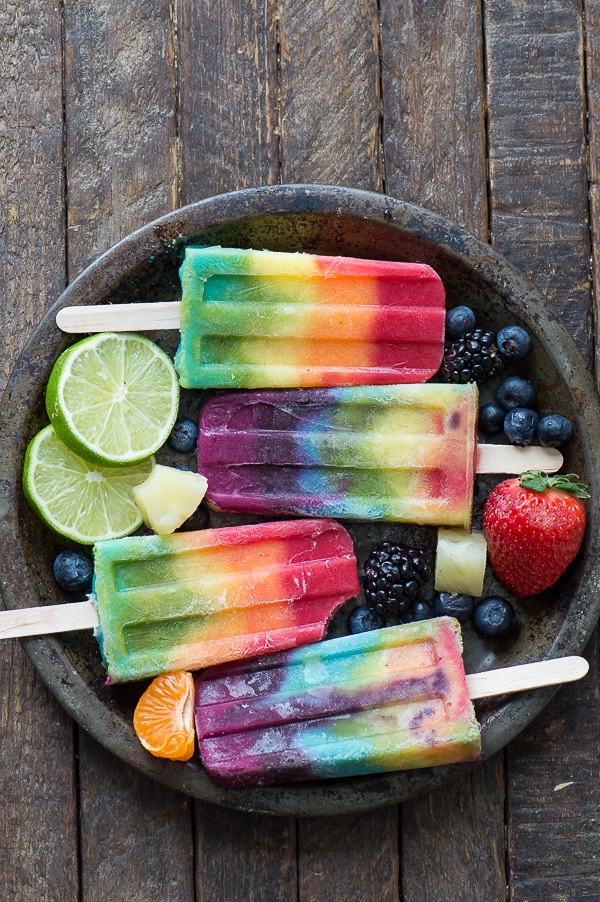 Even though Pride month is over, that doesn't mean we can't enjoy rainbow popsicles all year round! This multi-layered popsicle recipe is as vibrant as it is delicious. However, it's worth noting that this one is particularly involved. You'll need several different types of fruit, so this one is perfect after a trip to the farmer's market!
Ingredients
For all layers: ½ cup Greek yogurt (plain or vanilla) water for blending

Red layer: 1 frozen banana, ½ cup frozen raspberries, ½ cup frozen strawberries

Orange layer: 1 frozen banana, ½ cup frozen peaches, 1 small orange, ¼ cup frozen mango

Yellow layer: 2 frozen bananas, 1 cup frozen pineapple

Green layer: 2 frozen bananas, 1 handful of spinach, 1 cup frozen pineapple

Blue layer: 2 frozen bananas, 1 cup frozen pineapple, small amount of blue food coloring

Purple layer: 1 frozen banana, 1 cup frozen mixed berries

Magenta layer: 1 frozen banana, ½ cup sliced canned beets

1 cup frozen strawberries or raspberries
Instructions: Blend each smoothie as a layer. Then, scoop the mixtures into the molds in the correct order. Add the sticks once the molds are filled and freeze the popsicles overnight.
Watermelon Popsicles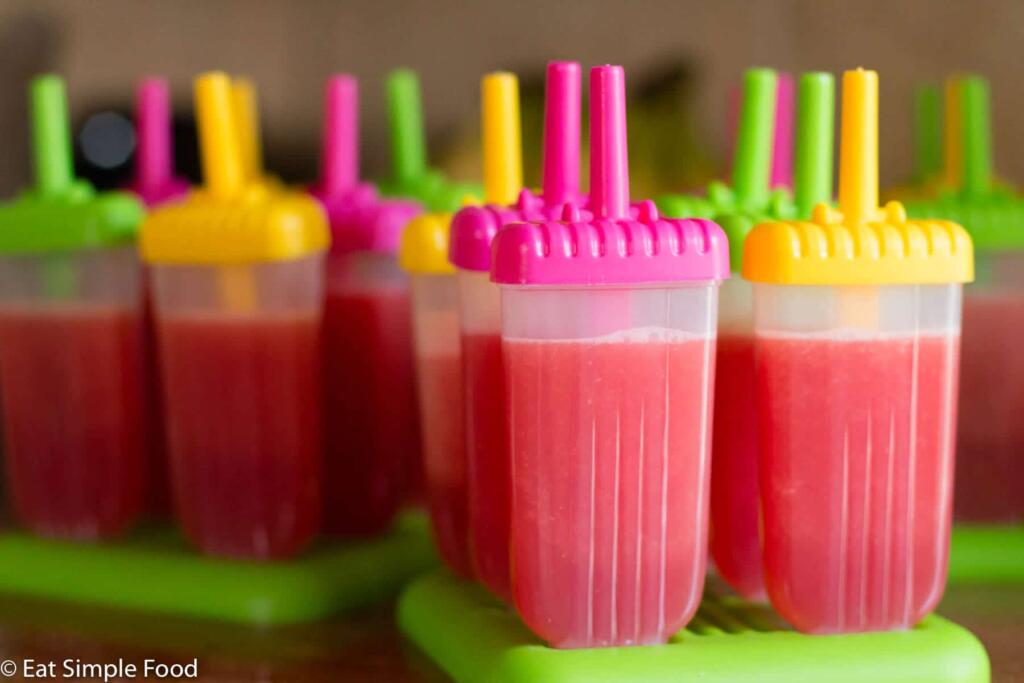 There's no fruit that screams "summertime" quite like watermelon. While this tasty fruit is delicious in its own right, watermelon in popsicle form is bound to be your new seasonal craving. This popsicle recipe is super easy and only takes about 20 minutes to make. 
Ingredients: 
1 small watermelon (seedless) 
Instructions: Cut off the watermelon rind and toss it. Cut the watermelon into cubes, then place in the blender. Once it's smooth, pour it into popsicle molds, leaving some space at the top for sticks. Freeze for at least 4 hours!