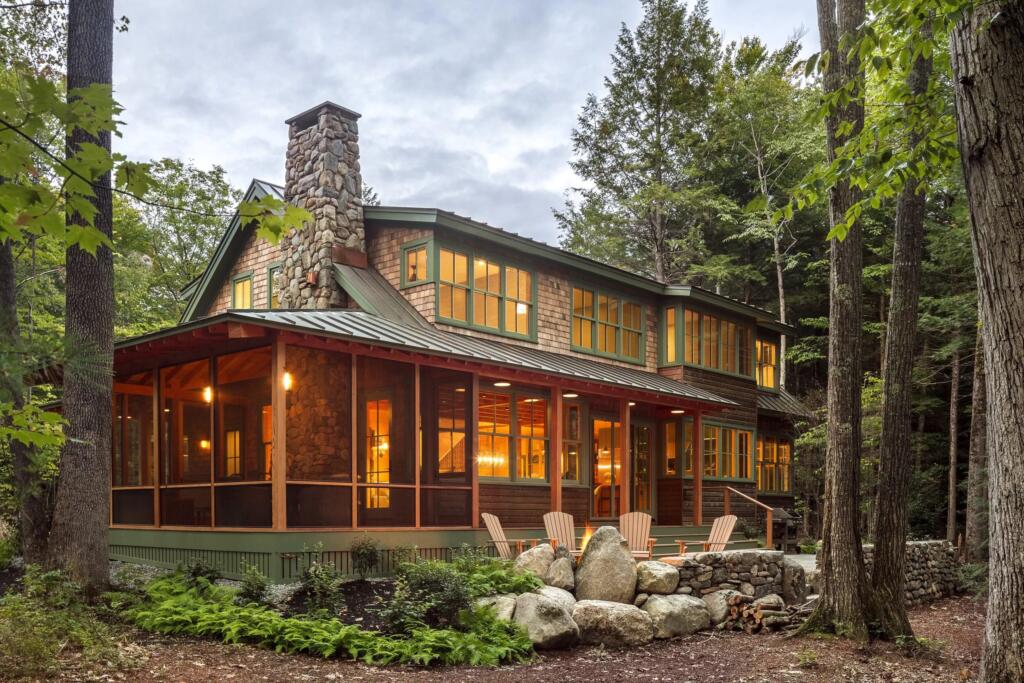 Sited on a former 1930s girls' camp called Camp Truda and set along the shores of Maine's Pleasant Lake, a family property offers the opportunity for three generations to come together in one enchanting destination. On this heavily wooded stretch of land, a Boston-based couple with young children wanted to create a four-season lakefront retreat that would ultimately share a common driveway and a large swath of waterfront with the husband's parents' existing cottage built 30 years earlier. The challenge? To design a contemporary lake home that would relate to the traditional style of the surrounding architecture yet also accommodate the needs of a modern family.
"It was a social as well as an architectural challenge," says Rob Whitten, founding principal of Whitten Architects, who took on the project. "Both homes needed to relate to one another while honoring their own identities and affording both families their privacy," he notes.
Deep Forest Allure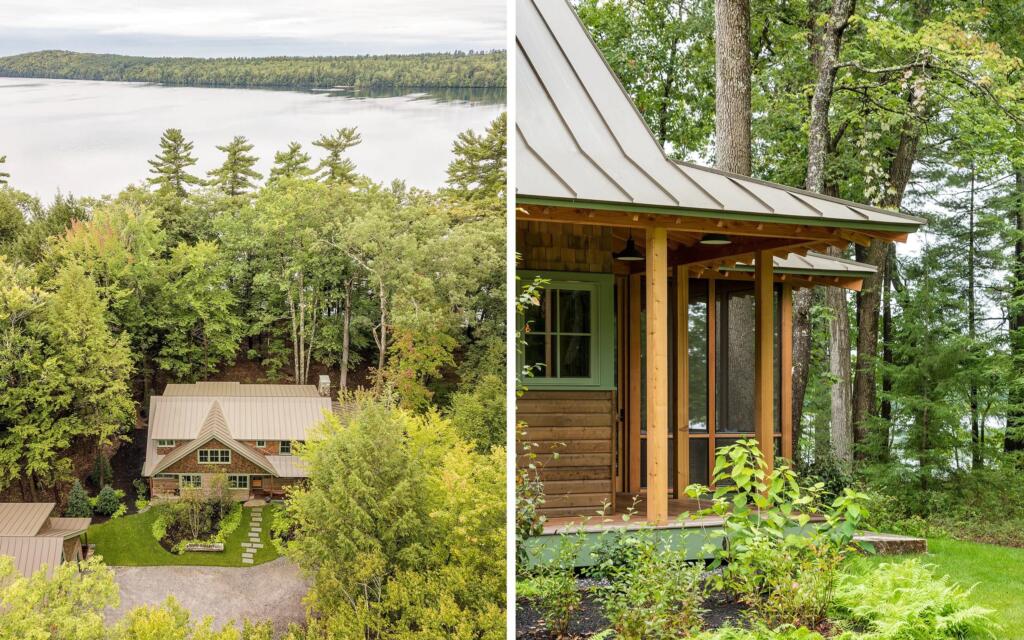 A pair of stone piers and an alley of 70-year-old white pines leading to the waterfront welcome visitors to the property. "Because of the dense tree cover and our clients' desire for daylight and lake views, we worked with a local arborist to site the camp around healthy trees while removing diseased evergreens," says Whitten. "Our site-specific design planned for an open space between the camps on the inland side for family games and interaction," he adds.
"We strived to maintain some of the big trees close to the house to honor the woods," says Drew Bortles, a project manager at Whitten Architects who worked with Rob on the overall design. "It brings a level of age to the home, and we wanted this house to feel as if it had always been there," he adds.
Camp-style Charisma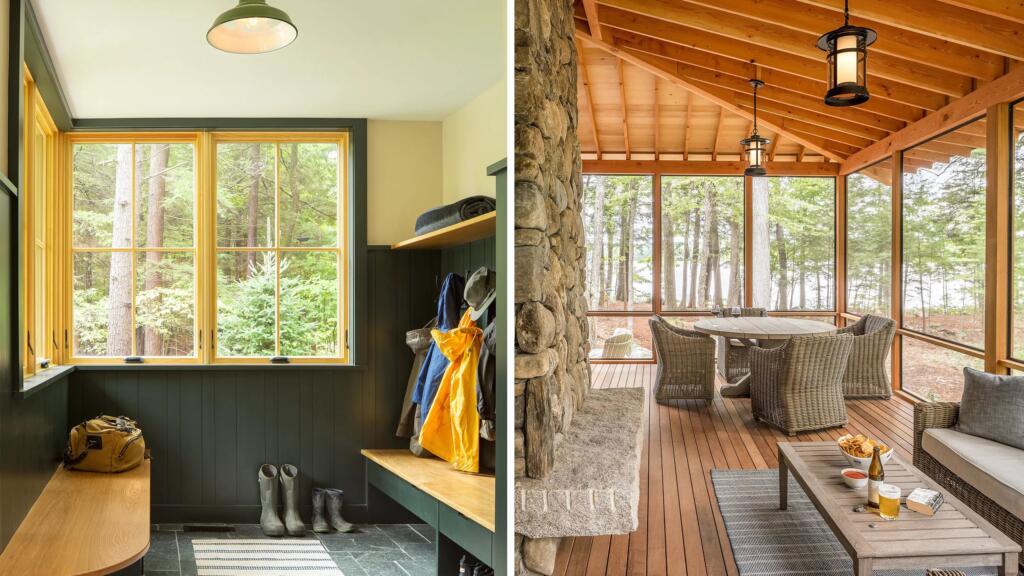 Nostalgic about the lake life, the homeowners—both with Maine roots—love the relaxed feel here and the area's endless opportunities to connect with nature. Actively involved in the design process, they drew inspiration from turn-of-the-century waterfront camps. They wanted their home to take on a traditional look—an exposed post-and-beam structure with warm wood finishes—compatible with the neighboring parents' camp yet with a more modern, light-filled open floor plan.
The home features an exposed timber frame with white cedar shingles on the upper portion and red cedar boards running horizontally around the first level. The rustic appeal of a fieldstone chimney is echoed in the terrace walls that surround a bluestone patio out back. Hand-split granite was salvaged from the site and repurposed as part of an entry bench, a fireplace hearth, and a screened porch bench.
"This house is very focused on the waterfront and all the solar exposures," explains Rob. "The son and his dad share a common driveway, and their screened porches face each other but still offer each home privacy. They all share the lakefront space, which includes a dock and a kayak rack. Creating a direct connection from indoor living spaces to outdoor living spaces was a key part of our design," he explains.
The wrapped and screened porches with exposed Douglas fir rafters extend the interior spaces outdoors and provide an idyllic spot for entertaining and a play space for the kids—rain or shine. The lakeside terrace offers a sunny oasis to unwind on long afternoons, and a fire pit invites marshmallow roasts on cool evenings. A long dock allows the family easy swim access to the area's main attraction—the lake.
Sunny and Spacious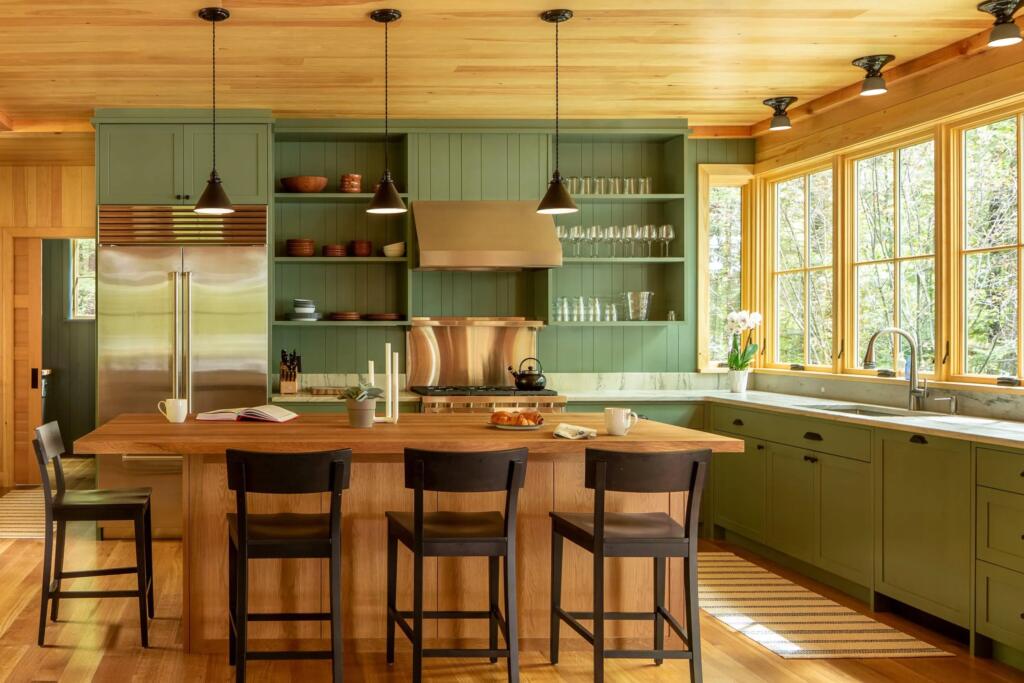 The sun-drenched kitchen connects visually to the lake outside and features bi-parting sliders on the right side of the bank of windows that open to the front porch. To complement their home's camp-style architectural design, the couple hired interior designer Krista Stokes to help them create a relaxed, down-to-earth aesthetic. Using a soft, understated color palette throughout, she gave the kitchen cabinetry an unexpected wash of Farrow & Ball Green Smoke paint—a shade they surprisingly discovered to be similar to the next-door parents' kitchen.
"The open shelving has a very campy feel," Bortles comments, "and contemporary lighting fixtures take on a vintage look. The Macaubas quartzite countertop—a type of Brazilian granite—provides a nice textural contrast to the butcher block island topped in solid white oak plank," he adds.
Additional first-floor living spaces include a full pantry, mudroom, half bath, full laundry, and a getaway space with an office and TV.
Cozy and Casual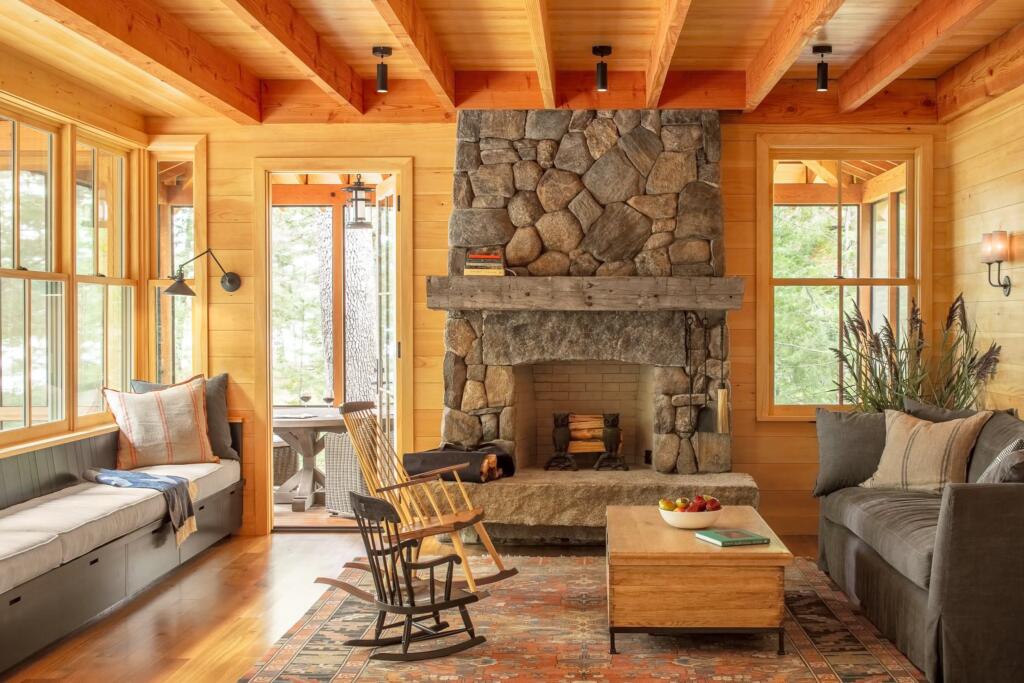 To invite spaciousness and light, Whitten designed open-plan living and dining spaces that emulate the look of traditional camp cottages as well as the neighboring parents' house. Horizontal nickel-gap white pine boards outfit the walls and ceilings in a natural matte finish, and knotty white oak floorboards lend a gracefully aged patina. Oiled Douglas fir ceiling beams display a subtle red hue overhead, creating a tangible and satisfying warmth within.
A slipcovered sofa and a built-in window seat are among the family's favorite hangout spots for reading or snuggling in front of the fire. A Moroccan rug anchors the seating area and complements the solid fabrics with a bold graphic pattern.
"This area is a haven of outdoor recreation with many lakes, spectacular fishing, a nearby ski resort, and ATV and hiking trails," says Whitten. "The family visits every week—even in the winter—so we made sure to implement energy-efficient features including high-performance windows, spray foam insulation, and radiant heated floors. There's also a home office where the couple can work remotely," he sums.
Effortless Elegance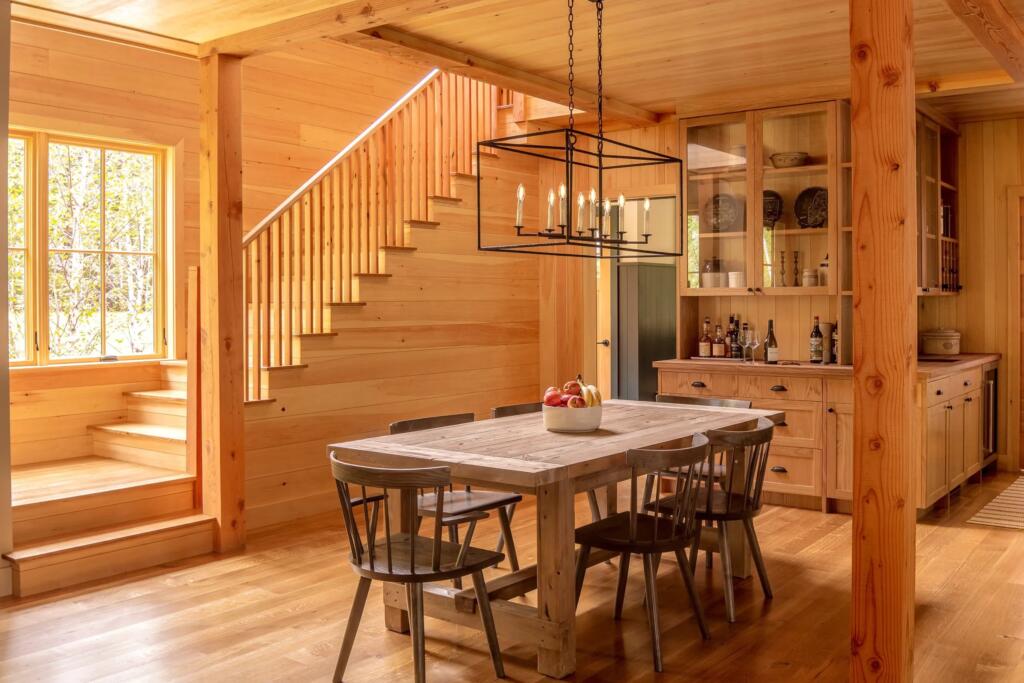 Backdropped by an open staircase, the adjacent dining area is kept airy and light with minimal clean-lined furnishings, including a reclaimed pine farmhouse-style table from Restoration Hardware, hand-crafted Shaker-style chairs from O&G Studio, and a black iron chandelier from Ballard Designs. Unobtrusive yet ample cabinetry hugs the back wall and creates even more room to breathe.
Scenic Stairway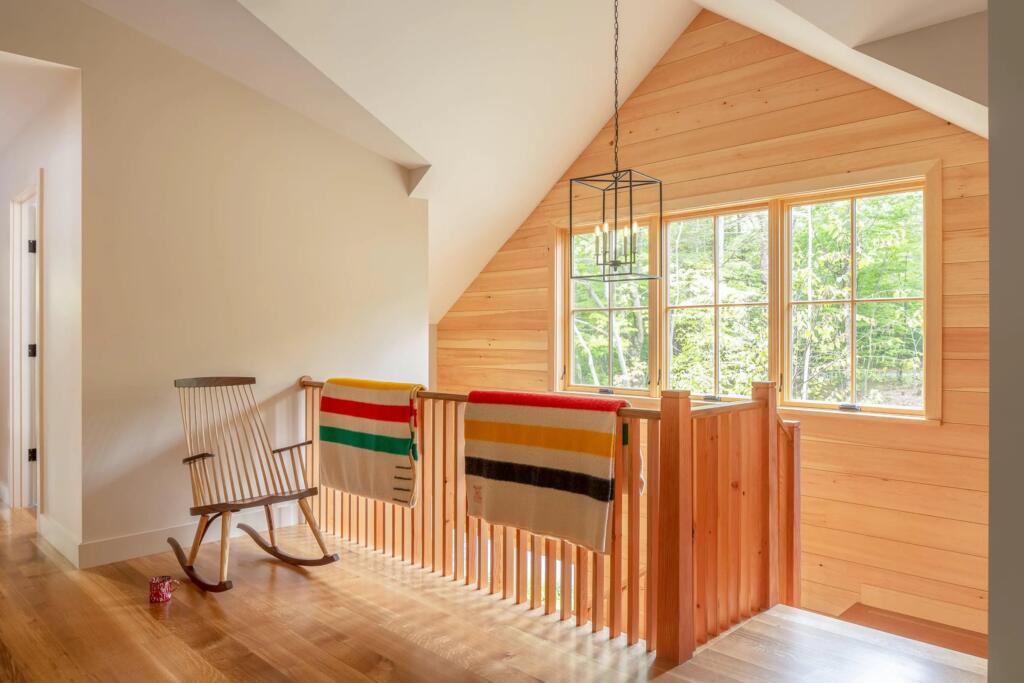 A nickel-gap pine-board accent wall creates a glorious window to the woods atop the staircase leading to the second-story master suite, two guest bedrooms, a bunk room that sleeps five, and a generous Jack-and-Jill bathroom. Hudson Bay wool blankets draped over the stair rail give colorful texture to a cozy nook at the top of the stairs.
Find Your Niche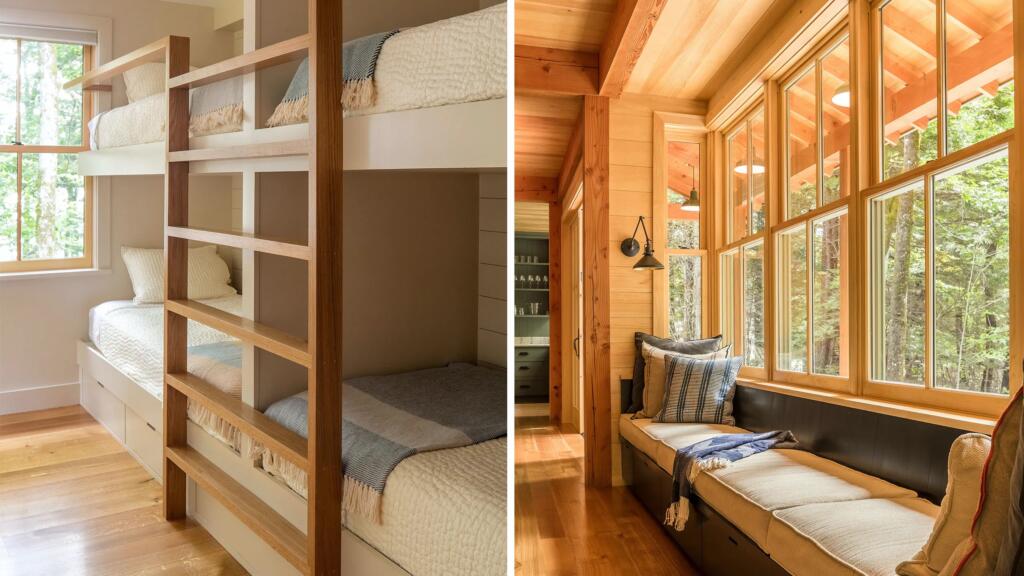 Perhaps some of the home's most inviting features are the cozy built-in nooks made for reading, sleeping, and daydreaming. Upstairs, cocoon-like bunk beds give the kids a secret alcove all their own, and the living room's reading nook offers the best seat in the house for watching a summer rainstorm or the first winter snowfall. 
"We enjoyed designing all the built-ins, and I especially enjoyed having a hand in the bunk beds and all the finishes in that room," says Bortles. "Throughout the property, we worked with the homeowners to create spaces that encourage little pauses—special moments—where you can just take it all in. The bunk room conjures memories of staying up late into the night and chatting, and the breathtaking views from the window seat and the terrace outside inspire you to ponder the beautiful natural environment and the refreshing lake beyond."