When it comes time to move, many people throw everything into boxes, whether its their wedding china or the 10 take out menus they have from the same Chinese food restaurant. Few people actually see moving as the the perfect opportunity for going through and clearing out their belongings.
This task should be straightforward, direct and easy.
Keep in mind where you are moving to. If you are moving to Texas from Minnesota, you can probably get rid of your snowboard. And if you are leaving Florida for Maine, you might want to reconsider packing all 12 of your bikinis.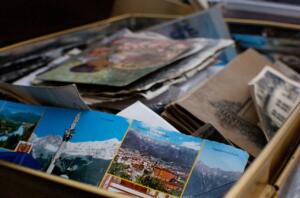 What to keep
This is probably the most intuitive of all the categories.
You keep the things you need, the things you plan on keeping or wearing consistently- essentially, the things you can't live without.
This is the category for the clothes you wear daily, your toiletries and your keepsakes.
It's important you pick these things carefully and ensure that your choices are wide-ranging enough to cover all your needs in your new home, without crossing the line into hoarding.
This category also includes your kitchen items, such a pots and pans and your silverware. If you have 40 forks, get rid of some. If you have 2 sets of dishes or cooking ware, don't pack the second set.
What to sell
Generally, these are the luxury items like the recliner that won't fit into your new living room or the bed from your guest room since you no longer need one.
You can also sell clothes that no longer fit or that you don't wear anymore. Also consider selling your shoes, unused lawn equipment and tools, and the kitchen items previously mentioned.
Online sites like Letgo and Facebook allow you to post pictures of the items you're getting rid of. With each image, provide a description of the item for sale, its condition and the selling price. You can also list the price as negotiable and extend your buyer audience to reach miles from your location.
Yard sales and friend-to-friend exchanges are also ways to earn money off the things that won't be making the move.
What to donate
Any clothes, essentials, and useful items that you either want to replace or have replaced already should be donated.
You can also donate whatever you can't sell, assuming it's still in good order and usable for anyone who might wish to pick it up.
The Salvation Army and Goodwill both accept donations of these kinds. Additionally, they can provide you with receipt of donation so you can write those items off on your taxes.
Donating is a great way to de-clutter while giving back to the community. Giving away your old coats and unused items can provide warmth and convenience to those who are experiencing hard times.
On your next move, be sure to consider going through your belongings to lighten your load, and check out our other moving tips in our "Moving on a Budget" and "Make the Process Easy" posts!