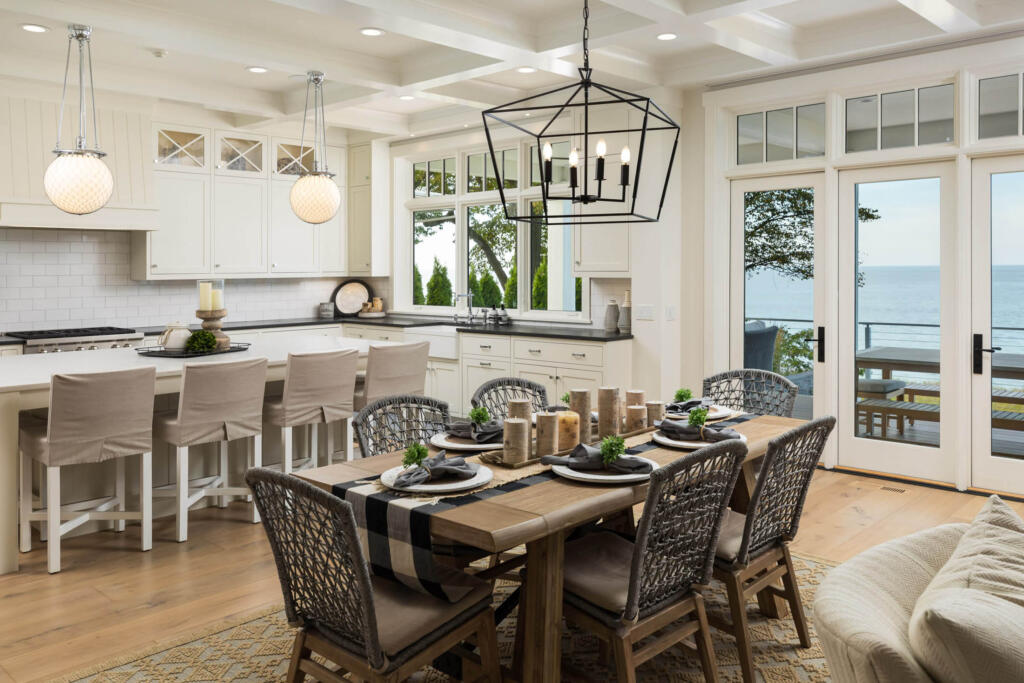 When it comes to lake living, the trend for cozy comfort has picked up speed since life as we know it changed suddenly in 2020. So, it comes as no surprise that the relaxed, no-fuss aesthetic of modern farmhouse style is on the rise everywhere—and especially at the lake. The perfect mix of minimal contemporary design blended effortlessly with traditional country charm, this look offers the warm and fuzzy feeling we crave yet with a fresh take that accommodates today's streamlined lifestyle. Modern farmhouse style celebrates the beauty of serene color palettes, natural, rustic finishes, and a deep appreciation for the imperfect.
This spectacular waterfront home nestled along the shores of Lake Michigan illustrates an impeccable example of contemporary farmhouse style. Jodi Medina, lead designer at Benchmark Design Studio, together with Adam and Mike Schaap of Mike Schaap Builders, helped their clients step by step to achieve their family dream home on the lake.
If this look appeals to you, here are a few of their surefire tips on how you can create this contemporary take on rustic farmhouse style without sacrificing the ease of modern living.
Fabrics & Finishes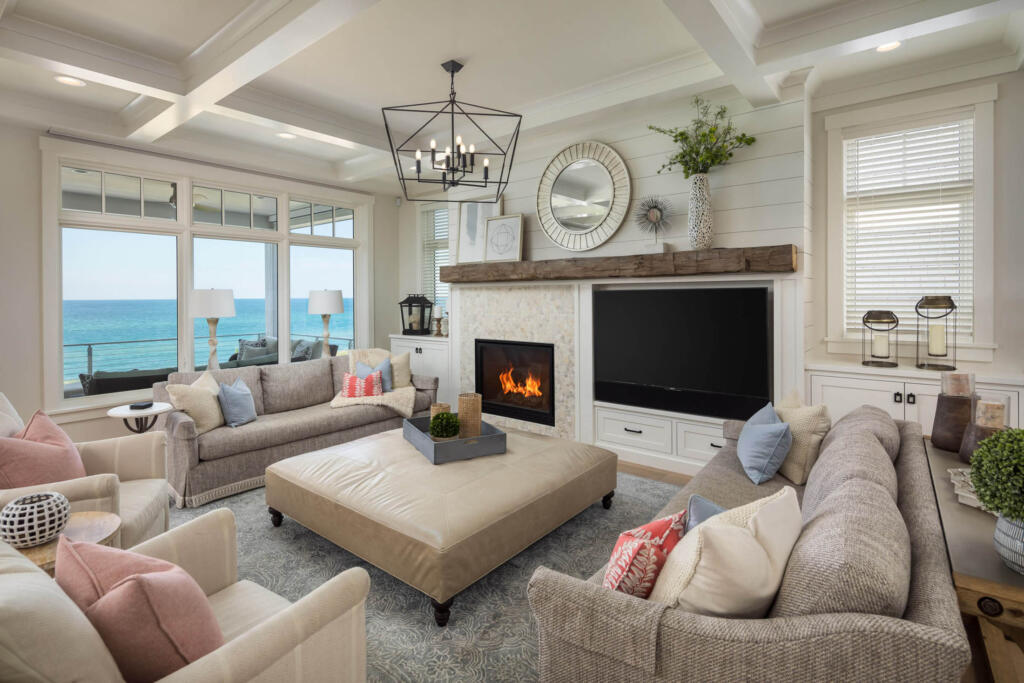 "Modern farmhouse is a casual, relaxed, simple design that is so popular these days," says Jodi. "Some of the details that our clients gravitated towards that we helped them incorporate in this home include black hardware and light fixtures, wide-plank white-washed white oak floors, and shiplap walls."
A fusion of classic country style with rustic farmhouse elements, the modern farmhouse is polished with the sleek sophistication of crisp lines, soothing neutrals, lustrous metals, and a mix of smooth and weathered woods. Comfort is still key and can be achieved with a thoughtfully planned layering of color and pattern. In the living room and throughout, Jodi mixed playful patterns with subtle stripes and sumptuous solids in nubby tweed, supple leather, and even dog-friendly performance fabrics on some of the larger pieces. Patterned area rugs introduce plush softness underfoot and anchor the seating groups.
Pleasing Palettes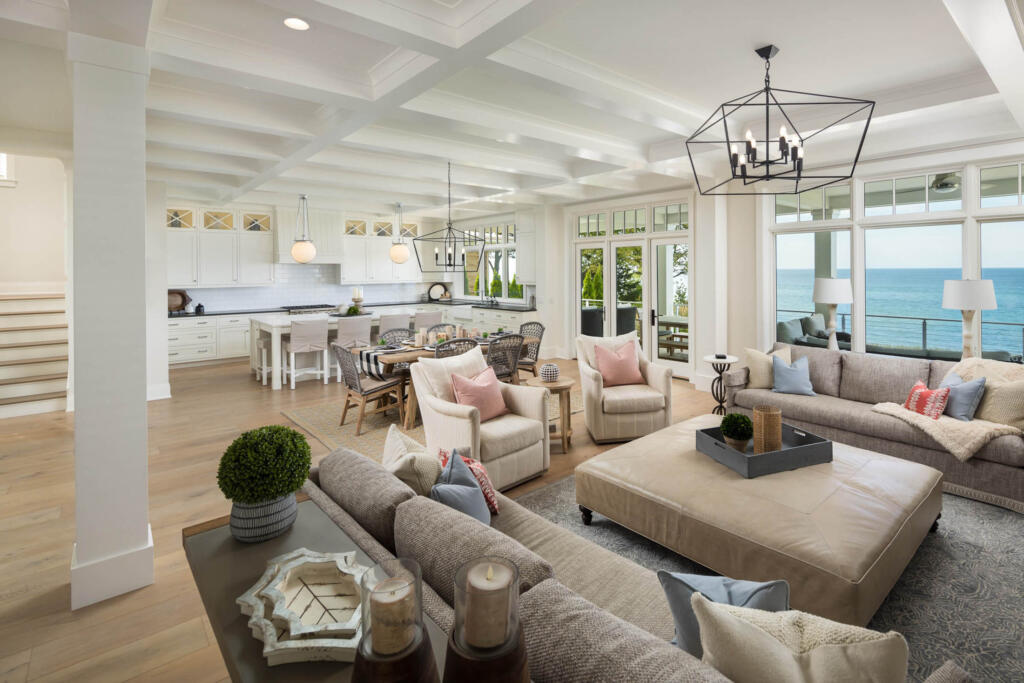 The modern farmhouse palette comprises a layering of neutrals—soft whites, creams, beiges, and grays. This will give your home a satisfying continuity and a contemporary fresh feel that defines this ever-popular style. To create contrast with a modern edge, Jodi added pops of black throughout with lighting fixtures and sleek kitchen countertops for the perfect juxtaposition to the home's serene neutrals. Accent pillows in pale shades of blue, pale pink, and coral add visual interest and lend a soft touch to an otherwise modern scheme.
In addition to incorporating black into your color palette, don't be afraid to use deeper shades—charcoal gray, dark blue, rich green—on accent walls, backsplashes, and cabinets to create visual balance and bring a sense of cozy warmth into your contemporary farmhouse home.
Texture & Traditional Touches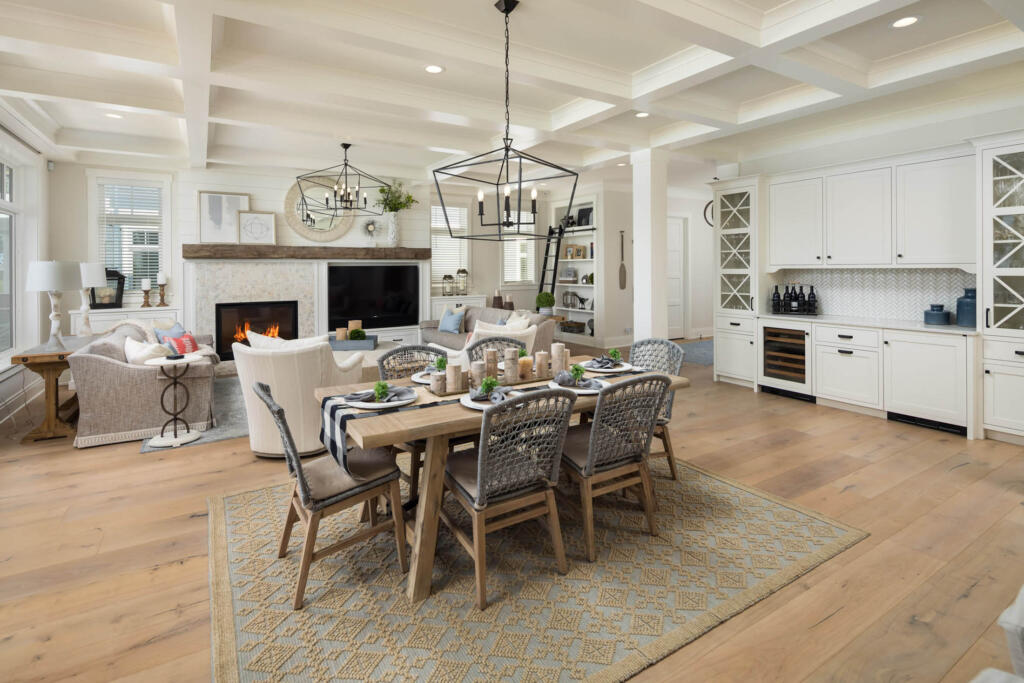 For this project, Jodi and her team made sure to combine sleek contemporary materials with weathered woods to create authentic farmhouse character. Natural and tactile textures such as a needle-point style area rug and intricately woven wicker-backed dining chairs nod to the traditional farmhouse aesthetic and pair perfectly with other textural accents, including a herringbone-patterned tile backsplash against built-in custom cabinets and a rustic barn beam atop a beachy pebble-stone fireplace surround.
"I think the style works well in this lakeside setting as it has a casual, laid-back feel to it," says Jodi. "It also allows the family to live a more relaxed lifestyle with the finishes, which I think are easier to maintain than others. The homeowners live in this house full-time with their three children and the family dog. The white oak wood floors perform well at the lake, and the shiplap walls offer a low-maintenance, more forgiving option that also speaks to farmhouse style," she sums.
Heart of the Home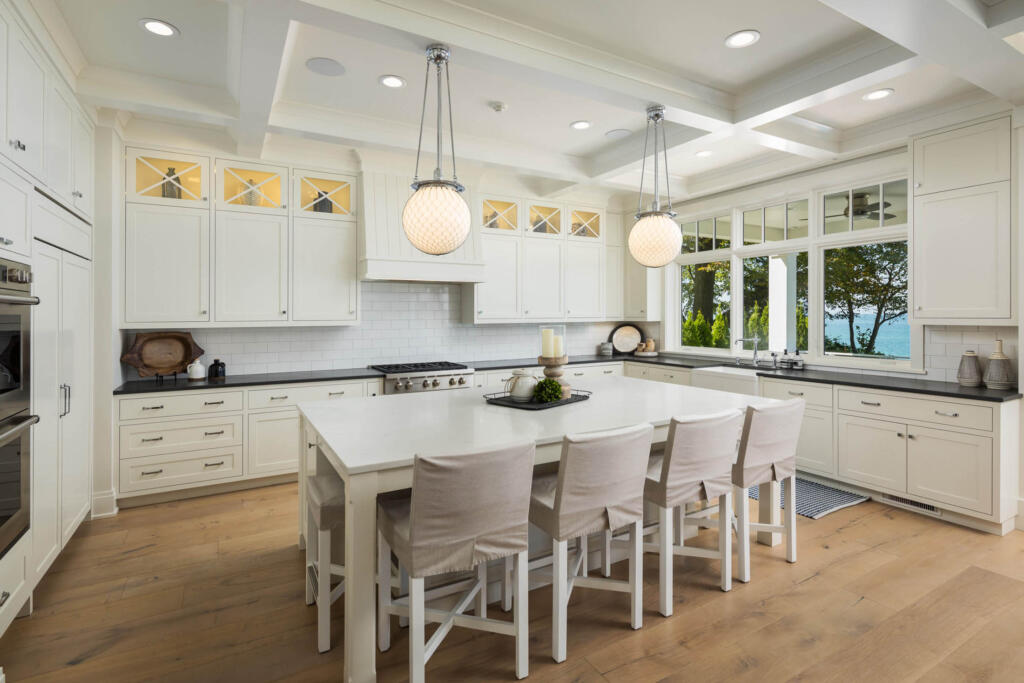 The nerve center of almost every home, an inviting kitchen is the sweet spot for entertaining, family gatherings, and group cooking sessions. As with all the other rooms in the house, Jodi designed the plan and selected the architectural and trim details, cabinetry, furniture, and finishes. Her sister company Benchmark Wood Studio produced the custom cabinetry.
"Our three companies, including Mike Schaap Builders, are located in Holland, MI, under the same roof," she says. "We work collectively to provide our clients with beautifully crafted and constructed, well-thought-out lake homes."
Outfitted with white oak floors, honed black countertops accented with a shiny white subway-tile backsplash, and pendant lights wrapped elegantly with chicken-wire detailing, the kitchen aligns with the home's modern farmhouse vibe. A roomy white island seats four and features extra pull-out stools tucked into each end.
Sleek & Simple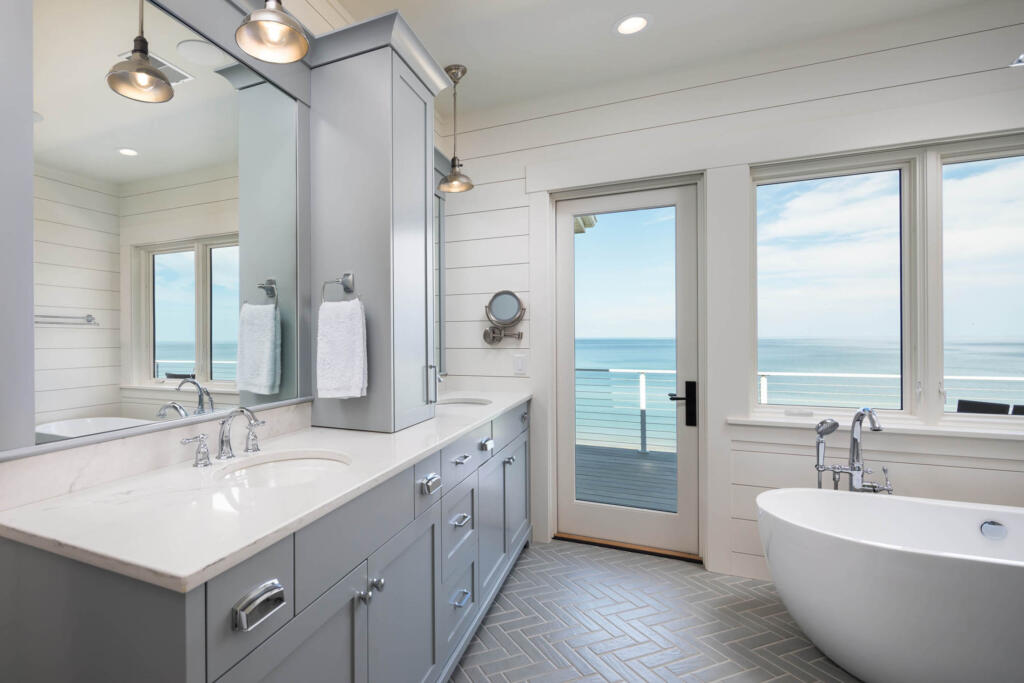 Offering panoramic views of the lake, the master bathroom emits a spa-like ambiance with its sleek, minimalist style. Gray custom cabinetry connects visually with a beautiful herringbone-patterned tile floor, and a white soaking tub makes an elegant statement. Shiplap walls, brushed metal lighting fixtures, and a touch of black hardware on the door echo elements of modern farmhouse style seen throughout the home.
Architectural Aplomb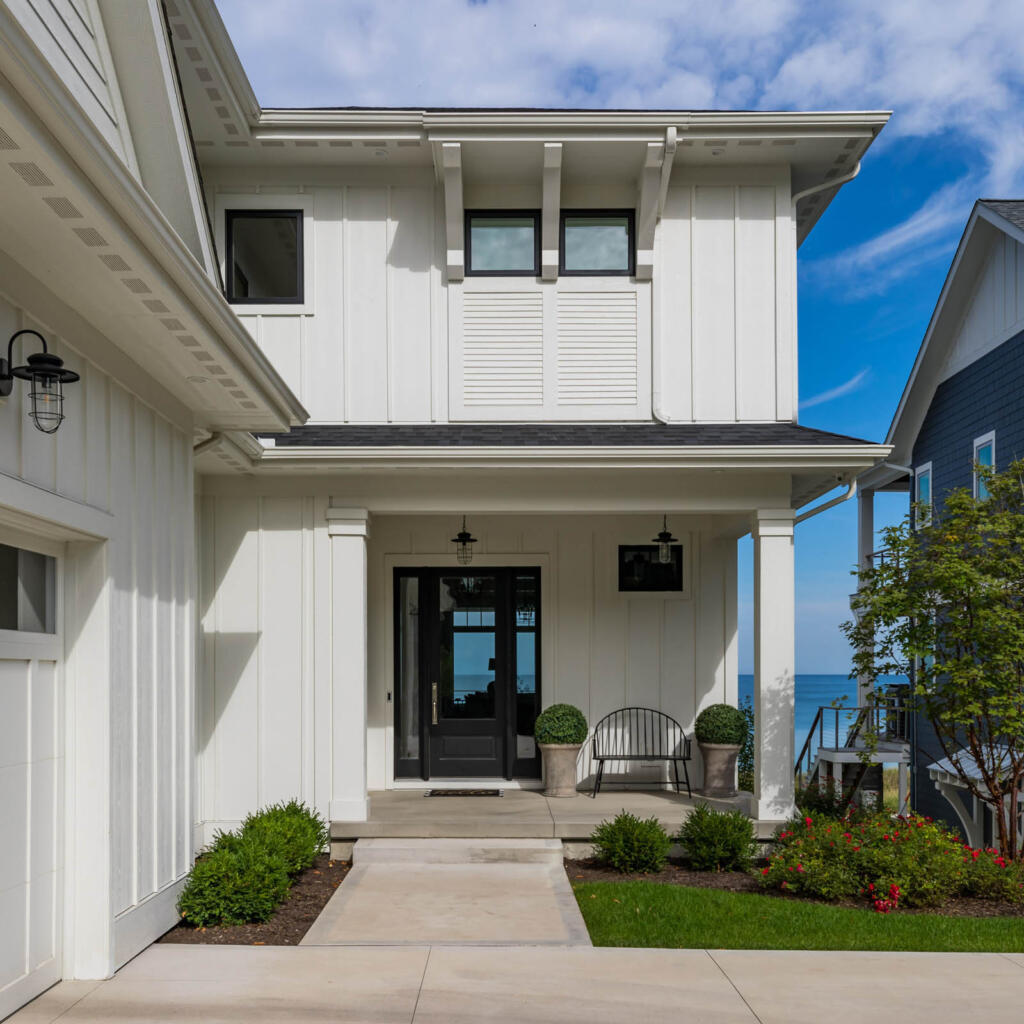 The exterior features for this home that embody modern farmhouse style include white board-and-batten siding, a black shingled roof with metal accents, and black-framed windows, doors, hardware, and light fixtures. In addition, a black Shaker-style bench creates a subtle hint of country charm that always befits this look.
"I loved how the homeowners trusted us with this project and allowed us to listen to their needs and wants," recalls Jodi. "It is a highlight when our clients get to walk in their finished home and see the beautiful work our team envisioned and how our talented craftsmen implement it. It's a blessing to us that we get to create these beautiful homes that people will live in and create amazing memories with their family and friends."
For more tips on creating the modern farmhouse style in your own lake home, visit Homes & Gardens.