In an age where cell phones are smart and "Google" is a verb, it's no surprise technology has taken root in real estate's back yard. And while this relationship has been mutual so far, Silicon Valley is inching closer and closer toward total takeover.
Zillow's Consumer Housing Trends Report 2017 however, indicates this mission will likely fail.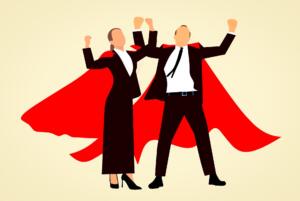 At Lake Homes Realty, though we have a robust online component in our business model, we still believe in the power of local agents.
We believe the power of people, combined with the power of technology, is critical for success as a real estate company today.
And so we say, "long live the real estate agent!" However, in case you need a little more convincing, take a look at these top reasons Realtors still reign.
People value expertise
Despite the wealth of information available online, 74 percent of today's buyers and 94 percent of sellers still choose to work with a human real estate agent.
But why would consumers pay money for a person to tell them that which they can find online for free? The answer is simple.
These sites are good for arming buyers and sellers with a lot of basic information, but they lack something only "boots on the ground" can provide: local expertise.
In fact, about 80 percent of both parties named local market knowledge among the Top 3 most important factors in deciding to work with an agent, rather than go it alone.
This intimate familiarity becomes even more valuable in niche markets, like lake real estate. Only agents who live, work and play in their local markets are best equipped to help clients navigate the rough waters of buying or selling a lake home.
These agents possess knowledge about who owns the lake, dock restrictions and where buyers most frequently come from.
Additionally, these expert agents can provide insight into market-specific questions that online resources might not be able to, like how susceptible a property is to water and weather damage, and what parts of the lake are most family-friendly.
Agents serve as trusted advisers
A lot goes into the buying and selling process. Without the help of a veteran in the field, it can be easy to lose track of all the moving parts.
Eighty-two percent of buyers and sellers reported that an agent's guidance through the real estate process is the most valuable component in their client-agent relationships.
This factor alone outranked both previewing/screening homes and providing legal advice on the buyer's side.
On the seller's side, consumers ranked agents' guidance at the top of the list, just under finding interested buyers (at 87 percent.)
Consumers in lake real estate not only rely on local experts to provide them with advice about hard real estate data but also about the communities and nuances of the lakes themselves.
Buyers often find themselves uninformed about which lakes best match their desired lifestyle and what markets yield the best return on investment. For sellers, these trusted advisers help price listings according to what the market is saying, rather than what the neighbor's place sold for last year.
Both sides also value agents' legal advice (75 percent and 76 percent) on subjects like title insurance and property lines. Lastly, 75 percent of buyers and 73 percent of sellers value agent referrals on mortgage lenders and home inspectors.
Negotiating is a superpower
Sure, an online bidding war over a $20 pair of shoes on eBay doesn't sound bad. How comfortable would you feel about doing the same with a multi-million dollar lake home?
Even face-to-face, negotiating a home's final sale price isn't easy, especially when it comes to making both parties happy.
Thankfully, good real estate agents are good negotiators. Being able to negotiate is a superpower of sorts, one that 82 percent of consumers on both sides of a transaction value.
In fact, leading contract negotiation is the No. 2 (buyers) and No. 3 (sellers) most important factor consumers consider when choosing a real estate agent to work with.
In general, clients rely on expert negotiators who's skills include being able to handle emotional clients with respect and empathy and being able to withhold personal reactions to negative actions from the opposing side.
Additionally, consumers value expert agents who come to the negotiating table armed with knowledge about who the other side's decision maker is, and in which areas concessions are most likely to be made.
Lastly, above all else, the most valuable weapon a heroic negotiator can possess is a willingness to walk away when it is in his clients' best interest.
Technology will forever be intertwined in the industry, that much is clear, but Silicon Valley may be wrong about the future of real estate.
The key isn't agent-enabled tech, but tech-enabled agents who's community knowledge, skills and market expertise is invaluable.