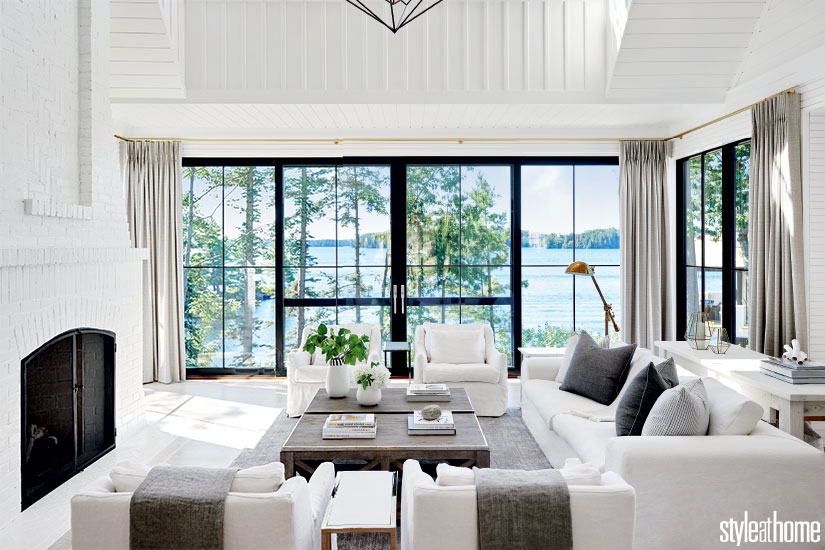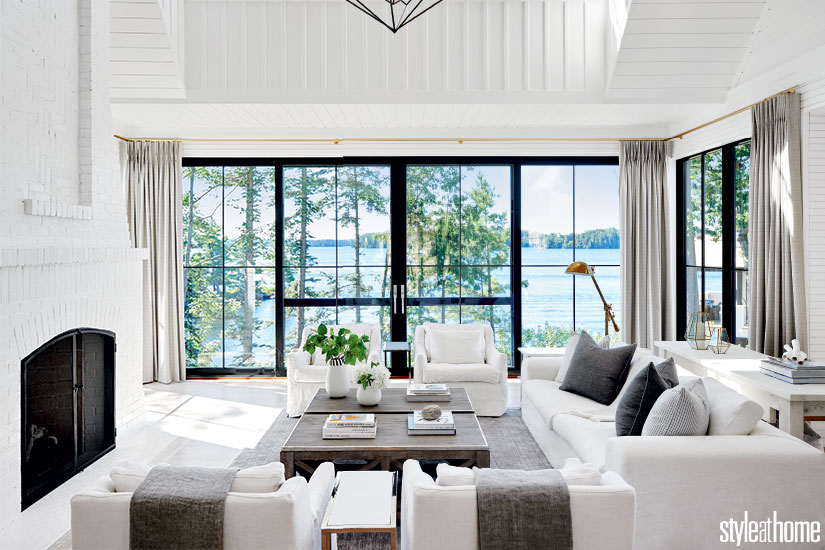 Making time to enjoy the simple things in life has taken on new meaning these days. For many of us, our lake homes have recently brought us a much-needed sense of refuge, tranquility, and, quite literally, a kind of shelter from the storm. As we savor more moments with family and friends, we value the comforts of home now more than ever. Even life's little luxuries have become front and center in our focus—and why not? After all, you only live once.
The best part is that luxury doesn't have to be expensive. It might appear so, but then again, that's the beauty of it. So, if you want to create an air of luxurious comfort in your lakeside interiors, here are some easy tips to get you started.
Adaptable Neutrals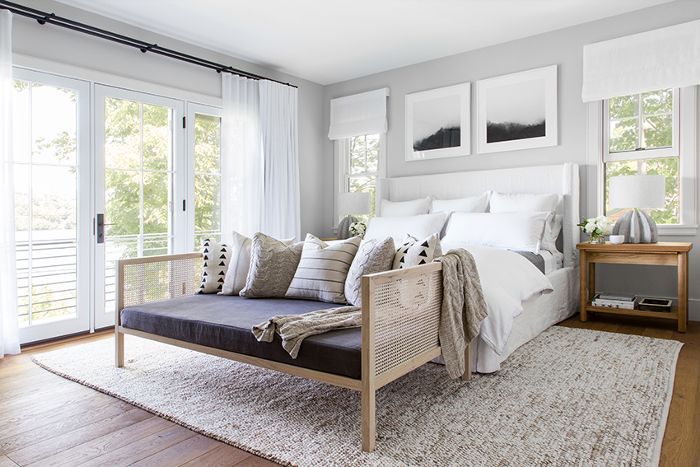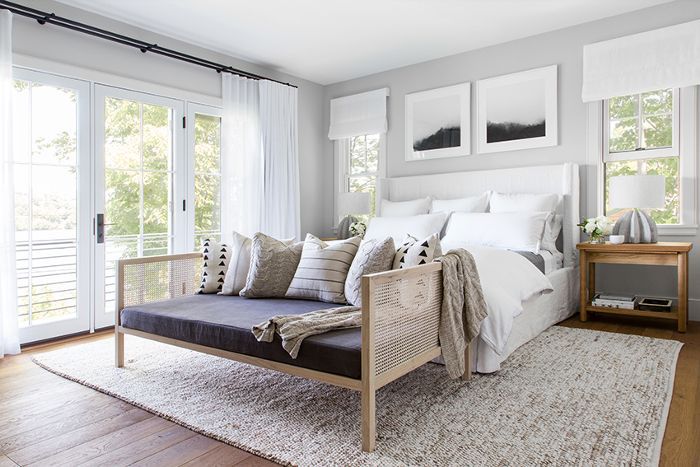 If you've ever walked into an upscale furniture showroom, you've probably noticed that nearly all of them display an overall neutral color palette—and for good reason. An unassuming yet powerful neutral scheme instantly elevates the style of the space, making everything in the room look sleek, polished, and pulled together. It creates a cohesive look like no other and is also highly adaptable if you want to make seasonal changes with your accessories. For instance, adding a splash of color with sumptuous throws, pillows, and other decorative accents to warm up your interiors during fall and winter is quick and simple against a neutral backdrop. Nearly anything works within a monochromatic color scheme, and vibrant accessories, playful patterns, and elegant touches of black—used sparingly—always look crisp and impactful.
Think furniture, wall color, and even bed linens when building your serene and luxurious neutral palette. In this bedroom, white walls, curtains, roman shades, lamps, artwork, bedding, and plump, fluffy pillows work in harmony to create this tranquil and inviting space. The soft slate-blue bench cushion, along with the graphic patterns on the accent pillows, strikes a lovely counterbalance to the all-white palette while also creating a satisfying focal point. The nubby area rug underfoot adds texture and anchors the bedroom's ethereal feel.
Full-Length Curtains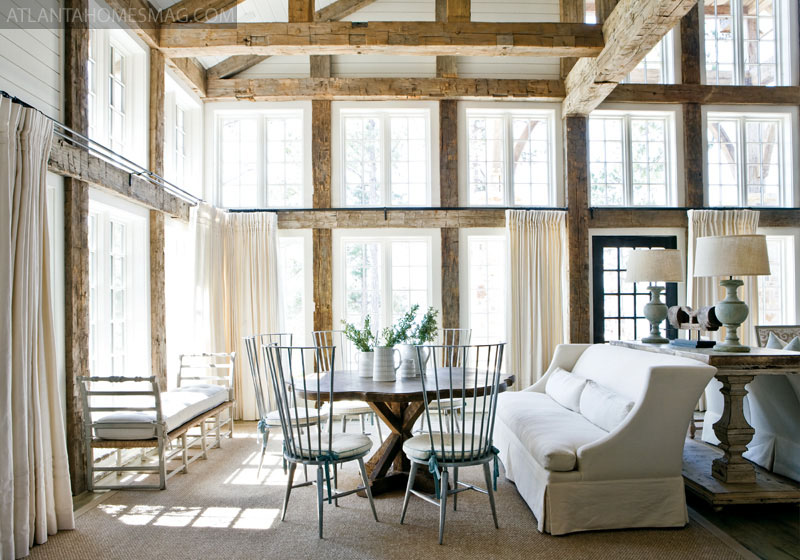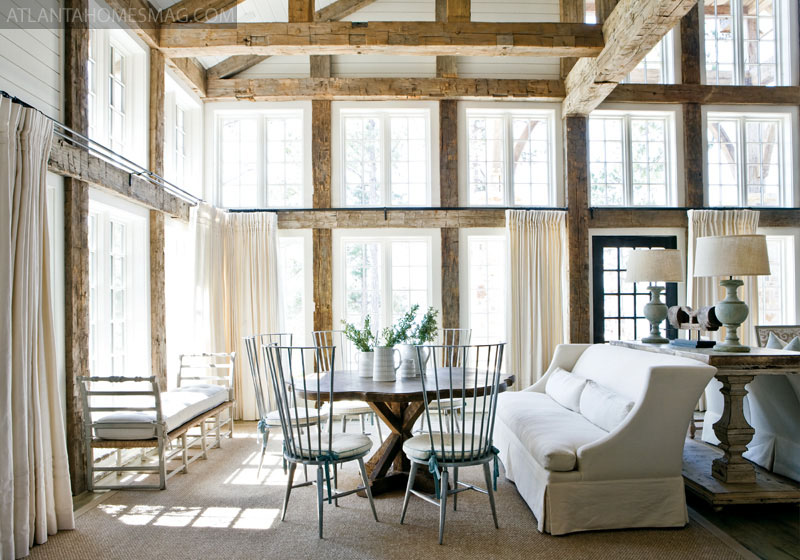 Don't skimp on this one if you really want your rooms to shine. Nothing creates more elegance than long and luxurious floor-length curtains. They dress your rooms in sumptuous layers of fabric and, if hung appropriately, bring an exquisite sense of height to your interior spaces. Make sure to measure correctly and take curtains all the way to the floor, even allowing for the fabric to puddle a bit at the bottom if you prefer. Another trick is to hang your curtain rods as close to the ceiling as you can to bring the eye upward and create more visual height.
In this beautifully rustic lake home with soaring ceilings, the designer takes the curtain rod to the top of the first beam so the curtains can block out the sun when needed and create a sense of privacy. The windows above are left bare to allow for optimum natural light. And again, the ivory curtain fabric here coordinates effortlessly with the soft, neutral palette of the overall space, creating a pleasing continuity throughout the home.
Quick Tip: If you can't do full-length curtains, opt instead for simple woven blinds or roman shades for a clean look.
Large Mirrors & Artwork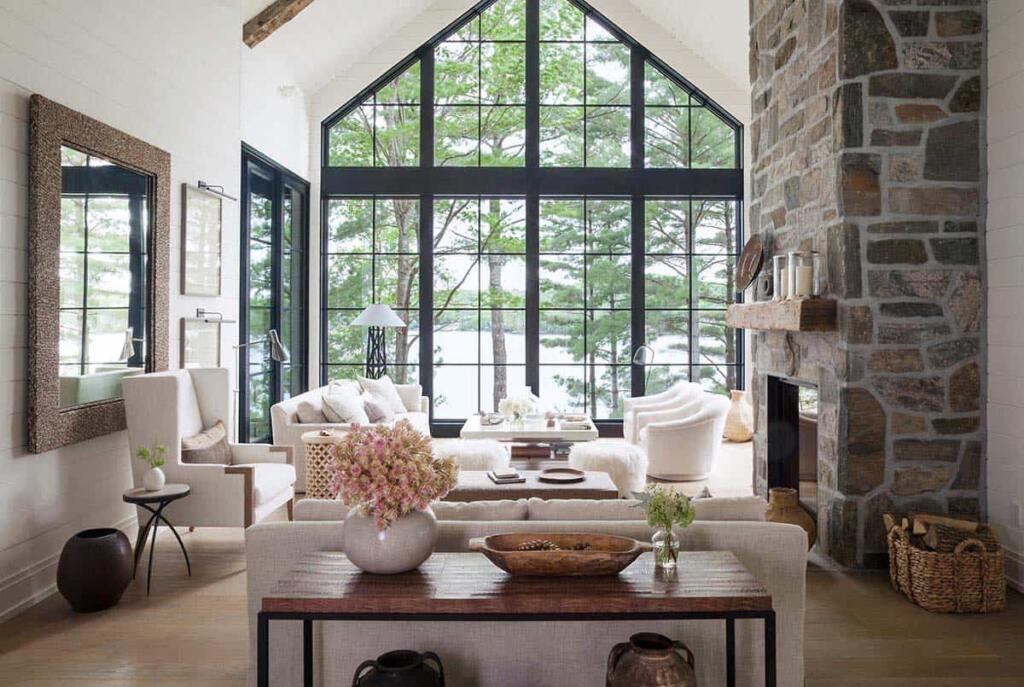 Incorporating a large mirror into your interiors will immediately create the illusion of having more space. It will also reflect light and illuminate your room with a dazzling effect—think natural sunlight, candlelight, and firelight. You can use a large full-length mirror as an accent piece that sits on the floor or hang a large mirror on the wall in place of artwork. Just make sure your mirror reflects something that is visually appealing and beautiful to look at.
When considering your artwork, the bigger, the better. Large statement pieces will instantly give your home a gallery vibe and create a dramatic effect. An over-size, museum-worthy work of art or even a pair of magnificent paintings or drawings bring powerful visual impact and interest to any room.
Vintage Rugs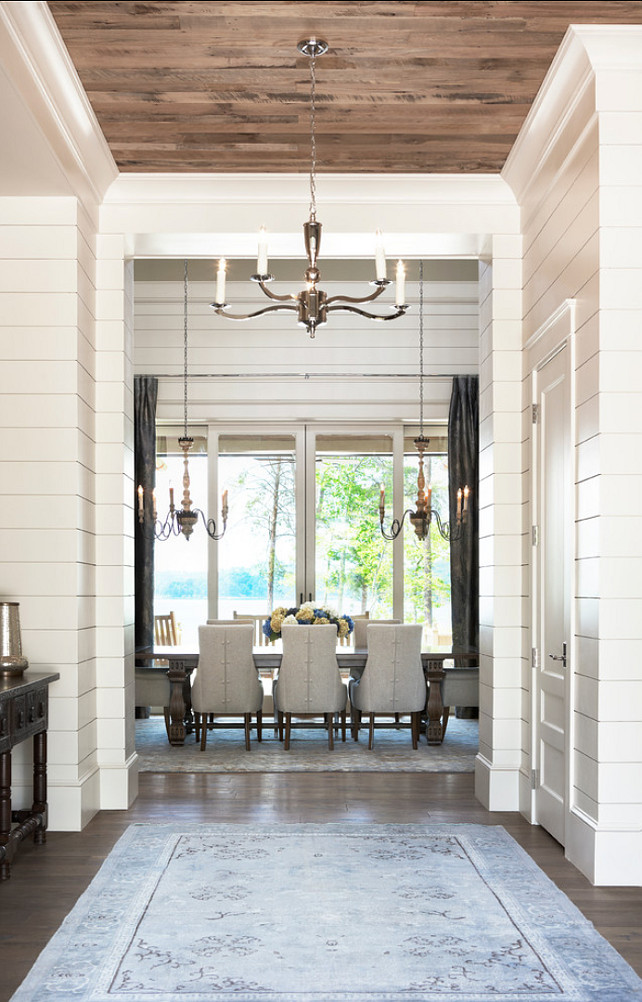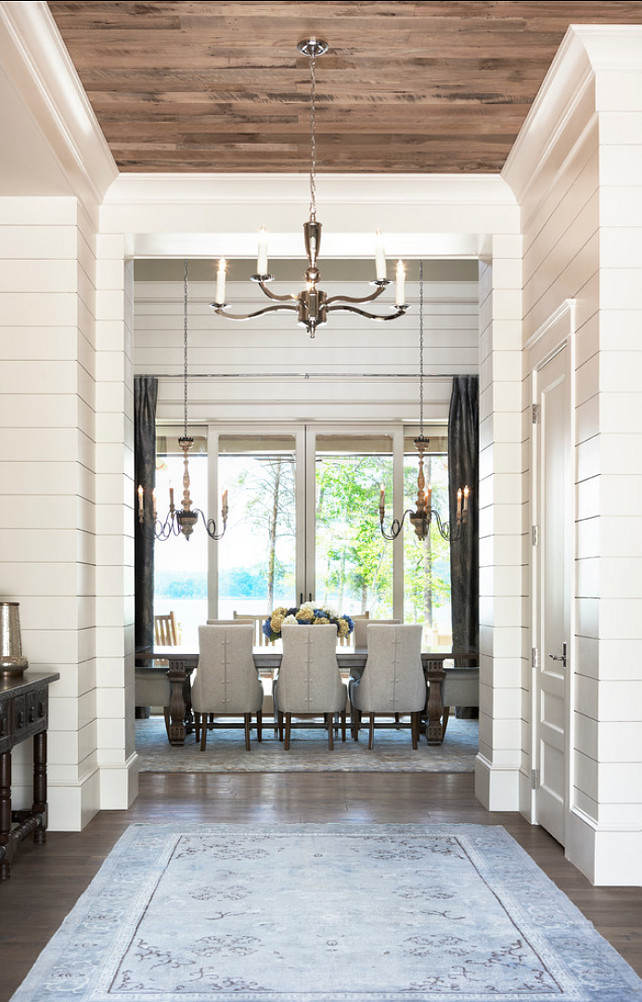 The floor offers an ideal opportunity to introduce pattern, so don't be afraid to accent your rooms with vintage rugs. This will instantly upgrade your spaces and infuse them with a bit of antiquity and colorful personality in a truly luxurious way. If you don't want to afford the expense of an authentic vintage rug, consider using a vintage-style rug or even a natural-fiber area rug to complement your space.
In this hallway and dining room, the homeowners created satisfying continuity with two plush vintage area rugs that befit the style and size of each space. These gorgeous rugs ensure softness underfoot and incorporate lavish texture into the décor.
Lighting & Hardware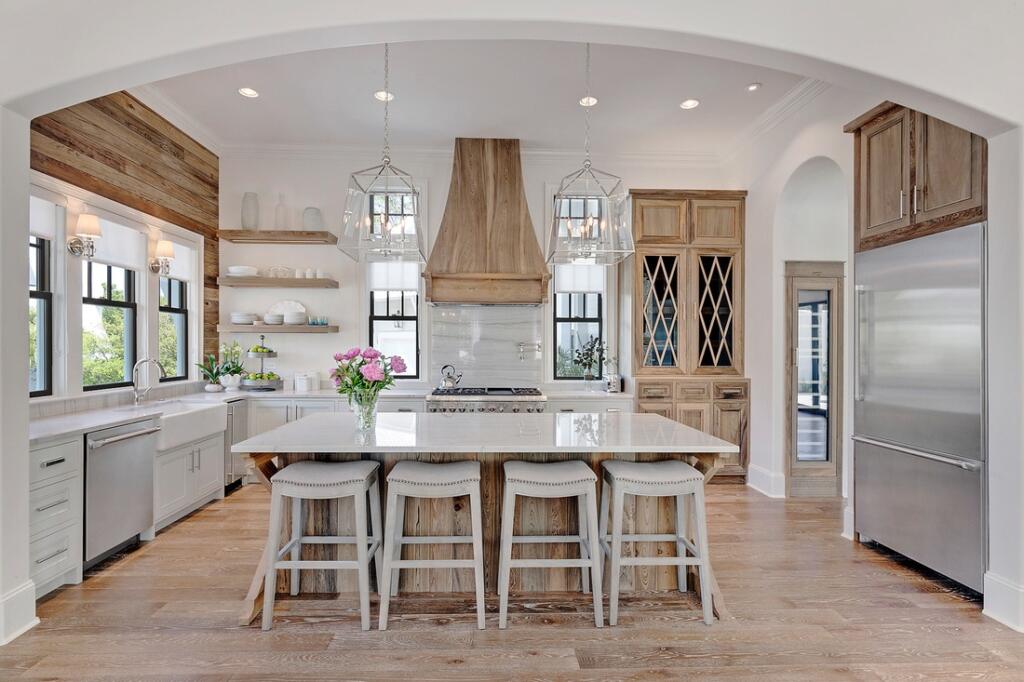 Upgrading your hardware can make a tremendous difference, especially in your kitchen and bathrooms. You can give these rooms an instant facelift simply by replacing faucets, cabinet handles, drawer pulls, doorknobs, and even electrical outlet covers and light switch plates. This easy fix can give your spaces a fresh modern update and transition your rooms to reflect any style you desire.   
Installing new lighting is also a brilliant way to change the look and feel of any space quickly. With a good lighting scheme, you can create soft pools of light, crisp focal points, and dramatic areas of interest. Transform any room quickly with a large-scale pendant light hanging over a kitchen island, a dining room table, an entrance hallway, or even a bedroom. Wall sconces are a perfect solution if you want to make a stylish statement in your bedrooms and bathrooms.
Keep in mind the overall mood you want your interiors to emit and choose lighting accordingly with warm lightbulbs and dimmer switches. To create truly luxurious spaces, remember to layer your lighting with a mix of the following styles: recessed lights, strip lights, down-lighting, up-lighting, overhead lighting, ambient light, and task light. If you like to use smart lights, motion sensors can highlight focal points such as stair steps with a WOW-factor effect.
For more ideas, click here. We hope you enjoy bringing a touch of comfort and luxury to your lake home this season—cheers!