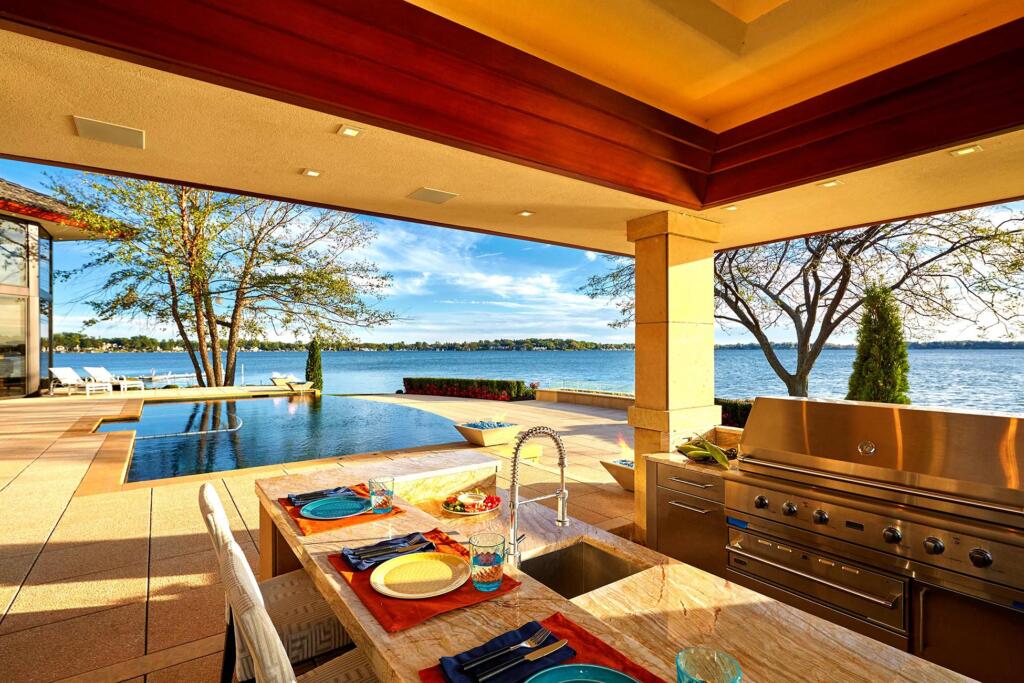 As lake lovers, we thoroughly embrace outdoor living and the scenic natural beauty that surrounds us. So much it seems, we've taken all the creature comforts we enjoy inside and seamlessly transitioned them to the great outdoors—including our kitchens!
The pandemic has made us realize that this essential outdoor space provides a luxurious retreat and creates a blissful stay-cation environment anytime we want it. So, what's trending now in outdoor kitchens? We went to the experts to get their 2021 A-list.
Full-Scale Functionality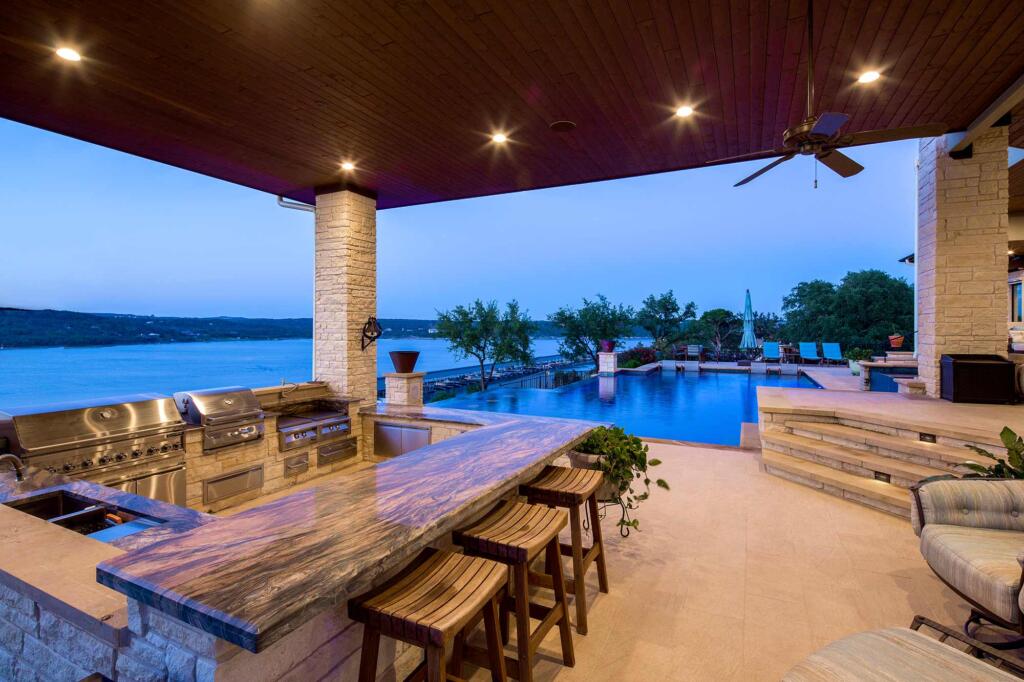 "Several years ago, it was more common to see small set-ups, simple grill islands, modest wet bars, and other similar designs," says interior designer Whitney L. Paden, sales director for Werever Outdoor Cabinetry in Riverview, FL. "Now our customers are not only including a grill, sink, and refrigerator, but want additional side burners, power burners for large boils and wok cooking, pizza ovens, cocktail centers, and more. We see the outdoor kitchen become an entertaining oasis—and really, a destination," she sums.
"The outdoor kitchen/living space has become paramount to experiencing a healthy lifestyle in the days since COVID-19," says interior designer Cristie Schlosser, RID, ASID, owner of Schlosser Design Group, LLC in Dallas, TX. Cristie is also president of the North Texas Plains Chapter of the National Kitchen & Bath Association, the world's leading trade association for the kitchen and bath industry. "Those who did not have an outdoor kitchen—just a grill—ramped up their desire to spend more time living outdoors.
As a result, we're now designing outdoor kitchens with deep sinks for prep and cleaning, frost-free outdoor-rated faucets, built-in grills with proper ventilation, and exhaust hoods to draw the smoke away, especially when the grill is close to the entry of your home.
Using stainless steel is also critical when planning for longevity," she notes. High-performing wine coolers, stainless-steel sinks, and built-in two-sided grills top the wish list for 2021.
Sufficient Storage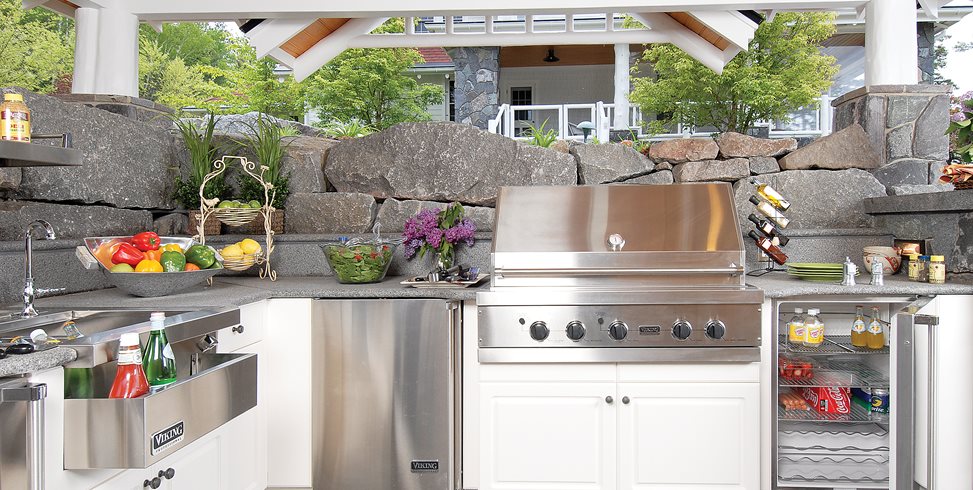 Since lake homeowners are spending more time than ever before in their outdoor spaces, more storage is an absolute necessity—the bigger, the better. Ample outdoor storage also prevents us from having to run in and out of the house numerous times. Whitney recommends weather-resistant kitchen cabinets that are made of marine-grade high-density polyethylene (HDPE). "Our cabinetry specifically has become quite popular as a fully functioning storage and utility solution in the outdoor environment, providing pull-out trash cans, drawer storage for utensils and other kitchen goods, and cabinet space for smaller appliances and cookware," she says. Added storage for pull-out smokers is also becoming a popular request.
Superstar Surfaces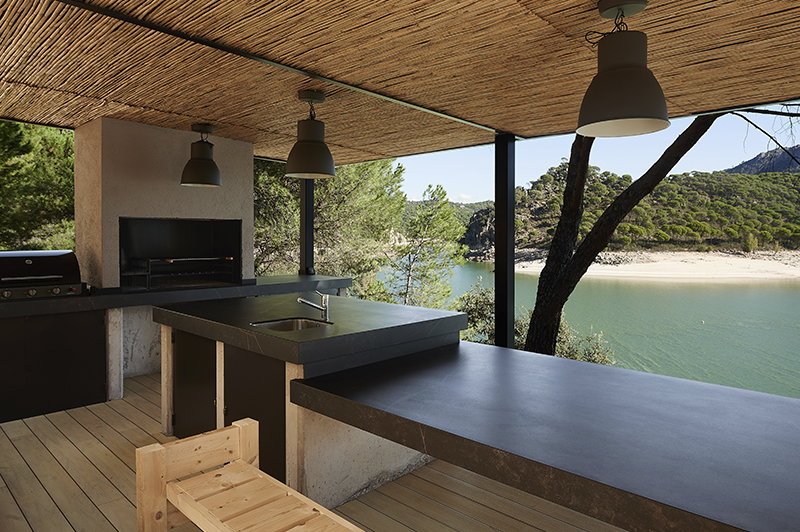 "Surface options for outdoor spaces have improved greatly," comments Cristie. "I love using sintered materials for countertops and backsplashes. These easy-to-clean, highly compact porcelain and quartz slabs are thinner and lighter weight with gorgeous stonelike patterns—Neolith and Dekton are two brands we specify," she notes. This high-tech process of sintering involves an accelerated version of the change that natural stone undergoes when subjected to high temperatures and pressure over thousands of years. "I think the use of sintered materials is going to the biggest and most long-lasting trend," she says. "You can build an outdoor kitchen that looks luxurious—like it was meant to be indoors—through the use of these strong heat, frost, and stain-resistant panels."
In addition, there are now outdoor-rated options for quartz and granite—not all types can be used outside due to the resin content applied in the manufacturing process that yellows over time. Cristie advises homeowners to be aware that using materials unauthorized for outdoor use may also void any warranties. For more information on outdoor kitchen countertop options, visit HGTV.
Elegant Earth Tones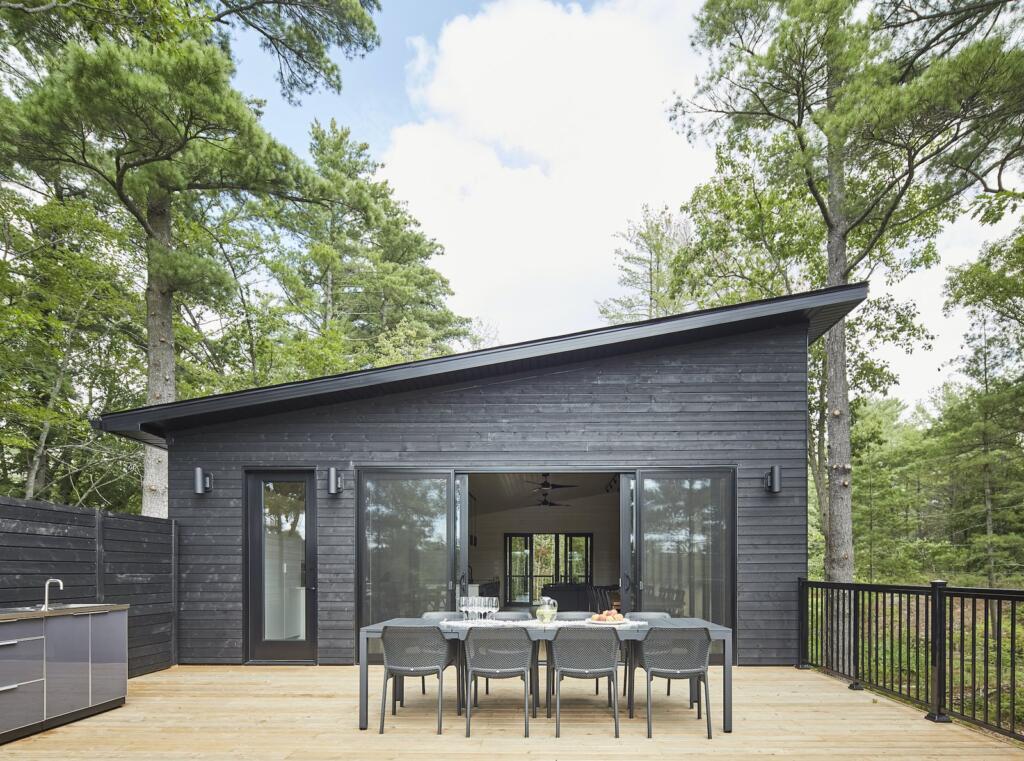 Our deepened desire to connect with the outdoors has prompted earth tones to emerge once again. Experts at Werever Outdoor Cabinets report that "shades of ocean blue, terracotta, beige, brown, and emerald green embody this color palette," and influential brands like Benjamin Moore have named the soothing hue Aegean Teal as the Color of the Year for 2021.
"When it comes to color, we see a strong interest in gray as well, whether lighter or darker in value," says Whitney. "We also introduced sapphire blue to our collection for spring 2021, and this is quickly becoming a favorite. Rich dark brown espresso still remains our most popular color year after year and throughout the entire country," she notes. "Navy blue kitchens are trendy in lake and coastal areas and can provide a beautiful deep-toned yet eye-popping aesthetic."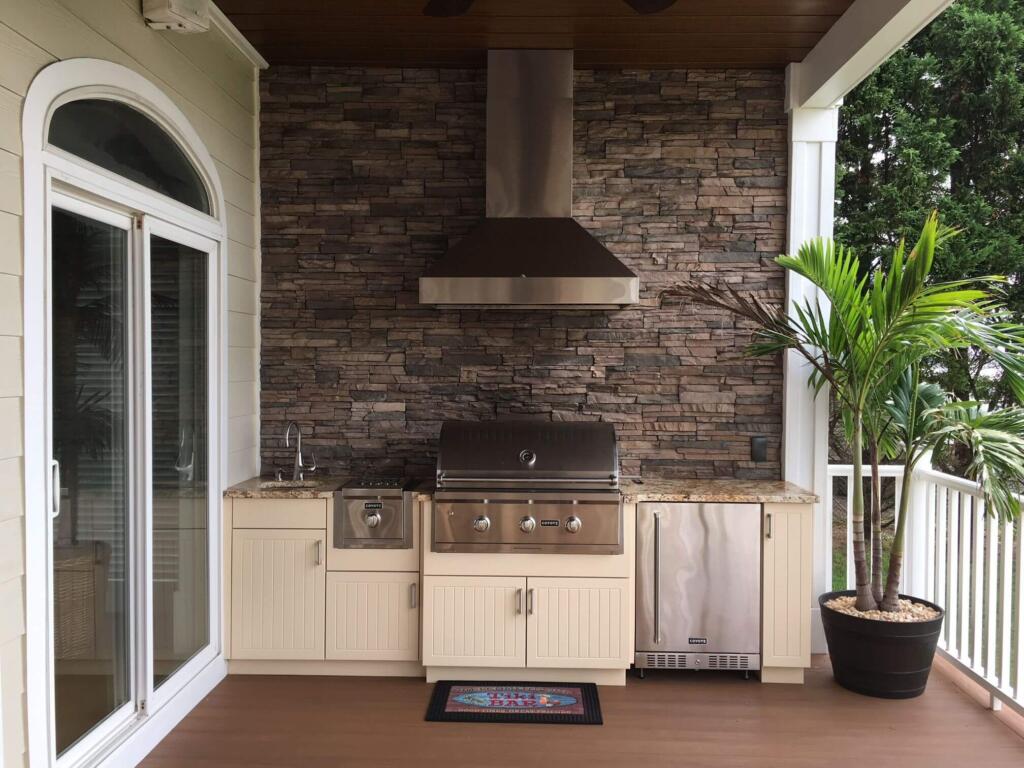 Whitney reports that the other end of the earth tone spectrum is also popular, with warmer hues and woodgrain finishes making a comeback. Undoubtedly, earthy shades align with our recent quest for all things organic. The overall look emanates a refreshing outdoorsy vibe, something that lake homeowners—and people everywhere—celebrate wholeheartedly after a year spent on lockdown.
Looking Forward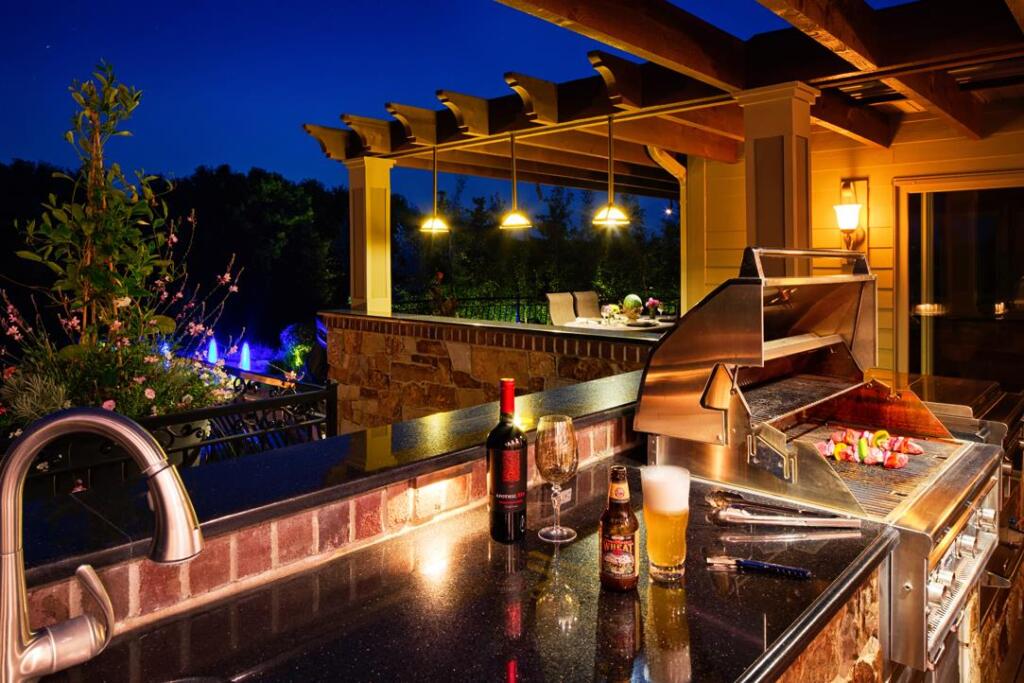 As the world reopens and we begin to see the light at the end of the tunnel, it's exciting to realize the long-term benefits of an outdoor kitchen. Aside from increasing the value of our lake homes, they now have become an essential component of our "new normal." With a heightened consciousness of indoor dining risks, we're all likely to continue outdoor get-togethers regularly and long into the future. With that in mind, Cristie offers these common-sense tips:
Build a kitchen that fits the style of your home and doesn't look like an afterthought.
Keep in mind the sun's direction when most of the cooking will occur, and strategize where to provide the appropriate type of shade. 
Prepare for cooking outdoors year-round—rain, snow, or sleet.
Make sure your space can handle the outdoors' wear and tear and meet your cooking needs—and always buy the best quality grill you can afford.
So head outside and get cooking! When the time comes for all of us to gather once again, our outdoor kitchens will be there, offering a relaxing oasis where good times always happen.