Lake Homes Realty named Terry and Sherrie Norton 2017's Splash Award recipients at its annual Agent Summit, which took place Oct. 17-20, 2017. Additionally, both members of the Lake Wedowee, AL team are now recognized as Lake Homes Realty Premier Agents.
"We are incredibly honored, humbled and appreciative of this recognition of our hard work," this year's winners said. "It is an honor to be chosen from among our fellow agents who all work so hard to attain their goals. It really is an incredible honor."
The Splash Award Defined
The award, presented to company's Realty Agent of the Year, is given to the Lake Homes Realty agent, or agent team, with the overall best performance across a number of important accomplishments.
"Winning the Splash Award is an honor and a great way for LHR to say that our company appreciates our hard work," the Nortons said. "Maintaining and working toward this goal again for the coming year is certainly a great incentive."
Eligibility is open to agents who have been licensed with Lake Homes Realty for a minimum of 24 months by Aug. 31,2017.
These agents must also have completed at least 12 transactions on either the buyer or seller side of a sale within a 12 month evaluation period, which began Sept. 1, 2016 and concluded on Aug. 31.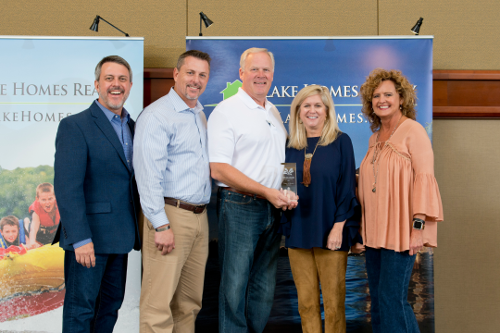 Additionally, agents had to have closed $3.5 million or greater in transaction volume during this time in order to gain award eligibility.
"Eligible agents are then ranked, relative to each other, by performance in a number of key areas. These include overall effective commission per side and percent increase of year-over-year transaction volume in dollars," explained Glenn S. Phillips, Lake Homes Realty CEO.
Additional areas assessed include average number of days it takes from closing to office file completion, total number of sides closed and number of listings in Multiple Listing Services as of Sept, 1, 2017.
Agents are also ranked by total transaction volume closed in dollars.
This volume is defined by sale price apart from the number of sides an agent represents for a given transaction. Referral transactions are not included in the total transaction volume.
Determining the Agent of the Year
To determine the Splash Award winner, the best performance in each of the criteria areas is given one point. The next best performance receives two points, the third receives three points and so forth.
The points from each area are then totaled with the lowest total score named the winner of this prestigious award.
"In the event of a tie in total points, the tie-breaker is determined by the highest transaction volume between those tied during the evaluation period," Phillips explained.
For 2017, the Splash Award winners and the second best overall performing agent were separated by just one point.
"Lake Homes agents are the special forces unit of real estate industry," Phillips said. "They are the lake real estate experts and their knowledge and skills continue to be reinforced year-after-year."
2017 Agents of the Year
"We feel extremely blessed by our past success," they said. "We have to continue to strive to always do our best."
During the 12-month evaluation period alone, the team sold more than $7.7 million in lake property.
The Nortons are proven local lake real estate experts who are passionate not about selling property, rather their passion is for selling the lake experience.
Their credibility is further made evident by their relationships among both buyers and sellers. From Sept. 2016 to Aug. 2017, the Premier Agents team represented 55 total sides closed.
The Key is Happy Clients
"Our motto is 'we work hard for our clients.' Our clients are our success," the couple emphasized. "There is great satisfaction in a job well done and in knowing we have provided the best service possible to our clients."
Additionally, the Nortons' transaction volume increased by an impressive 44.15 percent in the last year.
"Hopefully clients and potential clients who read about our awards and success will feel confidence in LHR," they said, "and about our abilities to represent them as they list their home or purchase a new home.
Lake Homes Realty is the largest, lake-focused real estate brokerage in the nation. The company business model focuses on creating a national market reach for local properties and agents.
Phillips and his wife Doris, who serves as Lake Homes Realty's Chief Operating Officer, shared that treating their agents with respect and confidence in their abilities is paramount to the company's success.
"We always say we have four clients: the buyer, the seller, the agent, and our staff," the COO explained. "Just like we want Lake Homes buyers and sellers to be happy with us, we strive to maintain positive relationships with our agents. Their happiness is what drives their success, and ultimately, the success of Lake Homes Realty."
This mindset is proving its worth as LHR is currently licensed in 16 states, and counting, and belongs to more than 70 MLSs.
"We are so proud to be a member of the LHR team. Simply put, we could not provide the customer service we provide if we did not work for such an amazing company," the Nortons said. "We can proudly state [Lake Homes Realty] is the leader in lake home sales. We know we work for the best."