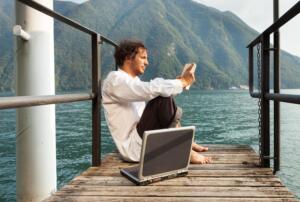 Outdoor technology as a whole needs to be both easy to use and durable. This list not only reflects both those qualities, but is perfectly suited for your lake adventures. Consider the following lake tech for your next outing:
1. GoPro– This high quality, compact camera has made waves in the sporting world. There are several ways this small camera can be used to create home movies.
Strap it into a headset while tubing, fix it to your boat and video a typical day on the water, attach it to your fishing pole and show off your technique, or even fix it on your pet's collar during a game of lakeside fetch!
The size and durability of the GoPro allows you to capture several different points of view that are sure to create interesting memories.
2. Timelapse App- Do you ever wish you could capture a full day of lake life, and present it in a way that is both compact and sophisticated? The TimeLapse App for iPhone is for you. The android equivalent app is Lapse It, and both work the same way, allowing you to condense a whole day into just a few minutes of footage.
3. Turtle Shell Bluetooth Speaker– Of all the Bluetooth speakers available on the market today, none have made quite the impression the Turtle Shell has made. Rugged, shockproof, and water resistant, this is the perfect tool to blast your tunes at the lake.
4. Coolest Cooler– This device is an incredible addition to any lake goer's arsenal of fun. Complete with a built in blender, speakers, USB charger, lights, bottle opener and made convenient with wheels, tie down straps, and built in storage, this cooler is definitely the coolest.
5. iPhone Projector – This simple tutorial will make any iPhone into an awesome projector. For lakeside movie nights, nothing beats having your favorite films no further than your phone.