For the fourth consecutive year, Lake Homes Realty is one of Birmingham's fastest growing companies.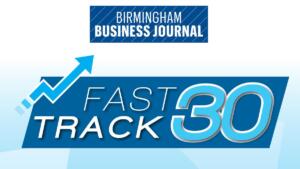 The Birmingham Business Journal's 2018 FastTrack 30, published on August 31, 2018, ranked the brokerage No. 15 among its competition. Lake Homes Realty is also the fastest growing real estate company to make the list, also for the fourth year.
"We started this company feeling that if we served our agents and clients in a new way, one that actually benefited them, the business part would work itself out," said Lake Homes Realty CEO Glenn S. Phillips.
"Making this list for a fourth time in a row confirms we had the right idea about that."
Earlier this summer, Inc. Magazine also honored Lake Homes Realty's success in its 2018 Inc. 5000 list of the fastest-growing public companies in the nation.
In the brokerage's second consecutive appearance on the prestigious list, Lake Homes Realty ranked No. 1582 in the country and No. 13 in Alabama.
"Each year it becomes more challenging to make these lists, but the challenge is part of what drives us to work even harder and faster than the year before," Phillips said. "All of this combined is what's helped LakeHomes.com become the best site for buying, selling and finding lake homes and land."
The journal's 2018 FastTrack 30 determined the honorees by each business' percentage revenue growth from 2014 to 2017. To be eligible for consideration, applicants had to show $100,000 in revenue in 2014.
Lake Homes Realty has been honored each year the brokerage has been eligible.
To see this year's full FastTrack 30 list, visit https://www.bizjournals.com/birmingham/c/meet-b.html. (NOTE: requires subscription to view complete list online.)