Lake Homes Realty is excited to announce the company is now licensed by the State of Maryland as a full-service real estate brokerage.
Maryland is the company's tenth state for brokerage operations and the third new state to open operations this year.
Lake Homes Realty's primary focus will be area lake real estate. This includes property and homes with lake front, lake view, lake access and lake oriented communities.
"We are excited that our rapid company growth has brought us to Maryland. This is a great market and one that we know we can help grow even more," said Lake Homes Realty's CEO Glenn S. Phillips.
Maryland Lake Real Estate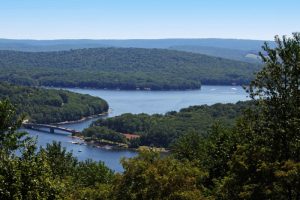 In addition to tens of thousands of lake homes for sale across the country, the company's website LakeHomes.com provides online property listings on several Maryland lakes.
These include Deep Creek Lake, Lake Lariat, Lake Linganore, Lake Ogleton, and Little Seneca Lake.
The properties listed for sale on these Maryland lakes are automatically updated each day to ensure the most accurate information.
Additionally, this up-to-date information can be accessed by potential buyers across the country.
Since lake home buyers are rarely local, this national exposure to buyers provides an advantage to lake home owners who are selling their property.
Likewise, lake home buyers appreciate a website dedicated to lake real estate that provides comprehensive and accurate lake-focused property data.
Unlike many web-based portals, Lake Homes Realty is not an advertising company. It is a full-service real estate brokerage with its own licensed expert lake real estate agents.
Growth Plans for Maryland
Phillips shared the brokerage operations team is already in discussion with experienced real estate agents in Maryland about joining Lake Homes Realty.
However, unlike brokerages that seek as many agents as possible, Lake Homes Realty intentionally limits the number of agents per brokerage.
"We believe that a small number of service-focused, lake expert agents can serve our clients better than an army of agents," Phillips explained. "Furthermore, we continue to make significant investments to help our agents succeed in this unique market segment. Together we can provide the most convenient expert service and marketing for lake home buyers and sellers."
About Lake Homes Realty
Lake Homes Realty is a full-service, multi-state real estate company focusing on lake homes and land.
Headquartered in Birmingham, Alabama, the firm is one of the fastest growing real estate companies in the country.
Currently, Lake Homes Realty is a licensed real estate brokerage in ten states, including its home state of Alabama. The business is growing rapidly, with additional state brokerages coming soon.
The company was recently recognized by the Birmingham Business Journal as the 8th fastest growing company in Birmingham. This is the second year in a row to achieve this ranking. For more information, visit http://www.lakehomes.com/