Alabama-based Lake Homes Realty has expanded to the Great Lakes region, with brokerage operations now in the state of Michigan.
As a licensed brokerage in Michigan, Lake Homes Realty now operates on four of the five Great Lakes, including Lake Erie, Lake Michigan, Lake Huron, and Lake Superior.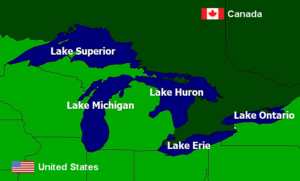 This area boasts prosperous lake real estate markets, with Lake Michigan offering more than $1 billion in property for sale.
"As a brokerage, we are able better to serve our lake real estate buyers, sellers, and our own agents with each state we add to our service area," said Lake Homes Realty CEO Glenn S. Phillips.
"As we look forward into 2018, I'm proud of our team's efforts to grow this company and the success we've seen this year. The new year is sure to be just as exciting as we work toward opening operations in several more states."
Lake Homes Realty already has licensed agents in Michigan and is currently in discussions with prospective agents across the state.
"We are looking for agents who understand the power of the LakeHomes.com platform and who are dedicated to providing top-level customer service to our clients," Phillips said.
"The power of people combined with the power of the web is critical for success as a real estate brokerage."
The company also shared that growth in existing markets is continuing across the southeast and the southwest U.S.
About Lake Homes Realty
Lake Homes Realty is one of the nation's fastest-growing real estate companies and is a full-service, lake-focused real estate brokerage currently operating in 17 states. The company's unique operations model is built around the concept of a one-stop website for lake homes and land while coupling this with the brokerage's licensed local market expert real estate agents.
The company has foregone a focus on brick-and-mortar locations, choosing to instead invest in a select group of top-producing local agents and in providing consolidated lake real estate listings for consumers via the company website www.LakeHomes.com.
Lake Homes Realty was named #927 on the 2017 Inc 5,000 and has been recently featured by Realtor® Magazine.
The company has also been named by the Birmingham Business Journal as one of the 30 fastest-growing businesses in Birmingham each of the past three years.