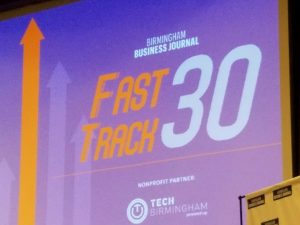 For the third consecutive year, The Birmingham Business Journal has named Lake Homes Realty among the 30 fastest growing businesses in Birmingham.
Lake Homes Realty was ranked number 28 on the list, released on Sept. 1, 2017.
The company was the highest ranked real estate company on the list, also for a third straight year.
"I'm excited about this for our team. We've made this list every year the company has been eligible. Since the rankings are based on annual growth rate, each year requires significantly more growth to make the list again," said CEO Glenn S. Phillips.
"I believe our continued strong growth shows the value of our original vision to provide our agents and clients a true unique advantage in real estate," added Phillips.
To be eligible for the 2017 FastTrack 30, companies must be headquartered in metro Birmingham and have had at least $100,000 in revenue in 2015. Rankings are based on the percentage of revenue growth between 2015 and 2016.
The list represents a wide range of industries, from health care and technology to retailers and home builders.
To see the complete 2017 FastTrack 30, visit (NOTE: requires subscription to view complete list online): https://www.bizjournals.com/birmingham/subscriber-only/2017/09/01/fastest-growing-companies.html