Lake Homes Realty agent Justin Dyar received national recognition for reaching $500 million in lifetime sales during the brokerage's Sixth Annual National Agent Summit, held October 16-19 in Hoover, Alabama.
In addition to maintaining his "Premier Agent" status for a fifth year in a row, the Smith Lake agent was presented with an exclusive "Rainmaker Award" for unparalleled effort, passion and dedication exhibited throughout his career.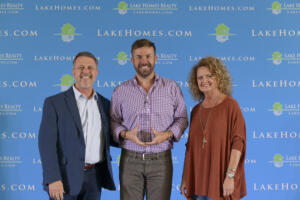 "Since he began his career in real estate, Justin has been one of the most forward-thinking and savvy agents in the entire country," said Glenn S. Phillips, CEO of Birmingham-based Lake Homes Realty, the nation's largest lake-focused real estate company.
About Justin Dyar
A graduate of the University of Alabama, where he studied consumer and industrial marketing and computer science, Dyar became a real estate agent in 2003.
Immediately, he moved to Lewis Smith Lake to begin what has become a 15-year career in real estate.
"I chose to go into real estate because I enjoy the ability to control your own schedule, and you are unlimited as far as income and potential growth," Dyar shared.
In 2013, he joined Lake Homes Realty, becoming the then start-up hybrid web/brokerage's first boots-on-the-ground agent. Today, Dyar is a Realtor® and Associate Broker for the company.
"Lake Homes Realty is ONLY focused on waterfront properties," Dyar said on his decision to join the nation's largest lake real estate brokerage and two-time Inc. 5000 company. "No other company is laser-focused like that."
Since then, "Mr. Smith Lake," as he is known to locals, has made appearances on HGTV's Lakefront Bargain Hunt and in in Top Agent Magazine and has been named the top-producing agent for his local Board of Realtors 12 years in a row, closing more than $90,000,000 last year, alone.
"Justin is the embodiment of our Lake Homes Realty brand," said Phillips. "His joining our team was one of the first steps in setting this company up for success, and it's been an honor having him excel right alongside us."
"No matter the size of the deal, Justin gives every client the same personal attention, " said Lake Homes Realty COO Doris Phillips. "What makes him a true winner is that he realizes all dreams are equal, and he works his hardest to make them all come true."
Dyar attributes his achievements to his professional philosophy, which he believes is the key to success in real estate over time.
"Do as you say, and live right," he said. "You will succeed. And with that in mind, I am looking forward to hitting the $1 billion mark!"
For more information about Justin Dyar, visit him at: https://www.lakehomes.com/alabama/lewis-smith-lake/justin-dyar.
Lake Homes Realty
Lake Homes Realty (www.LakeHomes.com) is a full-service, multi-state real estate company focused on lake homes and land. The two-time Inc. 5000 company is a licensed real estate brokerage in 23 states, including its home state of Alabama, and is expanding rapidly into additional states.