To be honest, most of the time spent at your lake home is spent outdoors – as it should be. But the second-most popular place at your lake home is inside: It's your kitchen, and when you're entertaining your family and friends, a cramped space just won't do.
Construction crews aside, there are many simple ways to make your kitchen feel bigger. Take a look at the few examples below to see how you can update your space this lake season!
White and Wood
Lightening up the color of your kitchen may sound simple, but it's effective.
Lighter colors, such as creams and whites, are better at reflecting light, which helps create the illusion of a larger room.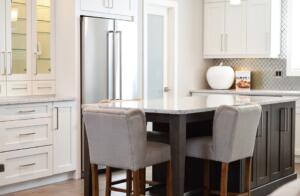 To take your upgrade a step further, interior designers suggest putting up trim around the top of your space, painted an even lighter color than the walls.
Add texture to your kitchen by paneling your walls with whitewashed wooden planks, commonly known as shiplap.
Popularized by the HGTV show "Fixer Upper," shiplap can not only help make your kitchen feel bigger, but it can also make your space feel warm and cozy, like a comfy lake cabin.
Or, when accented appropriately, can give your kitchen a coastal vibe.
Let the Light in
Another technique to making your space feel bigger, is increasing the amount of natural light that flows into it.
Do away with your dark colored window shams and thick, heat-blocking curtains, and spring for a set of indoor shutters that can be opened and closed at your leisure while still inviting in ample sunlight.
You can also incorporate reflective surfaces in your kitchen. Similar to how lighter colors can make a space feel roomier, so can reflective surfaces like stainless steel appliances and metallic backsplashes.
Eliminating low-hanging chandeliers and frosted light fixtures can also open up a room.
Redo Your Floors
Installing patterned flooring is another option to consider when attempting to make your space feel bigger.
One way to achieve this is to use over-sized tiles in your kitchen. The size of these will help to create a sense of wideness to the area.
In selecting these tiles, choose similar colors that are slightly different, such as a slate and a lighter grey. Dark floors will contrast well with your light walls.
If you want hardwood floors, install planks of alternating colors. As with your tile, be sure not to very the color drastically. Slight variations will achieve the look you desire without being visually jarring.
Another tip is to install your hardwood floors vertically, rather than horizontally. This will help make your space look as it longer.
Incorporate Open Shelving
Ditch your boxy ceiling-to-counter shelves and opt for several open shelving units.
This will help add depth to your kitchen by optimizing the amount of light in your space and help make better use of your wall space.
Often thick and dark, closed cabinetry can also have an oppressive effect on a space.
Open storage aides in functionality of your kitchen by eliminating the time you take hunting down that pot or pan, as well as makes the room more inviting.
So before you call the contractor, try out one of these simple upgrade suggestions for making your space feel bigger, and be sure to check out our other home improvement articles here and here!