A fun lake home party is not stressful when you organize, plan and prepare properly. Parties at the lake can create unforgettable memories for family and friend when you plan appropriately.
Prior to Party Prep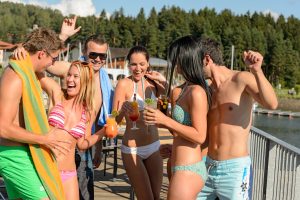 Pick a party theme that correlates with the special occasion or time of year. Set a date and time for your guests.
To ensure optimal attendance send out a 'Save the Date' message via text, Facebook, and/or email as soon as the date is set.
If you are having a birthday party pick an age appropriate theme that the guests of honor chooses.
If you are having a party for another occasion, do your best to pick a fun, colorful theme that correlates well with the dreamy lifestyle of lake home living.
Lake Home Party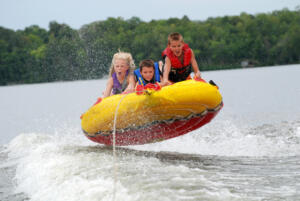 Some parties require games and expensive rental equipment for guests entertainment.
A great lake home party will allow guests to enjoy swimming, boating, skiing, floating, paddling, sunning and any other sports the hosts already own equipment for.
Decoration Preparation
At lake home parties the main goals are spending time together and making memories while soaking in the sun and enjoying aquatic sports.
Keep decorations simple ~ the lake is picturesque enough. Take advantage of the view and let your lake home create the dream party.
Allow the scenery to naturally relax your guests and promote lake life conversations on the wonders of the lake.
Food Preparation
Unless you plan to spend your time maintaining food and refreshment areas be sure to prepare foods that take little to no attention after preparation.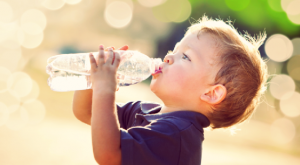 One easy idea is a crock pot full of hot dogs. Simply add water, heat the dogs then turn the slow cooker to the keep warm setting when they are hot. Keep a cooler nearby with condiments for the dogs.
Single serving bags of chips and other easy single serving snacks will not consume your time during the party.
Have a few coolers with a variety of can drinks and make sure there is plenty of bottled water.
Be sure to have paper plates, napkins, plastic utensils and trash cans in a few places to decrease clean up time later.
On the Eve of the Party
Make sure to have everything you need so that you can start preparing for your guest arrival. If you have decorations, start hanging them the night before.
If you are making specialty drinks or foods make them the night before the party so you do not feel rushed the day of.
Do everything you can the night before so that you can spend time being a host to your guests rather than their cook or waitress.
Lake Home Parties Safety
To be sure everyone stays safe while having fun always have enough life vest and other required safety equipment. Lake Homes Realty has numerous safety articles you can read for more information on keeping your guests safe.
And if there's a chance the party might last through the night, check out our "Lake Home Guests – Invite the Family for Extended Stays and Be Prepared" story for more advice!
Relax, have fun and take a lot of pictures to remember your lake home party fun!