A picturesque, gated lake community with affordable homes surrounded by nature? Sounds perfect to us.
Located in Gainesboro, Virginia, just near the West Virginia state line, Lake Holiday offers everything a true lake lover craves. The 1,900-acre wooded community has a modest average home price of $286,892 and encompasses a 240-acre residential lake.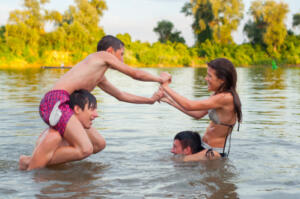 Don't let the fact that it's a neighborhood lake fool you, though. It's no stranger to energetic residents. In fact, Lake Holiday happens to be perfect for popular water sports such as canoeing, kayaking, water skiing, sailing and swimming.
And humans aren't the only ones enjoying the great outdoors. Lake Holiday is overflowing with diverse wildlife. White-tailed deer, wild turkeys, great blue herons and even eagles frequent the area. Ducks and geese are present year round and are sometimes joined by the occasional swan.
Beneath the water's surface is an angler's paradise. This body of water just so happens have some of the best bass fishing in the state. In addition to smallmouth and largemouth bass, fishermen also reel in black and white crappie and channel catfish.
Community residents have access to a 91-slip marina, beaches and a lakefront clubhouse. And that's just in Lake Holiday's own backyard. Since the residents are also in the great state of Virginia, they're never far away from a good time.
A Nature-Bound Haven
Virginia is a paradise for outdoor enthusiasts. Four-season natural recreation ranges from skiing in the mountains to sunbathing on the Atlantic coast. For Lake Holiday residents, it's only a one hour drive to the Shenandoah National Park.
This massive natural preserve is nestled among the Blue Ridge Mountains, just 75 miles west of Washington, D.C. It features 500 miles of nature trails–including 101 miles of the well-known Appalachian Trail–surrounded by towering trees, waterfalls and rock formations.
Backpackers love to hike up Hawksbill Mountain. At 4,050 feet, it's the highest peak in the Shenandoah National Park and features 360-degree panoramic views of the world below.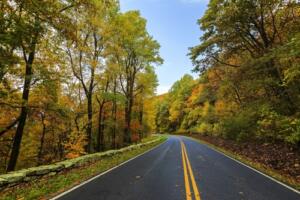 Visitors can get another perspective of the landscape with the historic Skyline Drive. This National Scenic Byway stretches the entirety of the 105-mile long park. It features envy-worthy views from various peaks and overlooks, as well as multiple campsites, and continues south as the famous Blue Ridge Parkway.
The park also serves as a safe haven for a wide variety of animals otherwise pressured by too much human activity. In fact, there are over 40 fish species, 50 mammal species, 20 reptile and amphibian species and more than 190 different types of birds.
The majority of animals in the park, like white-tailed deer and woodchucks, are relatively harmless. However, visitors should still keep an eye out for larger predators like black bear, bobcats and coyote who thrive in the deep woods.
The park thrives in every season, from the colorful foliage of fall to the snowy slopes of winter. And with infinite recreational opportunities like white-water rafting and mountain climbing, it's a great place to visit with the family.
The Perfect Place to Call Home
With all this fun within just one hour of the lake, Lake Holiday is an ideal community for lake lovers to settle down in.
Its safe, secluded location puts it miles away from any big city, offering something we could all use a little more of: peace and quiet. It's engulfed in nature on all sides and couldn't be more perfect for those who live for the outdoors.
A word to the wise: consider purchasing your next lake home here. You won't be disappointed.
For more information on what's available on Lake Holiday right now, click here.