Love is in the air and lovers are on the water. If you're hooked on someone special this year, make their Valentine's Day one to remember with these great lake date ideas.
Set Sail
There's just something romantic about a sail boat.
Fortunately, you don't have own one, or be a master sailor, to make this date a reality. In fact, you may not need any experience at all!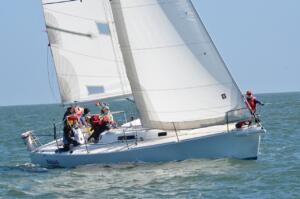 Many lakes, particularly larger bodies of water, offer sailing classes through their marinas and sailing clubs.
Spend the day enjoying the sun on your face while you bond with your loved one through hands-on training with a veteran instructor.
Or, enjoy sailing as a passenger on a more intimate, private excursion.
Windsong Sailing Academy near Lake Lanier in Georgia is one such academy that offers a variety of sailing cruises for you and your significant other to enjoy.
Passengers can take a peaceful, moonlit cruise with a group, or opt to schedule a private charter for an evening alone on the water.
Couples also enjoy the Academy's Sail-N-Dine package which takes passengers on a sunset sail to a secluded anchoring point where couples can picnic as the sun goes down.
To start planning your perfect day, visit the American Sailing Association website for a list of sailing schools near you.
Go Fish
Forget the cards, and grab a pole for a leisurely day of fishing with your sweetheart.
Whether on the boat or at the docks, fishing can be a romantic bonding experience with the proper preparation.
Begin by selecting the perfect location. Choose a spot that offers natural beauty like a secluded cove or a bank just off the tree line.
An ambient setting will not only provide a pretty backdrop for pictures but set the tone for a playful, carefree day.
As you settle in, it is important that you're mindful of your partner's level of fishing experience. For first-time anglers, the environment might be captivating, but the activity itself may sound uneventful and boring.
One way to ensure the date is enjoyable is to come armed with a handful of lighthearted stories to share about your fondness for the lake or that particular spot. Sharing memories is great for bringing two hearts even closer together.
You can also bring along an assortment of finger foods and snacks to enjoy, picnic-style, while you are there. When packing your picnic, remember to package any sandwich items in their own separate baggies or containers to avoid cross contamination and soggy bread.
Also pack paper plates, napkins and disposable cups for any sparkling juices or champagne you might bring.
Trail mix, cheeses and fruit are all good foods to consider bringing; just make sure you are able to keep cold-food items cool while you are out.
Lastly, before you head out, be sure your tackle box is fully stocked with the following:
extra fishing line
plastic worms
a handful of lures
needle nose pliers
extra hooks
bobbers and sinkers
nail clippers or a pocket knife
sunscreen
And remember, the day is not about how many fish you can catch; it's about spending time with someone you love.
Dockside Dinner
This romantic lake date is sure to warm any loved one's heart, and can be relatively easy on your wallet.
What you will need:
large votive candles or battery operated paper lanterns
a small table
2 linen napkins
a linen table cloth
satin ribbon
a medium-sized glass bowl
2 long stemmed candlesticks
flowers
2 entree plates
a wireless speaker
2 side plates
2 drinking glasses
Start by lining your dock with the votive candles or paper lanterns, spaced out every few feet. The soft light from these will create a sense of warmth to your evening as well as guide your guest to the dinner table awaiting them at the end of the dock.
Drape your linen cloth over the table so that the edges of the material brush the floor.
For added elegance, wrap your silverware in the linen napkins and tie them up with your satin ribbon.
Set the table by placing your side plate atop the entree plate, resting the silverware bundle vertically across the dinner dishes.
Complete your table arrangement by filling your medium-sized glass bowl halfway with water.
Floating a few, stemless flowers atop the water in the bowl will create your centerpiece. Your long stemmed candle sticks should go on either side of the bowl so as to not block you and your date's view of one another.
For what to cook, look to our "Fresh Fish Recipes You've Got to Try" article for a few lake-friendly recipe suggestions. Our parmesan baked fish dish is a perfect dinner for two.
As the two of you enjoy your candlelit meal, have an instrumental music playlist playing softly through your wireless speaker, and once you have both finished, end the night with a romantic dance under the moonlight.