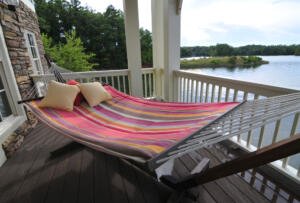 The beautiful Lake Martin is located in east Alabama, near major Southeastern cities like Birmingham, Atlanta, Montgomery and Auburn.
With more than 44,000 acres of surface area and 750 miles of shoreline, it is revered by many as the "South's Best Kept Secret."
Whether you grew up visiting "The Lake," as natives refer to it, or live there permanently, you'll recognize your favorite place by some of the characteristics of what makes it home.
Natural Beauty
One of the largest man-made lakes in the United States, with less than 40 percent of the shoreline developed, "The Lake" is an outdoor-lovers playground.
With numerous coves, creeks, sloughs, straights and expanses of water stretching up to 4 miles, Lake Martin has the potential to feel like an entirely different lake depending on your preferences.
Aside from any water sport imaginable, the lake features more than 100 miles of hiking trails for both amateur and experienced hikers.
You also know that the stunning views have ruined you for any other body of water, the ocean included!
The Landmarks
 Lake Martin is home to number of landmarks that make the lake unique from other lakes in the southeast.
Chimney Rock, a large rock formation that resembles a chimney, is by far a resident favorite.
The land surrounding the formation has undoubtedly become the social hub of the lake with anywhere from 50 to 60 boats parking to visit with one another.
Another landmark, Acapulco Rock, invites only the bravest of visitors to climb up 60 feet of steep rock and jump into the water, 100 feet deep.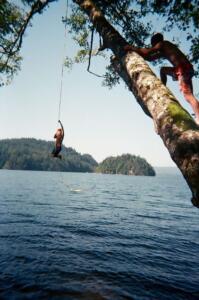 Life on the lake is what you make it
Whether you enjoy a jam-packed schedule or prefer to kick back and relax, Lake Martin has something for everyone.
Every year, Lake Martin hosts multiple events like fishing tournaments, festivals and a fireworks show on the Fourth of July.
In June, the Alexander City Jazz Festival is held at the Lake Martin Amphitheater and in downtown Alexander City.
The lake is also host to a number of special events. For instance, in 2009, Lake Martin hosted AquaPalooza, "the world's largest boating party."
With organizations demanding "The Lake" as a coveted venue, you know you're sure to always have the best seat in the house!
Community
Aside from crystal-clear water and breathtaking views, the people at Lake Martin are top-notch.
"The Lake" is the perfect unifying tie that binds everyone together. Whether you live in a lakeside subdivision or a stand alone home, you can find a friend in just about anyone you meet around the lake .
You know every time you go out to get the Lake Martin Pizza at Blue Creek or stop by "The Lake's" world-class marinas, like Chuck's, you'll see a familiar face.
Just grab your neighbor, hop in the boat and head over to one of "The Lake's" many social venues.
Southern tradition
Centrally located from major, southern cities, "The Lake" holds true to its traditionally southern roots in everything from food to leisure.
Residents and visitors alike relish in supporting local restaurants that serve southern cuisine made from fresh, locally-grown produce.
Catherine's Market, is a gourmet market dedicated to fresh, organic produce.
For more of an upscale night out, locals flock to the award-winning Spring House, a gourmet restaurant inspired by refined, southern sophistication.
For a down to earth experience, you usually choose The Landings or Kowaliga, made famous by the Hank Williams song, for a night of casual dining, horseshoes and corn hole.
And in your down time, why not spend the afternoon at the Dixie Sailing Club, formally located at the Ridge, or tee off at one of the many world-class golf clubs.
These are just a few things that make Lake Martin the beloved, southern destination you know and love.
With nearly 500 listings around the lake, you can find the perfect family home, second residence or retirement home that fits your needs and style. So, why not choose Lake Martin?
For more information, visit our Lake Martin page or contact lake real estate expert John Franklin.