In Part I of this series, we walked you through the first steps to planning a dinner party: creating a budget, determining a guest list and sending out  invitations. Once all of those ducks are in a row, however, there is still more work that needs to be done. The next step to planning the perfect dinner party is all about setting the mood and planning the food.
For this part of the process, attention to detail is imperative! The atmosphere and cuisine should be well thought out and showcase who you are and what you want your guests to experience.
The Mood
What's your aesthetic? Focus on indulging in what you love rather than stressing over what's proper.
You're already on the lake, so the odds of ambiance are in your favor. Play on your surroundings and host the party somewhere unexpected.
For a more formal evening, a candlelit dinner by the water would certainly make a lasting impression. If you have a large enough boat, dinner on the water would be even better.
Maybe a casual, intimate setting is what you're going for. Opt for a nighttime picnic, complete with fairy lights, and throw down plenty of blankets and pillows. If you have a giant screen and projector readily available, you could even end the night with a movie under the stars.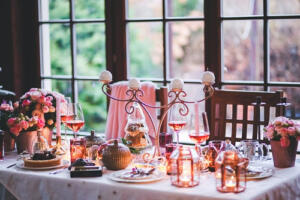 When it comes to the tablescape, it's best to start with a good table cloth and work your way up. Candles add warmth and movement, and soft illumination is the easiest (and cheapest) way to transform your space.
A nice floral arrangement can also contribute some colorful character to the table, but this doesn't have to be a pricey feature. A bouquet of wildflowers from the yard or garden works just fine.
To compliment the flowers, break out the nice china and cloth napkins. You can save the paper plates for every other night, but a dinner party is just as much about style as it is about cooking.
Don't forget to create a playlist! Music is an important part of any get-together and paramount in setting the tone.
In certain settings, it can be good to feature a mix of genres that everyone can enjoy, but remember to stay mindful of what's appropriate. Maybe a formal business dinner with associates isn't the best time to show off your knowledge of 90's hip hop.
Also, remember not to turn the tunes up too loud. It can discourage conversation when guests have to constantly shout over Coltrane.
The Food
While it can be easy to come back from a poorly selected playlist, it's a lot harder to recover from failed food. When arranging the perfect menu, there are a few do's and don'ts to be aware of.
DON'T experiment with new dishes. When it comes to cooking for large groups of people, it's best to stick with what you know in order to avoid potential chaos…and embarrassment.
DO make sure water, salt and pepper are on the table at all times.
DON'T wait until the day of the party to make the grocery list and start cooking.
DO take your guests' dietary restrictions into consideration by having vegetarian or low-carb options so everyone can enjoy themselves.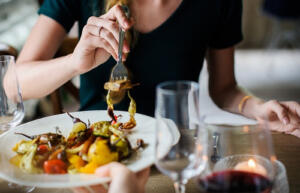 Use the lake to your advantage and add some fresh seafood to the menu. Not to mention, the story of how you caught a 25-pound bass the afternoon before would make for a great topic of conversation.
When choosing what drinks to offer, consider your company. Wine may be a staple at most dinner parties, but in a room full of beer lovers, a full-bodied Cabernet might not fare so well. At the same time, be knowledgeable of what drinks would compliment the flavors you serve.
Pairing food and drinks comes down to determining what the basic taste of the food is—sweet, salty, sour or bitter—and choosing a beverage that either matches or contrasts it properly.
Dark, bold wines pair well with rich, red meats, while crisp white wines go well with seafood and pastas. When it comes to beer, just about any ale goes great with beef dishes, while pilsners and lagers work well with pork and poultry. Light or wheat beers match best with seafood.
The atmosphere and menu are big components of the night. However, there are still a few more boxes to check before we reach the end of our lengthy to-do list. In Part Three of this series, we'll talk about the final stages of preparation in the days leading up to the dinner party, as well as what is expected of a great host.