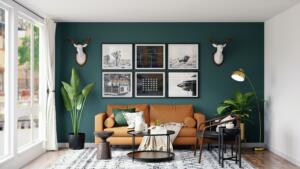 If you own a home with a beautiful view of the lake, then decorating your home to match the area is a great way to add to the ambiance. There are different themes you can use to offer a beautiful scene for your lakeside home.
These room themes can help accent your lake views using indoor design!
With each theme you choose, there are certain items that can be purchased.
Wall Décor
Trinkets
Throw Pillows
Quilt
Rugs
Picture Frames
Furniture Color
Fishing Theme
If you are an avid fisher, then this theme is perfect. From fishing theme throws and pillows, to a large stuffed bass on the wall, you can add to the view of your lake. A great idea to add to this theme is to find old fishing poles onto the wall for an added sense of being on the water.
Another wonderful idea is to use canoe paddles for wall decoration. To add to the warmth of this theme, use a quilt to put over the back of your sofa and other fishing related items.
Old Fishing Poles
Fish Netting
Stuffed Fish on Plaque
Paddles
Painting of Fishing Boats
Anchors
Underwater Theme
The underwater theme is a simple theme that will add to the view of your lake. Keep the theme to any aspect of being under the water like fish and underwater plants. Although this theme incorporates parts of the other themes, the main aspect of this theme is shades of blue and sparkling pieces.
Blue Throws
Blue Pillows
Water Scene Painting
Trinkets of Fish or Water Animals
Sea Side Theme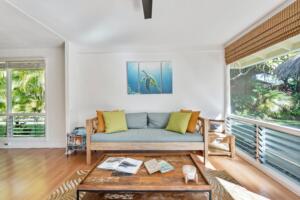 If you love the sun and the beach, then decorating your home with a seaside theme would be great to add to the view of the lake. There is decor you can purchase to add to it like visions of dolphins, crabs, and more.
This includes orange colored items, as well as yellow, blue, and other colors that offer a sense of being on the beach. It will allow you to feel refreshed and relaxed, all while looking through your window and the open water. There are different ideas that will help you add to this theme.
Paintings of the Beach
Decorative Bottle of Sand
Trinket of Children Building a Sand Castle
Star Fish Wall Decor
Fish Netting
Coral
Sea Horses
At times finding water related items can be difficult. One great way to add to the theme you choose is to visit a fabric store. They have a lot of different patterns that will match your theme. You are able to hand make pillows and cushion covers to ensure that your furniture matches the theme.
The one aspect to remember when redecorating is that if the item does not have a specific theme, at least make sure it is of the same color as the rest of the furniture or décor.
Small do-it-yourself projects can be fun and offer pieces to display. Adding to the view of your lake will help you take advantage of the great view that you have at your disposal. It will also give your friends and family a comfortable and relaxing area to bond and spend time with one another!