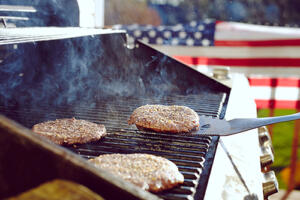 This weekend, Americans across the country will celebrate Memorial Day, to honor those who died while serving in the nation's armed forces.
What better place to celebrate life, liberty and the pursuit of happiness than on the lake, surrounded by our loved ones and this country's natural beauty?
If you are hosting a Memorial Day barbecue on the lake, here is a checklist to help you get started with your preparations.
Clean up Your Act!
Spring is the perfect time to give your grill a good scrub-down. This is true even if you haven't used the grill since last fall. Give it a good cleaning to remove dirt, dust, grime and other things you don't want on that first burger of the season.
If you can remove the grill grates, soak them in a bucket, or plastic tub, of hot water and dish soap, then give them a good scrub.
Rinse thoroughly with a garden hose before putting them back in.
Scrub the grill hood and inside walls to remove any build-up. If your grill uses propane or natural gas, make sure all the jet ports are clean and free of gunk or debris.
Give me fuel, give me fire…
Take a careful look at that half-empty bag of charcoal in the garage.
Will it REALLY be enough? If you can't say for sure, better safe than sorry.
Grab a fresh bag of charcoal and make sure there's plenty to go around. Unless you use self-lighting charcoal, make sure you have lighter fluid, too.
If you use a propane tank, make sure there is enough propane. If you don't have a gauge attached, here's an easy trick to find out how much propane is left in your tank.
Still shopping for your grill this season? Click here for tips on finding the grill of your dreams.
Serving Guides
Keep these serving guidelines in mind when you're planning the menu.
For boneless meat, such as hamburgers, most experts recommend between 1/3 and ½ pound of meat per adult.
For meat with bones, such as ribs or chicken wings, plan for somewhere between 12 and 16 ounces per person.

This breaks down to approximately four to six ribs, depending on the type, and 10 wings.

Side dishes vary, depending on how filling they are. For most dishes, experts recommend four to six ounces per person.
With a side salad, go for one big handful per person.
When in doubt, round up. It's far better to have leftovers than to run to the store in the middle of your barbecue because you ran out of  something!
Get a Solid Head Count
While this seems like a no-brainer, it goes hand in hand with making sure you have enough food.
If you're just feeding your immediate family, this isn't a problem. On the other hand, if you invited all your friends, family and coworkers, you might have more guests than you can handle!
It may seem like overkill, but treating your barbecue like an invitation-only event can save your it.
Don't be afraid to divvy up the side dish duties, either.
Most guests are happy to bring a dish. If you insist on buying everything, even a modest back yard barbecue can easily run upwards of $300.
Make sure you have plenty of parking for your event, too.
If you can, tell people where to park in your invitation. That way you won't see their tire tracks in your front lawn through the month of June.
Get the Tools for the Job!
From a first-timer to a veteran grillmaster, everyone needs the tools for the job. Make sure you have each of these before you get started.
Basic tools: Metal spatula, metal tongs, basting brush, barbecue fork, butcher knife, barbecue scrub brush
Advanced tools: meat thermometer, gloves, bottle opener, meat tenderizer, meat shredder
Specialty tools: Shish kabob skewers, corn on the cob skewers, squirt bottle
Other equipment: Paper plates, disposable cups and silverware, outdoor garbage can, paper towels, tin foil, serving utensils, cooler
Turn up the Music (to a reasonable level)
Having some patriotic jams can make you the life of the party this Memorial Day.
If you don't fancy yourself a DJ, online music services like Sirius, I Heart Radio, Spotify, and Pandora typically have all-American stations and playlists for Memorial Day.
When outdoors, remember to keep the volume down to a reasonable level as sound can carry great distances across the lake.
Just because you love rocking out to Lynyrd Skynyrd doesn't mean the rest of the neighborhood wants to (even if they should.)
Have a "Worst Case Scenario" Plan for the Weather
No matter how much we plan, Mother Nature doesn't always cooperate with our outdoor party schedule. Have a contingency plan in case it gets rainy, or worse.
If the sky opens up, don't panic!
Most grilled dishes can be cooked inside, on your stove or in the oven. Make sure you have adequate seating for everyone, and put a movie on.
A little rain is no reason to cancel your celebration!
Remember the Reason for the Season
Memorial Day is a day of remembrance for all those who gave the ultimate sacrifice in the service of the United States.
Don't forget to honor them during your event. Be sure to thank any veterans or members of the military for their service to our country.