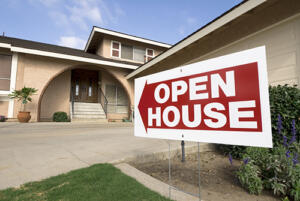 If you are selling your home, chances are your real estate agent has spoken with you about an open house.
These are an excellent way to get prospective homebuyers in the door and get them talking to your selling agent.
If you are still living in your home, this can be tricky.
Here are some tips to help you work with your realtor and make your property as appealing as possible.
Clean, Clean, Clean
Now is the time to do all the spring cleaning you've been putting off, and then some. Vacuum, mop, clean the floors, wipe down the countertops and more.
Don't neglect any out-of-the-way areas like the guest bedrooms, bathrooms or the garage, either. This is the time to clean the grout, tile, fixtures and appliances.
Remove the sources of any unpleasant odors. Even faint odors from a pantry, cigarette smoke or garbage disposal can often turn buyers off.
Especially if you have pets, vacuum the carpet, drapes and upholstery. Buyers with pet allergies won't want to stay long otherwise!
If you don't want to handle the cleaning all by yourself, consider hiring a cleaning service for a good, deep clean.
De-clutter
Buyers are attracted to properties where they can imagine themselves moving in as soon as possible.
Help this process along by removing any day-to-day clutter that might distract them from those happy thoughts.
Put away things such as laundry, dishes, bills, children's homework or pet projects.
Make sure the dishwasher and sink are empty, and all trash cans are empty, even those in the bathrooms or garage.
When possible, you should also remove any prominent personal items. You want buyers to imagine your property as their new home.
Family photos, quirky fridge magnets, religious icons and sports memorabilia can make that difficult.
If removing framed photos leaves a big empty spot on the wall, you can temporarily replace them with a simple painting or other generic decoration.
Let the Sun Shine In
Homes look their best,  and their biggest, when they are open and well-lit.
Turn on every light in the house, other than those that cause noise, such as lights wired to kitchen exhaust fans.
Clean your windows and pull back the curtains, as well. If bushes or trees obscure the view, consider trimming them back.
Open windows always make a house look larger, especially in the living room.
Don't let Rover come over
If you have pets, try to remove them during the open house, especially dogs.
Dogs can be very anxious or excited around visitors, especially if you aren't there. No matter how friendly they are, your furry friends might give the wrong impression.
If you simply can't remove your pets, for whatever reason, confine them to a specific part of the property, such as the garage.
Make sure they won't bark or scratch at the door, and that your realtor is comfortable being alone with them.
Whatever you do, do not lock pets in sought-after areas such as the master bedroom. The entire point of your open house is to give buyers an in-person look at the property!
Protect your Belongings
Ideally, you will have several strangers looking and moving through your house. Make sure your belongings and valuables are kept safe.
Your realtor can't be everywhere at once.
Remove or secure any jewelry, medication, electronic tablets and other valuables that might "walk off."
If you aren't sure where to put them, simply pack them in the trunk of your car until afterwards.
After the open house, double-check your doors and windows to make sure they are still locked.
Remember the Great Outdoors
Mow, trim, weed and wash!
Your front yard is the first thing visitors will see when they pull up. Make sure your lawn is already mowed, with the grass clippings blown or swept away.
Trim any bushes and remove any low hanging tree limbs that need removal.
If your house has vinyl siding or a brick exterior, this is the perfect time to give it a pressure wash.
This is doubly true for walkways, steps, and driveways. Removing a few years of grime and mildew can make your home stand out!
Don't neglect the back yard, either. Visitors will certainly look there!
Put away any tools, children's toys, lawn care equipment and other clutter. Outdoor furniture is a plus, but make sure yours is clean and doesn't have any mildew or standing water in it.
If mosquitos are a problem in your neighborhood, light a few citronella candles in discreet places so they don't harass your guests.
Leave!
This may go against your instincts, but most buyers are far more comfortable speaking with an agent, without the homeowner present.
Even if they don't buy the house, they can often give your agent useful feedback that they might not give you directly.
Give your selling agent a complete rundown on anything they need to know, and let them work their magic.
If your home is a lake home, a selling agent who specializes in lake property can be a huge help with the lake-specific aspects of this process. Visit the Find a Lake Agent page on Lakehomes.com to find one in your area.
And be sure to check out our lake home specific open house article for additional advice and tips.