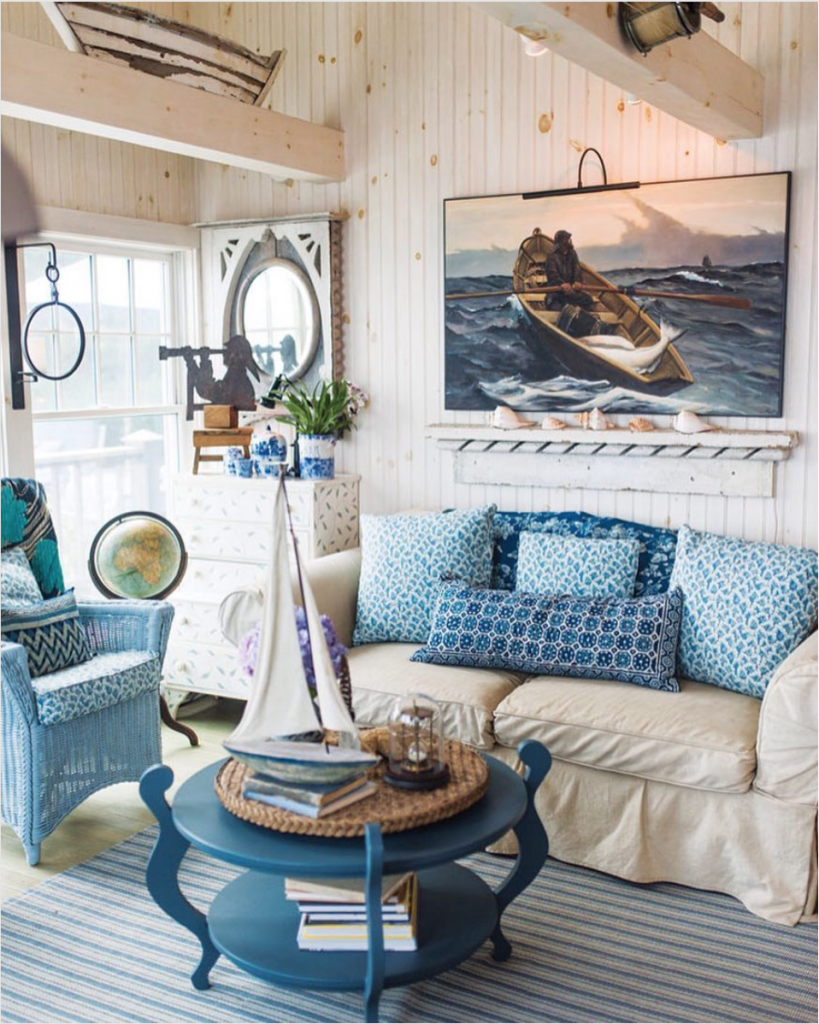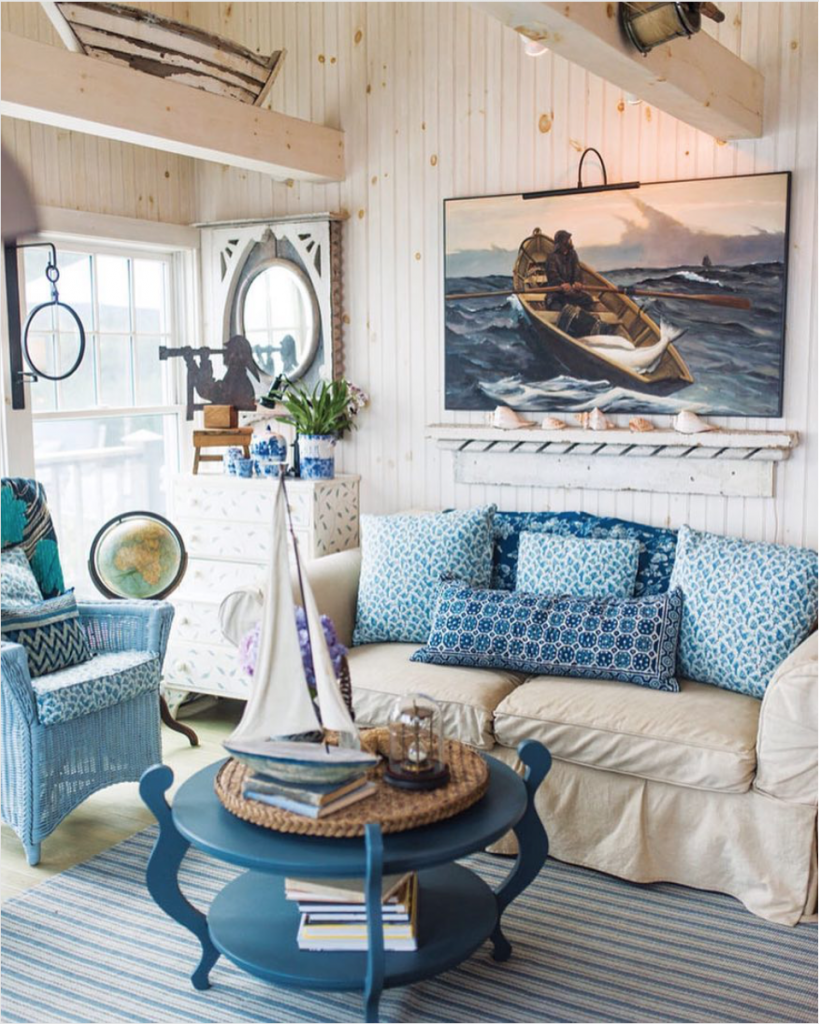 For lake homes and beach houses, decor in nautical themes is a classic look. A blue and white color scheme with boating motifs evokes a relaxed, cheerful feel. However, this style can sometimes go awry. Too often, lake homeowners go overboard– pun intended– with sailing-related paraphernalia. The result is more junky than sophisticated. When designing a nautical room for your lake house, it's important to remember that a little boat-inspired charm goes a long way. Thankfully, achieving this whimsical, yet polished balance does not have to be complicated. There are plenty of DIY nautical decor projects that you can begin right now, in quarantine, to revamp your room in time for summer. Check out some of our tips below!
Painting Your Walls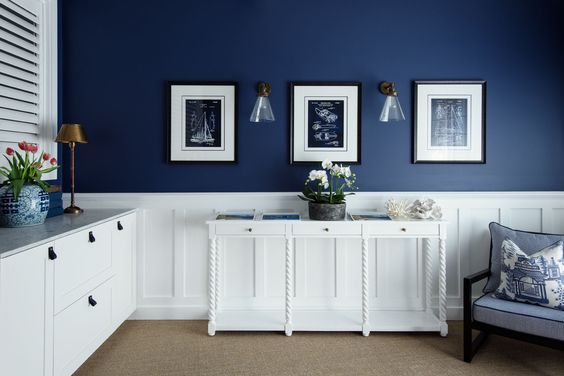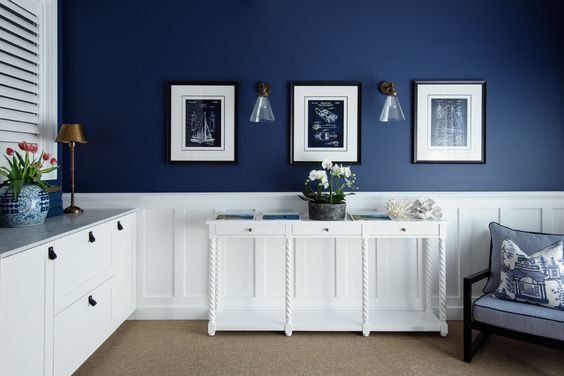 Painting — or repainting– your walls is a basic, yet often overlooked tip for designing your nautical room. Although we associate shades like blue, white, red, and yellow with boating, combining these bold colors on one wall may look chaotic. Kate Diaz, interior designer and owner of home DIY website SwankyDen.com, comments, "Stick to a simple color palette for a classic look. For a more modern look, use bolder, darker shades of blue to offset bright whites. Doing so will create a stunning contrast while maintaining an elegant appeal." Katie Mills, a writer for Poshh Living Magazine, agrees, adding, "About 80%-90% of the space should be neutral." Besides blue and white, you can opt for wood tones to lean into a more rustic vibe. As for those bright yellows and reds that we associate with nautical flags– they work best in smaller doses. While an entirely red accent wall could be overwhelming, painting a single chair in red can add a fun pop of color.
Picking Nautical Items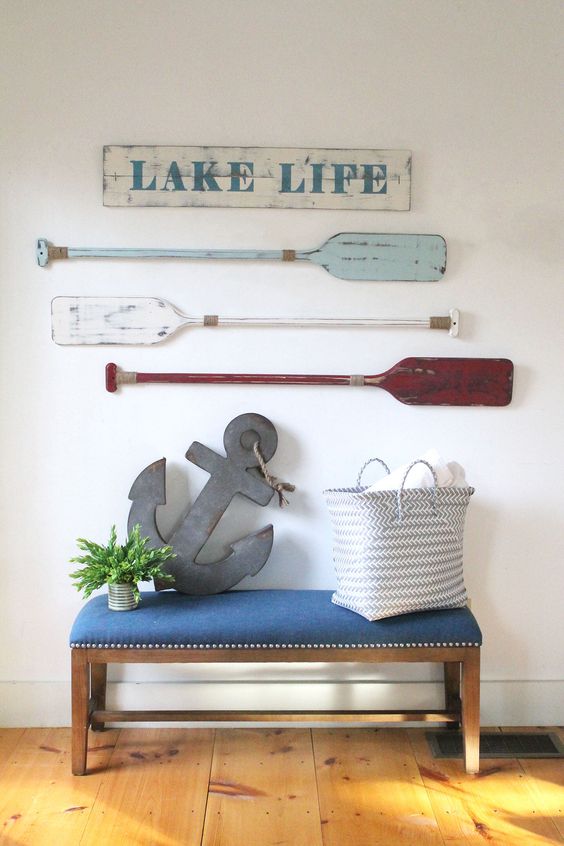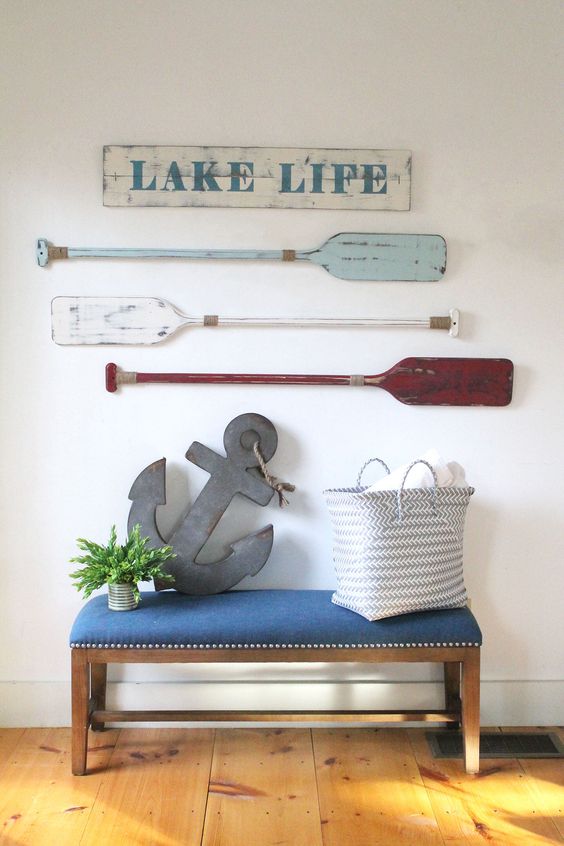 Finding nautical accent pieces is easier than you think. Often, the best sailing-inspired items are miscellaneous objects found both indoors and outdoors. Katie Mills advises, "Try finding genuine nautical items to use as decor. Oars are the obvious choice and are easy to paint and repaint." If you have old canoe paddles, try painting a few and hanging them on your wall. While you're at the boat dock, grab a few twists of rope or nets. Using these nautical objects, you can create plenty of designs. Kate Diaz suggests wrapping natural colored ropes around plant pots or using burlap to create a nautical footstool with glue and a stapler. You may also find nautical objects in other rooms of the house. For instance, if you have a round mirror in the foyer, try moving it to the nautical room, as the circular shape will resemble a ship's porthole.
Choosing Crafty Projects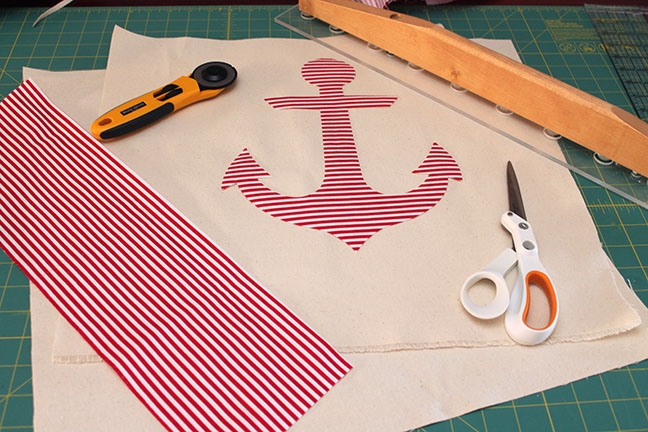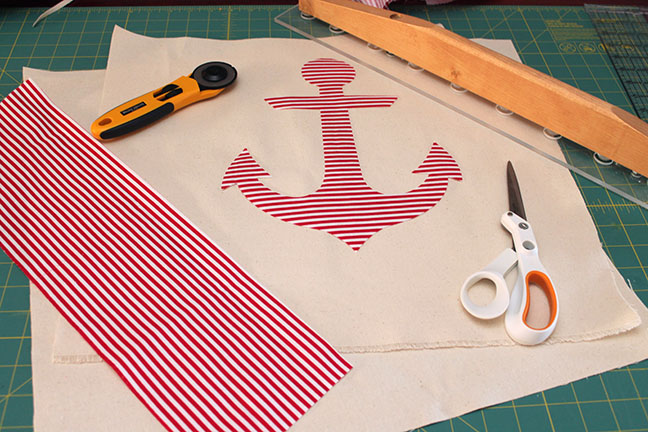 In addition to repurposing boating items as decor, you can also get crafty with everyday materials. Everything from glass bottles to pieces of wood has creative potential. If you have sewing equipment, you can create nautical pillows. With old wine and sauce bottles around the house, you can paint them, wrap twine around, and place them on a bookshelf or patio table. Using driftwood, easily found in the lake, you can make these small sailboat figures. For a more personal touch, paint a picture frame with nautical shades and feature a photo of your family on the boat. While your paints are out, consider painting a welcome sign for your house. Each of these DIY crafts will instantly add a warm, lakeside feel to your room. 
We hope these ideas help you brainstorm DIY nautical decor projects you'd like to undertake. Picking one or two projects is best. Katie Mills reminds us: "It's fine to have the occasional ship in a bottle, decorative anchor, or painting of a ship, just keep them within reasonable limits!" So, pick the craft that interests you most and get started. You'll be surprised at what a single DIY nautical item can add to your lake house!