Sure, a lot of burgers and hot dogs get grilled at the lake, but what about the fish?!
Perhaps the most popular way to prepare fresh fish is to fry it. After all, fish fries are as iconic as a good, old-fashion cookout when it comes to lake living, but aside from deep fried, there are plenty of other ways to cook up a delicious fish meal.
Next time you're lakeside with a boat load of the day's catch, try your hand at one of these fin-tastic recipes to enjoy with your family and friends.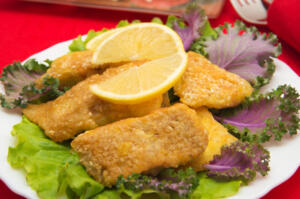 Barbecue Smoked Lake Trout Fillets
Ingredients:
8 boneless trout fillets with skin on
2 Tbsp olive oil
2 cloves of garlic, peeled and chopped
lemon juice, about 3 Tbsp
1/2 tsp. fennel seed
1/4 tsp. dried thyme
1/2 tsp. freshly chopped cilantro
salt and pepper
2 cups wood chips (apple, cherry, mesquite) for cooking
Directions:
Begin by soaking your wood chips in a bowl of warm water for about 30 minutes. This will allow enough time for the wood to absorb the appropriate amount of moisture.
While your chips are soaking, rinse your trout fillets, and pat them dry with a paper towel.
Combine all the spices and other ingredients and season the fish on both sides. You can do this with your bare hands or brush the mixture on with a basting brush.
Preheat your grill on high for about five minutes.
Once your grill has preheated, remove the wood chips from the water and spread out across the bottom of the grill. Close the lid once more, and allow the wood chips to smoke well.
After the smoke has built up, place the prepared fish in a grill basket, or directly on top of the top shelf. Be sure to place the fillets skin side down.
Turn the heat down to low and close the lid. Allow for the fish to smoke for about 20 minutes without opening the lid, then serve.
Courtesy of: From Lake to Plate
Southern Seafood Gumbo
Ingredients: 
1 medium onion, chopped
2 celery stalks with leaves, chopped
1 medium green pepper, chopped
1 Tbsp. olive oil
3 cloves garlic, minced
46 oz spicy V8 tomato juice
14.5 oz diced tomatoes, undrained
1/4 tsp. cayenne pepper
16 oz frozen okra, sliced and thawed
1 lb catfish fillets, cubed
3/4 lbs uncooked medium shrimp, deveined and peeled
3 cups cooked long grain rice
Directions:
Using your olive oil, saute your onion, pepper and celery in a Dutch oven until the vegetables are tender. Next add your minced garlic and continue cooking for an additional minute.
Stir in the tomato juice, tomatoes and cayenne pepper and bring to a boil. Once boiling, reduce to a simmer, and cover for 10 minutes.
After the 10 minutes is up, add in your catfish cubes and okra. Cook this for eight minutes before adding in your shrimp.
While your shrimp cooks, which should take about seven minutes, place your rice into individual bowls.
Ladle gumbo into rice bowls and serve.
Courtesy of: Taste of Home
Beer Battered Walleye
Ingredients:
2 quarts vegetable oil
8 (4 oz) fish fillets
2 Tbsp. garlic powder
1 cup all purpose flour
2 Tbsp. paprika
2 tsp. salt
1 egg, beaten
2 tsp. black pepper
1 (12 oz) bottle of beer
Directions:
Heat your oil in a deep fryer until it reaches 365 degrees Fahrenheit, or 185 degrees Celcius.
While it's heating, rise your walleye fillets, and pat them dry with a paper towel. Season with salt and pepper.
Next, combine your flour, garlic powder, salt and pepper. Mix your egg into the dry ingredients mixture to create the base of your batter.
Slowly mix in the beer until a thin batter is produced. If you can see the fish through the batter once you have dipped it, the batter is the correct consistency.
Dip the fillets into your beer batter, and then drop them into the hot oil, one at a time. Be careful not to splash yourself with oil as you are doing so.
Fry the fish, turning once, until both sides of the fillet are golden.
Drain excess oil, and allow to cool on a paper towel before serving.
Courtesy of: Genius Kitchen 
Parmesan Crusted Baked Fish
Ingredients:
3/4 cup panko breadcrumbs
3 Tbsp mayonnaise
3/4 cup parmesan cheese, grated finely
3 green onions, green tops only, thinly sliced
1 tsp Worcestershire  sauce
3 Tbsp butter, unsalted at room temperature
1/2 tsp hot sauce, Tabasco works
1 1/2 Tbsp lemon juice, freshly squeezed
4 (6 oz) fish fillets
2 Tbsp fresh flat-leaf parsley, finely chopped
Directions:
Preheat oven to 425 degrees. While the oven is preheating, lightly butter a baking dish to prevent fish from sticking.
In a medium-sized bowl, mix cheese, breadcrumbs, mayo, onions and sauces together. Add in lemon juice, butter and salt and pepper.
Rinse and pat fillets dry, and season heavily with salt and pepper. Place fish in the lightly buttered baking dish.
Spread three tablespoons of cheese mixture over each fillet, and bake for eight to 10 minutes, until the cheese is bubbly.
Finish off the fish by broiling them for two to three minutes. Allow for a few minutes to cool, then top with parsley and serve.
Courtesy of: MyRecipes.com