Flashy fireworks, hot dogs, boat parades and live music — the makings of the best Fourth of July festival around.
As far west as Idaho or in the most north-eastern corner of the U.S. in Maine, you're sure to find an Independence Day celebration worth shouting about.
But in case you don't know where to start your search, we recommend you look to your lakes for family-friendly July Fourth festivities you won't forget.
Coeur d'Alene Lake, Idaho
Spanning 33,000 acres in Idaho's Spokane County, Coeur d'Alene Lake is no stranger to fantastic Fourth of July fun, and neither is its nearby namesake city.
Each year, the Coeur d'Alene Chamber of Commerce kicks off the festivities at 10 a.m. with the Coeur d'Alene Fourth of July Parade.
After its conclusion at 1 p.m., nearly 40,000 parade participants and spectators take to the city park to enjoy a variety of food vendors, craft booths and live music.
Others enjoy hiking and biking through Coeur d'Alene National Forest, participating in 5Ks and Fun-Runs, and cruising along the lake's 135 miles of shoreline.
Lake lovers also take the opportunity to fish Lake Coeur d'Alene's healthy populations of sport fish, including salmon, bass, trout and crappie.
As the sun sets, the Coeur d'Alene Resort offers an exclusive "Steak and Sparklers" dinner and private concert on the property's front lawn where attendees can get a front-row seat to the evening's grand finale.
Finally, the day's events culminate at dusk as the Chamber of Commerce commences with its 22-minute, spectacular fireworks display over the water.
Lake of the Ozarks, Missouri
Larger-than-life lakes often usher in larger-than-life celebrations. Missouri's Lake of the Ozarks is no exception.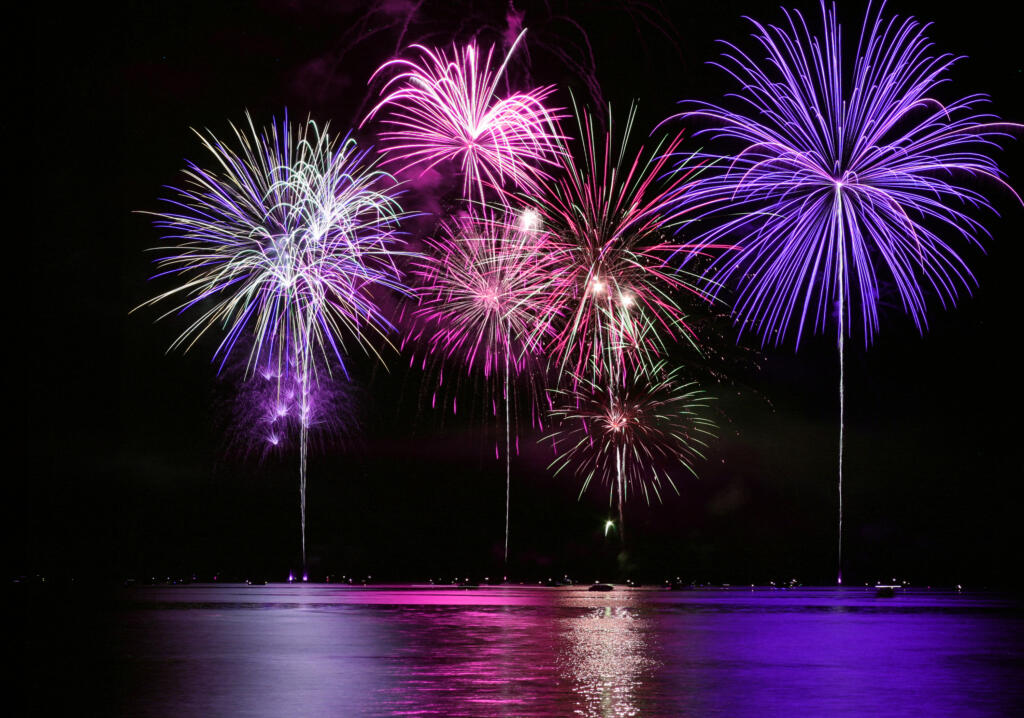 Across its 54,000 acres, Fourth of July festivities range from pirate-themed-fireworks cruises, live concerts from Missouri's favorite cover band "Contagious" and trips to the Dickerson Park Zoo for their annual "Red, White and Zoo: Military Appreciation Day."
On the water, Tan-Tar-A Resort, a Margaritaville property, invites guests to take a ride on their Tropic Islands Cruises yacht for July 4th fireworks over the main channel at dusk.
Captain Ron's Bar and Grill also offers a fantastic fireworks show for guests to enjoy while they groove to live music, dine, drink and play beach volleyball.
Of course, the Lake of the Ozarks sees plenty of boating and fishing on the Fourth of July, too. And with average temperatures of 84 degrees Fahrenheit, swimming is another fun way to spend Independence Day.
Other popular Fourth of July activities include camping, biking, and horseback riding in Lake of the Ozarks State Park and exploring nearby Bridal Cave.
Lake Barkley, Kentucky
Featuring 1,000 miles of shoreline in five counties across two states, Lake Barkley is another July 4th force to be reckoned with.
In addition to entertaining hundreds of people on its 58,000 acres, Lake Barkley also hosts a number of fireworks displays including the Lake Barkley State Resort Park show.
Held on the beach, this fireworks extravaganza is free to the public and features vendors selling a variety of foods and glow in the dark memorabilia.
Also hosted during the first weekend of July is the Cadiz "Cruise Cruz-In!," a vintage car show and community event that takes place in historic downtown Cadiz on Main Street.
Celebrate the Fourth of July weekend with free cornhole, live music, door prizes and BBQ. Satisfy your need for speed with cars, trucks, and motorcycles from "the good 'ole days."
And don't forget to pack your fishing poles and gear for some of the best crappie and bass fishing in the state!
Moosehead Lake, Maine
Located in southeastern Maine, Moosehead Lake is the largest lake in the state at nearly 75,000 acres in Piscataquis and Somerset counties.
A hot spot for eco-tourists, die-hard sportsmen and urbanites seeking haven from the hustle and bustle of the big city, the lake is also popular among America's most patriotic.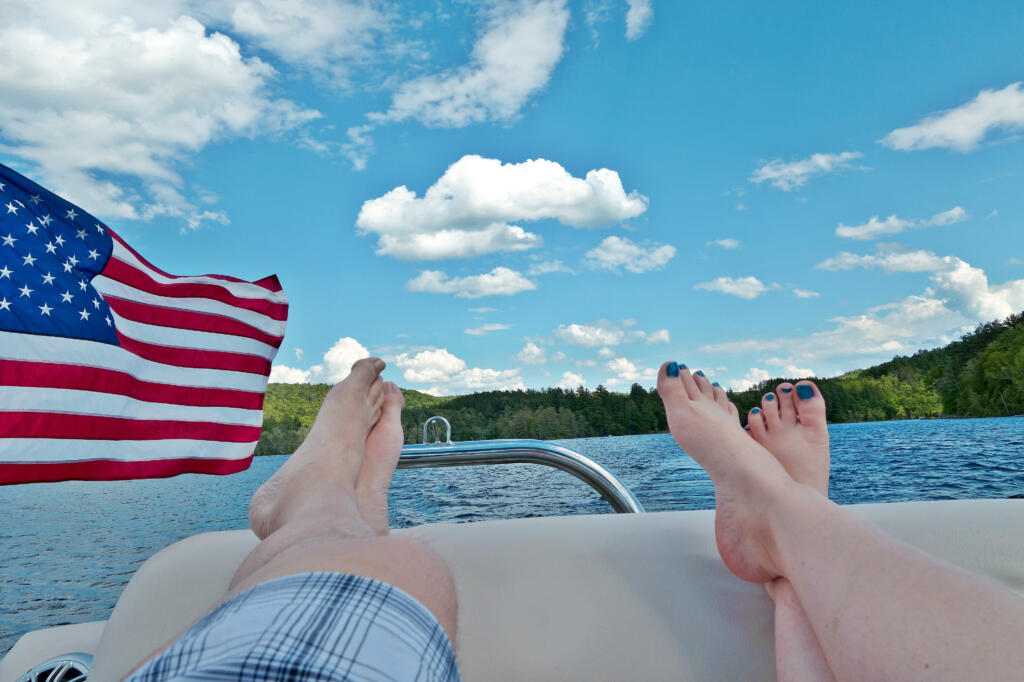 Start your celebrating with the Town of Greenville and Destination Moosehead Lake by taking part in their annual Fourth of July spectacular! This all-day event is free to the public and includes a parade, craft fairs and the biggest fireworks show in Piscataquis County.
For a more personalized celebration, spend the day whitewater rafting on one of Moosehead Lake's nearby rivers; fishing for salmon, brook trout, and lake trout; or enjoying a scenic 40-minute flight over the lake's majestic waters.
Finally, top off the day's events with an evening cruise on the Katahdin, a 1914 steamboat that tours Moosehead Lake's southern end.
From its decks, Katahdin riders experience the lake's best views of Fourth of July fireworks over the water and an assortment of beverages, sandwiches, and snacks.
And the best part? The fun doesn't stop after the fireworks have faded and the smoke has all cleared. In fact, these lakes continue to offer countless opportunities for making family memories year-round.
For more ideas on family-friendly activities at the lake, be sure to read our article "Weekend Fun: Charity Poker Runs Across the U.S."!