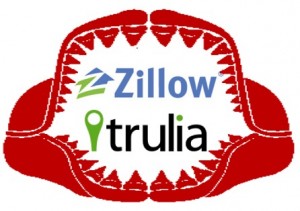 Within hours of the news I was asked my opinion of the Zillow buyout of Trulia.
I was also asked, as CEO of a multi-state real estate company, if I was alarmed.
I've read a number of opinion posts about the potential impact on the real estate industry, and what may be the true agenda behind this deal.
Some espouse that this is the beginning of the end of traditional real estate companies. Others believe this is simply a matter of survival for two advertising-based companies that are both losing money. And some believe this is the first step to Zillow/Trulia becoming a huge real estate brokerage.
To answer the second question, no, I am not alarmed.
As to my opinion of the deal, there are many possible outcomes over time.
That said, here are four reasons I believe great real estate agents and brokerages should not be afraid of this deal, no matter the goals of the new Zillow-Trulia (or whatever it gets called later):
Reason #1:  Zillow-Trulia is not planning to become a huge real estate brokerage.
They want to control the data, perhaps scheming to eventually replace the disjointed Multiple Listing Services (MLS). But not become a brokerage. If they were to become a real estate brokerage company, they would be forced to adhere to state and federal laws and regulations. Data companies and advertising businesses don't have to worry about these rules.
This deal is for more data control on a national level, either for stronger advertising, supplanting MLSs, or both. In the end, this may actually serve the real estate industry better (at least for the best agents and brokerages) by resolving many obstacles created by so many unique, and often isolated, MLSs.
Reason #2:  Listing data has already escaped and home buyers now expect easy online access to real estate information.
Local agents, brokerages, and MLSs that attempt to control their market by restricting listing syndicators, or in the future Zillow-Trulia, are not retaining (or regaining) control of their market. They are excluding themselves from much of the market.
Making real estate data hard to access is a disservice to the home buyers and sellers. And while many agents may still think local-only MLSs will increase the odds of making the agent more money (from bringing buyers to their own listings), this is outdated thinking and a mental artifact of days gone past. And, in my opinion, hiding listings for selfish reasons (no matter how justification is attempted) is unprofessional and a disservice to clients.
Reason #3: If the agenda of this deal is to displace MLSs as the data network for real estate listings, this will take a long time to occur.
Should this be the goal, such an effort will take years. While this may actually benefit the real estate industry (more on this another day), long-term projects are fraught with risks.
As Lake Homes Realty is a member of multiple MLSs across several states, we understand the issues created by a large number of independent MLSs. The challenges can be both technical and political.
What's interesting to me is that MLSs were originally created in the spirit of cooperation among real estate agents, and to provide greater service to the home buyers and sellers. But this mindset, in most parts of the country, stopped at the boundaries of these MLS. Many now want to treat their local listing data as a kingdom to defend and isolate, not an opportunity to cooperate over larger geographic areas (which would benefit buyers and sellers).
Whether more cooperation between MLSs improves, or Zillow-Trulia become the new national listing database, the consumers would be better served.  And when the consumer is better served, everyone wins, including brokerages and agents.
Reason #4:  Great real estate agents welcome easier data access, want to help make data more accurate, and understand that customer convenience and service are the keys to success.
Some have suggested that if Zillow-Trulia has more, and more accurate data, it is a threat to the jobs of thousands of real estate agents. The theory is that as home buyers and sellers have more information, they will become more selective in the real estate agents they choose and, in turn, this will reduce the number of agents in the industry.
IF this happens, I believe this is a good thing. Large real estate brokerages, not their agents, are the ONLY entities that benefit from the current large number of real estate agents. In fact, some of these large "real estate" companies are not in the real estate business; they are in the agent business.
These big companies make money by charging fees to an army of agents, many who lack the focus or background to service clients at the highest professional levels. Fewer high quality agents would be more beneficial to buyers and sellers. It would also improve the reputation of value for the entire industry.
Lake Homes Realty was built on the foundation of convenience for the lake home buyer and seller. Having more listings available to consumers through one website adds value to our agents, and their clients. Couple this technology with real "feet-on-the-ground" experienced real estate agents. Together this combination better serves home buyers and sellers.
So from our perspective, the Zillow-Trulia deal is interesting but not threatening. In a number of ways, it aligns exactly as we see the future of real estate and is only one step of many toward the inevitable changes of how real estate is bought and sold.