Located in East Tennessee on the upper Tennessee River, Fort Loudoun Lake stretches across 14,600 acres.
The lake takes its name from the nearby site of a British fort built in 1756. The fort was named for Scotsman, John Campbell, the fourth Earl of Loudoun, who was commander of British Forces in North America at the time.
Fort Loudoun Lake possesses strong ties to its rich history, extending back to the French and Indian War, when its namesake fort was one of the few British outposts west of the Appalachian Mountains.
Today, the lake is a major recreation destination for East Tennessee residents and out-of-state visitors but for you…Fort Loudoun Lake is simply home.
Your social life is merely a boat ride away
The best part about living on Fort Loudoun? Driving a car to get places isn't the norm. Finding the social hub of the lake is, instead, only a short boat-ride away.
Prater's Flat, the "party cove," is THE place to be on a sunny weekend.
Hundreds of boats gather, tie up and enjoy the best of what lake life has to offer. After the sun sets, you love that you can get to most restaurants by boat.
Restaurants like Calhoun's, Willie's and Lakeside Tavern, for a more upscale night out, are a few of your favorites.
Two Words: Tennessee. Volunteers
Because of Fort Loudoun's proximity to Knoxville, you know you are in the best position to cheer on the best team in the SEC.
Neyland Stadium, one of only two college football venues accessible by boat, makes "Vol's Navy" one of your, and all of college football's, most beloved traditions.
Inspired by Volunteers' broadcaster George Mooney, Vol's Navy is a fleet of some 200 vessels of all sizes, whose passengers watch the game from monster TVs on their tricked-out boats.
Game Day is made even more special on the water with family and friends.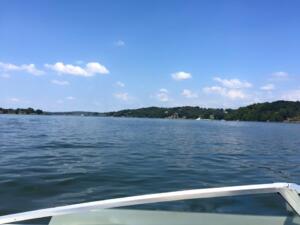 At Fort Loudoun, boats rule the world
Fort Loudon Lake is a particularly boat-centric lake.
Throughout the year, festivals and fishing tournaments are accessed and enjoyed on boats.
Friends and family gather to cheer the competitors in the Dragon boat races, and locals love supporting the Concord Sailing Club, based out of Knoxville.
And on holidays? What's better than gathering friends and family for Rockin' The Docks, an elaborate fireworks display, on the Fourth of July, Memorial Day and Labor Day?
The event, held in Lenior City Park, is also well attended by boat just off the shoreline.
The entire Southeast is at your disposal
One of the greatest things about this body of water would have to be its convenient location in East Tennessee.
Nestled just west of Knoxville, Fort Loudoun Lake is a straight shot to major cities like Atlanta, Nashville and Charlotte.
Favorite band playing in Atlanta? No problem. The lake is only a couple hours away from civilization, and the best part is that you always get to come home to the peaceful waters of this lake.
Most beautiful sunsets in the southeast

Known for its picturesque views, its no surprise that Fort Loudoun Lake is home to some of the most exquisite sunsets in the region.
While you're waiting for the sun to set, you like to keep an eye out for bald eagle and osprey sightings.
With a perfect location, rich culture and undeniable beauty, Fort Loudoun Lake is an excellent choice for a weekend retreat or a permanent residence.
At 535 listings and counting, there is sure to be something for everyone on Fort Loudoun Lake. Homes range anywhere from $100,000 to $5,000,000.
For more information, visit lakehomes.com.