You will never find a better boat to relax on. If you combine the floor plan and the amazingly luxurious seating, it is almost like having a living room on the water. A pontoon that measures 25 feet is able to carry 15 people, and at times even more very comfortably.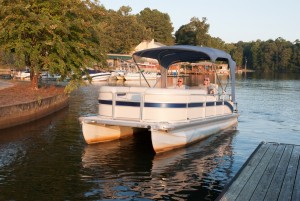 The same size of other boats of different styles does not include the same amount of space for the passengers. You would have to squeeze by each other when trying to move. It is more like riding in a car. With pontoon boats, you have floor space to walk, barbeque, and host parties.
If you are out for some sun, you can leave the top off, or if you are one that does not like to be in direct sunlight, leave the top on. The boat is extremely versatile when having fun out on the lake.
There are numerous models that include great features like a galley, live well, recliners, coolers, and a table to eat at or play cards on. They also include a ladder from the water to the floor. This way you can dive into the water and climb back up when it is time to rest.
Newer models also include stereo systems that offer external audio jacks, which allow the hook up of an mp3 player or iPod. Some even have USB ports.
There is a lot of space that will enable you to store water toys and other personal items. You can even purchase a camping enclosure to allow you to spend the night out on the water. There is even models that offer portable toilet with a privacy wall. Here are events that you can host on a pontoon boat:
With a pontoon boat, the options are endless. Imagine being able to spend an entire day that wraps up swimming, picnics, barbeque, music, and more all in one outing. The fun is overwhelming and the memories will last a lifetime.
Measurements Versus Passengers
If you are unsure of what size pontoon boat you will need, here is a guide to help you. Remember to include the typical people you take on your outings, for example; your kids. Then make sure there is extra room for other family members or friends.
2-6 People: 18-20 Feet
6-10 People: 22-24 Feet
10 or more People: 24 Feet or Larger
Activities
Here is a list of activities you can plan for you outings. They will depend on what type of outing or event you will be hosting and how many people will be passengers on the boat.
Swimming
Fishing
Cards
Barbeques
Cocktails
Skiing
Tubing
Camping
No matter how many people you have with you, you will be sure to have fun. Ensure that you purchase a pontoon boat that will accommodate your entire family, plus a few more to make sure you can hold small get-togethers whenever you like.