Central Florida's more than 150 lakes and lake communities are perfect havens for those buyers who crave the peace and calm of traditional lake living, but enjoy the conveniences of urban life.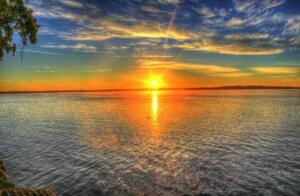 Perhaps the state's best kept secret, these lakes and lake communities boast well over $1 billion in real estate!
The Kissimmee, Avon Park and Inverness areas of Central Florida alone is home to nearly $153 million across approximately 380 listings.
Kissimmee Area
There are nine lakes and lake communities in the Kissimmee area, the largest of which is Lake Tohopekaliga. Part of the Kissimmee Chain of Lakes, Lake Tohopekaliga is also known as Lake Toho and is located in Osceola County. This lake boasts an approximately $52 million lake real estate market and covers more than 18,000 miles in surface area.
Lake Toho is located about 30 miles from both Universal Studios Orlando and Disney World, but lake residents don't have to go much farther than their own backyards to have a good time.
Lake Toho Things to Do:
Toho Bass Fishing Adventures: Lake Tohopekaliga is renowned for its largemouth, smallmouth and spotted bass fishing. Toho Bass Fishing Adventures offers top-notch guide services for lake lovers who dream of landing a trophy-worthy catch. With more than 30 years of professional guide and fishing experience, Toho Bass Fishing Adventures stands by a "no fish, no pay" guarantee and promises anglers the fishing experience of a lifetime.
Wild Willy's Airboat Tours: Experience some of Florida's most captivating environments by taking a one-hour airboat tour with Wild Willy! Fun for the whole family, airboat tour patrons have the chance to see spotted eagles, alligators, blue herons and more. And as an added bonus, boaters can take pictures with Willy's resident alligators as a souvenir.
Avon Park Area
Named by the Creek Indians, Lake Weohyakapka means "walk in water." This natural, spring-fed lake is part one of 13 lakes in the Avon Park area, and part of the lower Kissimmee Chain of Lakes (despite its location outside the Kissimmee area.) Currently, the lake has a tightened inventory of 55 listings, totaling approximately $3 million in value and encompasses more than 7,500 acres in Polk County.
Lake Weohyakapka, like Lake Toho, is also known for its excellent bass fishing, but visitors also enjoy birdwatching and hiking in Lake Kissimmee State Park, less than 20 minutes away!
The lake is also convenient to Orlando's most famous attractions, about an hour from Disney and SeaWorld.
Lake Weohyakapka Things to Do:
LEGOLAND: This 150-acre theme park is the largest of its kind in the world. With more than 50 rides and attractions, LEGOLAND spells fun for all. The resort and theme park also features a beach retreat, water park, NINJAGO® World, a five-story hotel and more!
Bok Tower Gardens: Bok Tower Gardens has been a Central Florida landmark for more than 80 years. The National Historic Landmark is famous for its a 205-foot, 60-bell, Singing Tower Carillon, which plays a 30-minute concert twice daily. Bok Tower Gardens also features a state-of-the-art outdoor kitchen and edible garden alongside Giant Victoria Water Lilies and countless other flowers and wildlife.
Inverness Area
Part of the Harris Chain of Lakes in Central Florida's Inverness area, Lake Griffin is located less than an hour from Orlando, three miles outside Leesburg in Lake County. One of 15 lakes in the area, this 9,430-acre lake's real estate market currently boasts more than $13 million in listings.
Due to its healthy population of alligators, there is no swimming allowed on Lake Griffin; however, kayaking, canoeing and pontoon boat tours are permitted.  Off the water, there are plenty of things for visitors and residents to do. These include visiting the state's 400-year-old Live Oak Tree and the nearby WWII history museum!
Lake Griffin Things to Do:
The Grand Oaks Carriage Museum: At the Grand Oaks Carriage Museum, visitors take a step through time. This museum features collectible cars and carriages, illustrating how transportation has evolved through the years and impacted society as we know it. The Grand Oaks Resort, which houses the museum, also offers dining, equestrian competitions and more.
Two Old Hags Wine Shoppe: Home to nearly 200 wines and beers, Two Old Hags Wine Shoppe is located in downtown Leesburg. Shop the shoppe's unique adult beverage selection or sit and enjoy a glass on site! And on Mondays, Tuesdays and Wednesdays Two Old Hags serves light lunch fare.
Not convinced yet that Florida is the next best place to call home? Check out "Florida's Lakes and Lake Communities – Orlando and Lakeland/Winter Haven Areas" for more about the state's many amazing lake markets!