Fall and Winter are great times to put out festive holiday decorations, and a lake home is no different! Here are some tips and ideas to help bring your holiday style to the lake!
Warm Climates
If you live in a warmer climate, consider taking some Adirondack chairs out to the end of your dock along with a few bright red, yellow, or autumnal plaid throws to curl up in and watch the sun set. A few vintage lanterns on side tables to light the way make for a nice touch.
Consider dining in the open air with great views. Gone are the hot nights and the bugs that go with them, and in are cool, pleasant nights just meant for weekend grilling get-togethers. Have some chairs set around the deck for people to sit in and visit, particularly if they are softly stuffed chairs.
A fire pit makes for a very welcoming add-on for crisp autumn nights. Tuck away outdoor speakers in planters and rock walls for surround sound music wherever your guests go. As for color schemes, think of soft neutrals like beiges, tans, or warm greys for fall.
Any Climate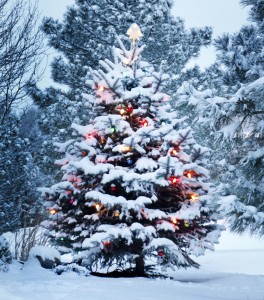 Lights make for a lovely accent no matter what time of year it is, so don't just save them for the winter holiday season. If you have any artificial trees or trees surrounding your deck, dot them with either hanging lights or wind strings of lights around the branches for a soft lighting accent.
If you are decorating for the holidays, think about metallic ornaments on trees near the water so they will reflect off the water and provide double the beauty, just make sure they are securely attached to the tree!
Along the path from the water up to your house is a great place to utilize landscape lighting to provide a gentle glow. A fall wreath on your door decked out in driftwood or fishing lures can be both festive and perfectly appropriate especially when viewed from the lake.
Colder Climates
It might be appropriate to consider doing the majority of your fall and winter decorating indoors, to both protect your cherished items from being exposed to the elements, and to keep your guests warm and cozy at the same time.
Think about using small natural trees or artificial ones in guest rooms adorned with lights and small ornaments. Using white furniture in the guest room gives a brightness to even the coldest day as the light reflects off of it to illuminate the room.
Fire pits or fireplaces are great gathering centers for the season. Imagine serving warm cider after a day at the local football game, surrounded by all of the colors of leaves and the gentle ripples of the water.
Have some corn stalks set up in bunches around the area, and if you can get a hold of them, perhaps some hay bales draped in blankets to use as benches instead of regular ones. A bushel of apples nearby makes for great snacking as well as a colorful accent.
When it comes to fall decorating, let your imagination run free. Just think of what is appropriate to your area weather-wise, and what makes sense in terms of local availability. Above all else, enjoy this relaxing time of the year at the lake with family and friends!