There's no argument that Facebook advertising has become an essential marketing tool for businesses, real estate included — just ask the more than 1.45 million people who log on to the social media platform each day.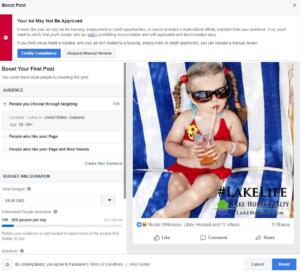 Not only is advertising on social media an easy w
ay to reach potential clients, it's also relatively inexpensive.
Ad content may vary in type and desired audience, but the basic principles of organizing a successful Facebook ad campaign are the same.
The following is Part III of a three-part series designed to help real estate agents navigate Facebook's advertising policies. These polices are constantly changing and cover a wide range of restricted, prohibited and acceptable content.
While we have only covered a small portion of these policies, agents may now have a better understanding of what the social media platform will allow in their ads.
Boosting a Facebook Post
One of the most inexpensive advertising tools Facebook offers is post boosting.
This tool allows agents to distribute their posts to more people than those who currently like or follow their business pages.
The amount of people a post reaches is largely determined by the amount of money the agent is willing to pay for the promotion.
For example, a post boosted for $5 may reach between 180 and 917 people per one day. When boosted for $30, the post may reach between 1,600 and 6,300 people per one day.
This reach is subject to change however, depending on the number of days the promotion runs.
The same post, boosted for $5 over the course of seven days has the potential to reach between 77 and 400 people per day. Similarly, if the $30 promotion were to run for 14 days, it may reach between 230 and 1,100 people per day.
Target Audiences
No matter the type of advertising an agent chooses to do on Facebook, a well-defined audience is crucial to an ad's effectiveness.
Filtering for audience members by income, age and relationship status is common among real estate advertisers. However, as noted in Part II, these characteristics are protected by federal and state fair housing laws. Therefore, it is likely Facebook will reject advertisements with audiences defined by such qualifiers.
Instead, real estate advertisers are encouraged to define their target audiences by things like geographic location, interests and behaviors.
Geographic Location
For such targeting to be effective, agents can start by defining where their target audience is located. This can be as broad as the United States, or narrow as a single ZIP code.
In niche markets, like lake real estate, targeting areas within a couple hours of the lake may be a good option.
Another option is to target those areas most frequently shopping a particular lake.
The radius around these locations can also be manipulated to reach as close as within ten miles of the target spot or as far as 50 miles from it.
Demographics and Behaviors
Next, agents can filter for audience members who are currently homeowners, those who are first-time home buyers and those who are renting.
Additionally, home demographics can be filtered to include prospective clients who currently live in a single family home and by home composition, such as if the current residents are grandparents or new parents.
If filtering by home composition, agents should remember that such filtering may violate laws protecting the exclusion of people of a certain age from seeing a housing advertisement.
A safer filtering option may be to target people by their behaviors, like if they are likely to move or have they are recent mortgage borrowers.
These qualifiers are known as residential profiles.
Interests
Lastly, agents can define their target audience by a person's interests. Some examples include an interest in fishing or boating, in home buying or in luxury real estate.
These interests can be selected from a number of drop-down menus within Facebook's advertising platform, or the agent can create her own set of specific interests.
These may include Facebook users who follow Realtor.com and Zillow's pages or those who show an interest in home improvement and travel.
Though these filtering tools have their benefits, agents should always keep in mind that an overly-defined audience could actually hinder an ad's performance by creating so specific a demographic that few people match it.
Final Thoughts
This Facebook Advertising Agents series, though nowhere close to comprehensive, is intended to introduce real estate professionals to the processes, policies and tools available to them.
For more information, visit realtorm.mag/legal-marketing or visit Facebook's Advertiser Help Center here.
For Parts I and II of this series, please click here or here!