When you are out on Lake Martin, there are a few places that you can get some great tasting grub. Listed here are some places to get the food along with some information about each place.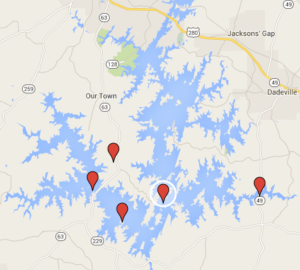 Nibblers Float Thru Grill
Nibblers Float Thru Grill is an actual restaurant on a boat. This is why the word "float" is in the name; it resembles a drive thru but only for boats. If you are out on the lake and want some tasty food, then you can just float on up to the restaurant and order some food.
Some foods that you will find here include burgers, chicken wraps, milk shakes, and all the typical lovely diner foods that get your mouth watering. You can contact this restaurant by calling them at 256-404-4305 or by emailing them at nibblersllc@gmail.com.
Nibblers even provides dockside catering services as well, including weddings, reunions, parties, corporate events, and even land venues too.
Niffer's At the Lake
Niffer's has a lot to offer someone looking for the classics, like a good ole fashioned cheeseburger. Inexpensive prices and great tasting food is their specialty.
You will find foods like turkey wrap baskets, cheddar burgers, country-fried steak, and so much more, all of which are available in the daily lunch special for only $6.75. They offer tater tots, Cajun tots, and other classic sides like mac and cheese, sweet potato fries, and beans.
You will not be disappointed in this great restaurant that originally opened in Auburn, AL, and now has three locations.
Spring House at Cross Roads
This restaurant offers a view of pastures, pins, forests, and the stables. It is very serene and offers a sense of old fashioned cuisine. They offer brunch, dinner, desert, and a wine bar where you can leisurely relax and enjoy the atmosphere.
Their menu features a very wide variety of produce and meat from the local farms and purveyors, so you can rest assured that all the food is fresh and local. You can bring your entire family and relax with a great cocktail made at the bar, warm yourself in the sunset right before diner.
Kowaliga Restaurant
First thing you need to know about this restaurant is that they have wing night every Thursday. From catfish tacos to chicken wings, you can find not only the classics, but crazy cool tasting meals that have been invented by the locals.
This restaurant offers a great atmosphere that will make you designate one night a week to visit this fairly priced place to eat. If you have young ones, then you will be happy to know that they offer kids meals with a corn dog, cheeseburger, chicken fingers, and also have the best tacos around those parts.
Harbor Docks Restaurant
If you are in the mood for some seafood, then you are absolutely going to enjoy the cuisine that Harbor Docks Restaurant has to offer. From Ahi Tuna all the way to crab claws and other foods like mozzarella half moons, you will not leave hungry or unsatisfied.
For great prices and great tasting foods, visit Harbor Docks Restaurant for the local treasured seafood.