Adding a guest or welcome book to your vacation rental home is a great way to offer services to your renters. It will allow them to be acquainted with the local restaurants, attractions, sites, and so much more.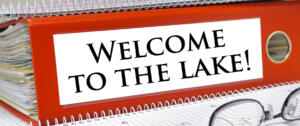 This welcome kit will help answer any questions they have in regards to the home and amenities. It will eliminate any unnecessary phone calls from your guests while they are staying in the home, and it will also ensure that they have the best time possible.
In addition to reducing the amount of questions the renter may have, the guests will also appreciate having suggestions at their fingertips. You can also include a bunch of blank pages in order for the guests to write their experiences and notes.
You can make one per visitor or you can make one that is meant to stay in the home for everyone to use. It is purely up to your personal preference.
In order to create a book to welcome your guests to the home, purchase a three ring binder from the local office supply store. You will also need to purchase sheet protectors in order to keep the pages from being torn.
A handwritten note that is signed letter will be great in the front of the book. It adds a personal touch to the book. Then you will just collect information and add it to the book. Information that you should include:
Information About the Surrounding Area
Maps of the area.
Menus from the restaurants that are local.
Amusement park brochures if there is a park near the home.
Church schedules.
Directions, as well as the phone numbers to pharmacies, hospitals, and other medical establishments.
Directions to the grocery store.
Information and directions for the local airport.
Any shopping information that is relevant.
Coupons for attractions and for shopping.
Information about the Lake Home
Instructions for the DVD player, satellite, or other entertainment equipment.
How to override the thermostat.
How to work any controls for boats, swimming pools, or other amenities.
Local television channel listings.
Emergency Numbers
Housekeeper
Maintenance Person
Home Owner
Police Department
Fire Department
Weather Information
Poison Control Center
Rental Rules
Check In Policy
Checkout Policies and Times
Complex Rules
Subdivision Rules
Parking Information
Quiet Times
You can create documents for each of the items on the list and then print them out. For an extra appeal you can make them theme related. For example, for a lake home decorate your pages with life jackets, fishing poles, and other lake related items.
It is also suggested to offer a few open pages for people to sign their names like they would a guest book. Make sure to include any information that is relevant to the neighborhood as well. For example, if there is a neighbor that does not like to be bothered, just put in a small little warning to avoid that person to make the weekend or visit good for both the guests and the neighbor.