When Amy Knight-Roberts and her husband Lindsey put their Walnut Hill, Florida, farm on the market, they were unsure of where their next move would take them.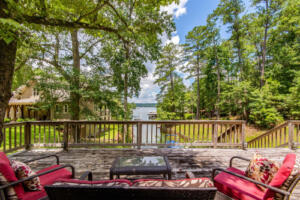 "We looked at a lot of different places, all over," Knight-Roberts remembered. "We knew we wanted to go somewhere, we just didn't know where."
In 2017, after 12 years of searching, the retired veterinarians finally found what they were looking for: a home on Lake Martin.
"I was tired of hurricanes, and tired of the high insurance payments," explained Knight-Roberts about what sparked the couple's interest in selling their home of 20 years. "We were ready to downsize. I love the beach, but I can always just rent a beach house."
The Search
Like many modern buyers, the couple took to the web in to begin their search for lake property.
There are countless online listing sites available to buyers today, all of which compile a wide variety of listings from MLSs across the U. S. to present an all-encompassing view of an area's real estate, including both multi-tenant and single-family homes.
For those looking specifically for lake property, the biggest player online is Birmingham-based LakeHomes.com, the nation's largest lake-focused real estate company. Unlike other listing sites, it uses proprietary algorithms to filter out off-lake properties to provide the most comprehensive database of lake listings available.
Knight-Roberts and her husband viewed hundreds of active listings across east-central Alabama's Lake Mitchell, Lay Lake and Lake Martin, comparing water depths, miles of shoreline, fishing and boating regulations, and various amenities.
"Our friends bought a house on Lake Martin the year before, and we wanted to be able to spend more time with them," said Knight-Roberts. "Lake Martin also brings us closer to family; my sister lives on Lake Mitchell, and my father lives on Lay Lake."
The couple searched through pages of online listings to narrow down where exactly they wanted to buy, noting the convenience of being able to view hundreds of homes via the web.
"The listings told us everything we needed to know," Knight-Roberts said. "There were adequate pictures, and we could see all the different angles of the lakes."
As a result, the couple was able to rule out Lay Lake and Lake Mitchell, ultimately deciding Lake Martin best suited their aesthetic needs and offered more choices of level lots, a crucial detail for the aging couple.
In addition to the convenience online home shopping provided them, filtering options also benefited the buyers by allowing them to further refine their search results by location and price range.
"We started looking at homes for around $450,000, but most of the houses were fixer-uppers or out of the way [of town]," Knight-Roberts explained.
According to the LakeHomes.com 2018 Winter Lake Market Report, the average home price on Lake Martin is about $580,000 at the time, a little more than $100,000 over the couple's original budget.
"We ended up looking in the $600,000 range, and we began to see places we were more comfortable with," said Knight-Roberts.
The Agent
After redefining their budget and choosing the lake on which they would buy, the couple needed to connect with an agent with expert experience selling lake real estate.
Again, the couple turned to the web, where they were connected with Lake Home Realty's Angela Van Houten, whose expertise made the buying process, as Knight-Roberts deemed it, "an overall pretty great experience."
"She was nice, and organized, very proactive and with us through each step," Knight-Roberts said. "Everything just flowed. It was all unusually easy."
Within three months, the couple made an offer on a home only two houses down from their friends'. Thirty days later, the lake home was theirs.
The Tools
Roger and Bonnie Spear, an architect and retired UAB professor from Birmingham, turned to the internet's vast inventory of homes two years ago, idly looking for a possible vacation home close to family and their alma mater.
"We had wanted a lake house for many years, and of course it had to be next to Auburn," recalled Bonnie Spear. "We wanted to go to a place with an infrastructure that was close to amenities, and we kept coming across Lake Martin."
The couple utilized online map tools, like the one featured on LakeHomes.com, to see how close homes were to the water, how far the bodies of water were from the nearest towns and, perhaps more important to them, how close they were to Auburn.
"The map showed all the different areas of the lake, which allowed us to narrow down the areas we were most interested in," Spear said. "We ruled out Lake Mitchell and Yates Lake because they just weren't as developed as Martin."
Shopping online also allowed the Spears to virtually tour homes on Lake Martin from the convenience of their Birmingham residence. The more comprehensive the database of listings, the more specific the pair could be in their search.
"I had three criteria when we were looking for a house," Spear explained. "I wanted a beautiful view, very few steps down to the water, and I wanted a screened-in porch, or at least the space to build one."
Spear noted listing photos allowed she and her husband to see homes they liked from different angles and the views of the lake from different rooms, as well as helped to show how far each property was from the water.
As a result, the couple was able to rule out a number of homes without ever actually visiting them.
Local Expertise
Spear commented that working with an agent who knew the lake was "invaluable."
"Our agent listened to what we wanted, showed us only homes that fit our criteria, and she knew important details about the lake we would have had no other way of knowing if it hadn't been for her," Spear said.
Over the course of nine months of active shopping, the couple visited Lake Martin eight times and physically visited barely more than a dozen homes.
They quickly fell in love with one of the first homes they visited, but negotiations on their offer fell through. Ironically, eight months after their first visit, the Spears got a second chance at buying the property.
This time, their offer was accepted.
Six weeks later, years after first searching for property online, Spear and her husband were lake home owners.
"Look a lot and do your research," Spear advises others who are in the market for a lake home.