If you're looking for a unique way to spend your weekend at the lake, try your hand at one of the nation's many powerboat poker runs. These family-friendly events not only provide lake lovers a chance to win some great prizes, but proceeds are often donated to local charities and lake organizations.
Lake Lanier, Georgia
For the last decade, the Pirates of Lanier Charity Poker Run has raised millions of dollars in support of North Georgia's children's charities.
Since 2008, the event has contributed to those with serious illnesses and mental and physical disabilities through Camp Sunshine and Camp Twin Lakes, as well as supported the members of the Boys and Girls Club of Hall County.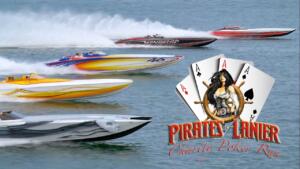 Held in July, the three-day Poker Run kicks off with a pre-run meet and on greet Thursday night, followed by a beach bash, captains' meeting and auction on Friday.
The run itself takes place on Saturday and consists of five checkpoints at which each boat receives a card for their poker hand. Unlike some poker runs, each card must remained sealed until the full hand has been collected.
Full hands are then taken to the "casino" where they can be evaluated and scored.
Following the day's main event, participants can enjoy food and entertainment at the after party and awards ceremony where the winning hand is announced and trophies are awarded to best dressed pirates.
The weekend concludes with a festive fireworks display Saturday evening.
Tickets go on sale in March for $50 per person. Participants should note this entry fee does not cover the cost of a boat slip for the weekend's festivities; however, a discount code will be provided for use at the Sunset Cover Marina on Lake Lanier Islands.
For more information, FAQ or to register online, visit the Pirates of Lanier website here.
Lake Erie, Pennsylvania
The fourth annual Erie Poker Run, hosted by the performance boating events company Elite Poker Runs, will take place in June at the Wolverine Park Marina.
A portion of the proceeds from this event will go towards The Bradley H. Faolk Children's Advocacy Center of Erie County. Last year, more than $10,000 was donated to the organization, which works to support children of abuse.
Festivities begin Friday night with a welcome dinner for captains and crew members. The Run commences the following morning and will consist of  several stops along 110 miles of Lake Erie's coastline.
Lunch will be provided to participants along the course as well as dinner at the evening's award ceremony.
Registration for the Erie Poker Run closes on June 10, and space is limited to 60 boats. To participate, boaters must provide proof of at least $300,000 in liability insurance coverage.
Captain and vessel registration costs $300 to $500 and crew members' tickets are $120 to $150 per person.
Prices include Friday night dinner, an event tee shirt, Saturday morning coffee before the run, one poker hand and Saturday lunch and dinner.
Extra poker hands can be purchased for $50 per hand. One hundred percent of the proceeds generated by extra hand sales goes to benefit the Advocacy Center.
Additional details and a list of other Elite Poker Runs events can be found at elitepokerruns.com.
Smith Mountain Lake, Virginia
The Smith Mountain Lake Boating Association has hosted their annual "unofficial start to summer" poker run each May for 21 years.
Participants start at Mariners Landing and make seven stops along the run's course, where they will receive seven cards from which to choose their best hand of five.
Players compete for thousands of dollars in cash prizes, including $5,000 for the first person with four aces.
The best hand wins $1,500 with additional winnings awarded to the second and third best hands. Prizes are also awarded for best appearing crew and for the most players on a boat.
To take part in the Smith Mountain Lake Poker Run, participants can purchase tickets and register their boats online for $175per person and $350 per vessel.
This event does have a 75-boat limit, and teams must consist of at least two players.
Guest tickets are also available for $90 for lake lovers who wish to participate in the rest of the weekend's activities apart from the run itself.
Festivities will conclude at Mariners Landing Saturday afternoon where players will be treated to dinner, a beer garden and music.
Proceeds from this event benefit various organizations around Smith Mountain Lake, including the SML Marine Volunteer Fire Department.
Bull Shoals, Arkansas
To help fund their annual Fourth of July fireworks show, the Bull Shoals Lake Boat Dock and Marina has hosted a "barefoot open, boat poker run" for eight years running.
The one-day event in May kicks off at 11 a.m. with last minute registration for players.
At noon, boaters depart from the marina on a five-stop-minimum run, depending on the type of hand they want to play. At each stop, players' "hand cards" will be stamped. Additional stops will also provide players with tickets for bonus drawings to be given away at the awards ceremony.
After at least five stamps are received, players may return to the marina where they may redeem their cards for their actual poker hands. No hand cards will be dealt after the 5:15 p.m. cut-off time.
Poker Run participants compete for a number of prizes and giveaways including a $1,000 cash prize for the winning hand. Other past prizes have included free passes to Bull Shoals Caverns, restaurant gift cards and free canoe rentals.
The registration fee is $50 per boat. This price includes one poker hand and two free Bull Shoals Poker Run tee-shirts, while supplies last.
Additional shirts can be purchased for $10. Extra hands can be purchased for $15 each, and there is no limit to the number of hands a boat can play.
Contact and registration information can be found on the Bull Shoals Poker Run website.