When it comes to showing visitors a good time, not all lakes were created equal.
While some lake lovers prefer to flock to calmer waters for a laid-back day at the family cabin, others seek a more lively destination with a little bit more to offer.
We've come up with a list of the top four best lakes for adventure seekers, each one with its own inventory of things to do.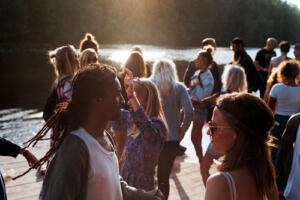 Lake Havasu, Arizona
All you need to know about this lake can be summed up in two words: party central.
Lake Havasu is a true desert playground and attracts more than 2.5 million adventure-seekers a year.
Located on the border between Southern California and Arizona, it's a popular spring break destination. Thousands of rowdy college students gather at the lake to take part in long-standing traditions like nude waterskiing and boat parties that rage until dawn.
Visitors also have the opportunity to get a literal bird's eye view of Lake Havasu and the Colorado River via hot air balloons. Flights begin before sunrise and show participants aerial views of the lake and river, the mountains and the world-famous London Bridge.
The rides end with a picnic in Sara Park where passengers are treated to a light meal and a celebratory certificate to commemorate their flight.
There are traditional lake activities to enjoy as well, and anglers love casting their lines here. Lake Havasu's deep waters include a multitude of inlets and coves, providing ideal fishing conditions for trout, catfish, bluegill, crappie and black and striped bass.
Lake Tahoe, Nevada
Take a trip to the wild west and discover the natural beauty of Lake Tahoe.
Tucked away in the snowy Sierra Nevada mountain range, the lake straddles the state line between California and Nevada.
Centuries ago, the Sierra Nevada region would have been considered the road less traveled, due to its untouched wilderness and frigid winters. Today, however, its carefree atmosphere is perfectly complimented by the constant buzz of outdoor activity.
When the weather's hot and the sun's high, hit the water for some parasailing, jet skiing and windsurfing. Or you could take the scenic route and hike or bike through the mountain trails to get up close and personal with the stunning wilderness.
On Saturday evenings, tourists have a chance to set sail on a sunset dinner cruise. It combines striking views, delicious food and live music for an unforgettable night on the water.
When the summer months fade away, Lake Tahoe transforms into a winter wonderland.
There are ski resorts on every corner, with a variety of slopes catering to everyone from beginners to competitive skiers. Visitors can also participate in sledding, snowmobiling and ice skating on your to-do list.
Do you consider yourself a sunbather, or would you rather trade in your swimsuit for winter boots? Either way, Lake Tahoe is the perfect place to go for an authentic taste of the great outdoors.
Lake George, New York
Located at the southeast base of New York's Adirondack Mountains, Lake George is teeming with things to do.
Like on Lake Tahoe, nature abounds. It offers plenty of opportunities for hiking a mountain trail, lounging on the beach, or lazily floating down a nearby stream.
There's also a wide range of water sports, including kayaking, waterskiing, whitewater rafting, paddle boarding and parasailing.
But since being engulfed in nature isn't everyone's cup of tea, there are other options. Visitors can choose from theme parks, golf courses, horseback riding, cruise ships, live concerts and theatre.
Each June, the LARAC Arts Festival features more than 200 artists and a huge variety of handmade items, including jewelry, fine art and food.
That same month, Americade, the Northeast's largest touring bike rally, rolls through with tens of thousands of motorcycles in tow.
But the fun doesn't stop when the snow starts falling. Carnivals and community bonfires are plentiful, as well as popular sports like cross-country skiing and snowmobiling.
With tons of fun to be had year-round, this destination is evergreen.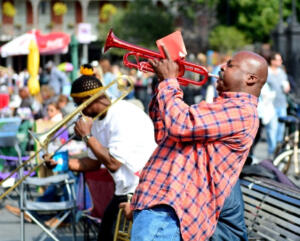 Lake Charles, Louisiana
Last but not least, come experience a type of joie de vivre only found down by the bayou. This lake-centered city has all the Cajun and Creole charm of Southwest Louisiana.
Do you consider yourself a foodie? The local cuisine is some of the best food in the world!
There's blackened, steamed and fried seafood, boudin, jambalaya, po-boys and delicious creole gumbo. And that's just the tip of the culinary iceberg.
Louisiana is also bursting with history. This is the place where pioneers met cowboys who met Cajuns who met Creoles who met Italians who met the French.
Spend an afternoon strolling through one of the many museums that detail the birth of Acadian culture.
Known as the Festival Capital of Louisiana, Lake Charles hosts more than 75 fairs, festivals and special events each year! There are food festivals, wildlife festivals, and events that exist solely to celebrate the arts. St. Theresa's Bon Ton Festival is awesome for families, and includes amusement rides, an oversized garage sale and a 5K run for kids.
There are swamp tours, nature trails and of course, Mardi Gras.
Lake Charles is a cultural gem. It combines traditional lake activities like boating and fishing with every single delicious, fun-filled reason to visit Louisiana.
At the end of the day, all lakes have something to offer. However, if you're looking for an alternative to the routine, consider treating the family to a vacation at one of these four destinations.